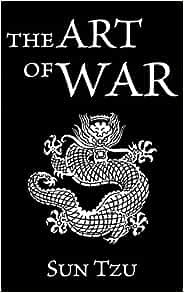 The Art of War
Sun Tzu
Summary
The Art of War is an ancient Chinese military treatise dating from the Late Spring and Autumn Period. The work is composed of 13 chapters, each devoted to a different set of skills or art related to warfare and military strategy and tactics. It has influenced both East Asian and Western military theory and thinking and has found applications in various non-military endeavors.
See on Wikipedia
Blurb
Discover the timeless wisdom of Sun Tzu's The Art of War, a classic book of military strategy that has been used by armies, leaders, and even everyday individuals for over two millennia. Originally written for warfare, these teachings have been adapted for success in politics, business, and all aspects of life. Gain the advantage over opponents, both on the battlefield and in the boardroom, with this essential guide.
Critics Consensus
Aims to deepen Western understanding of Chinese strategic culture.
Offers comprehensive analysis of Sun Tzu's treatise.
Recommended for strategic commentary enthusiasts.
Explores Chinese dialectical system and strategic thinking.
Argues for synthesis of Sun Tzu and Carl von Clausewitz's strategies.
Emphasizes knowing the enemy and oneself for battle success.
Users Consensus
Found interesting and useful for parenting teenage boys.
Tactics and strategies are still relevant today.
Offers historical and philosophical insights but not life-changing.
Difficult to process without pictures, especially in audiobook format.
Lacks practical advice and is repetitive.
Considered outdated due to changes since the 5th century BC.
Critic Reviews