Federal student loan debt statistics in Georgia
Georgia residents owe a total of $68.6 billion in student loan debts
This is the 5th largest total debt of all 50 states plus Washington DC and Puerto Rico
And the average debt per borrower of $41,639 is the 3rd largest average student debt per borrower in the country – $3,852 above the national average and behind only DC and Maryland.
A total of 1.647 million people in Georgia hold student debt making Georgia the state with the 7th highest number of borrowers in the country.
This is 15.25% of the population of Georgia – making Georgia the state with the 2nd most student loan borrowers per capita.
Of these borrowers, 49.70% are under the age of 35 – the 42nd highest in the country.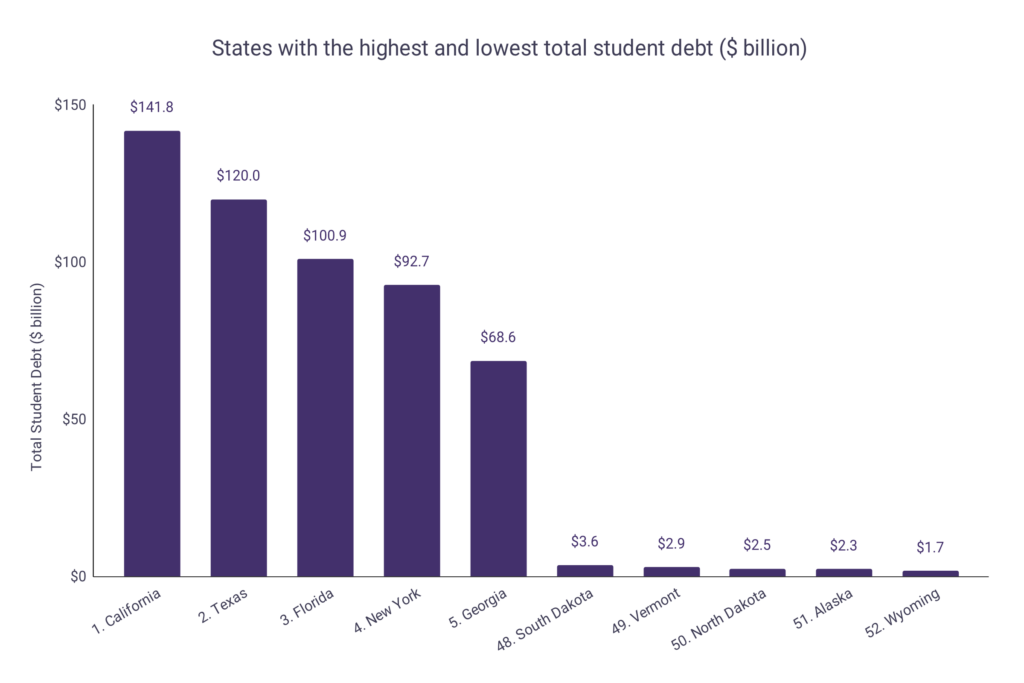 How much student loan debt does the average Georgia resident have?
The average student loan debt for borrowers who are Georgia residents is $41,639
This makes Georgia the state with the 3rd largest average student loan debt
The average student debt in Georgia is significantly higher than the national average of $37,787
Within this average, the amount owed by Georgia residents varies greatly:

14.30% of borrowers owe less than $5k
20.90% of borrowers owe between $20k and $40k
2.70% of borrowers owe more than $200k
How much do Georgia residents borrow each year?
38.30% of Georgia undergraduate students take out federal student loans – this is the 20th highest in the country and a similar rate to Michigan and Indiana
For those at 2-year colleges, 16.90% of students chose to take student loans – that's 33rd in the country
They were approved to get $5,962 per year on average
This is the 16th most per student at 2-year colleges of any state
More students at 4-year schools take out student loans – 45.70% receive student loans
This is 26th most out of the 50 states and DC.
These students are awarded $6,575 per year on average – ranking 41st in the country.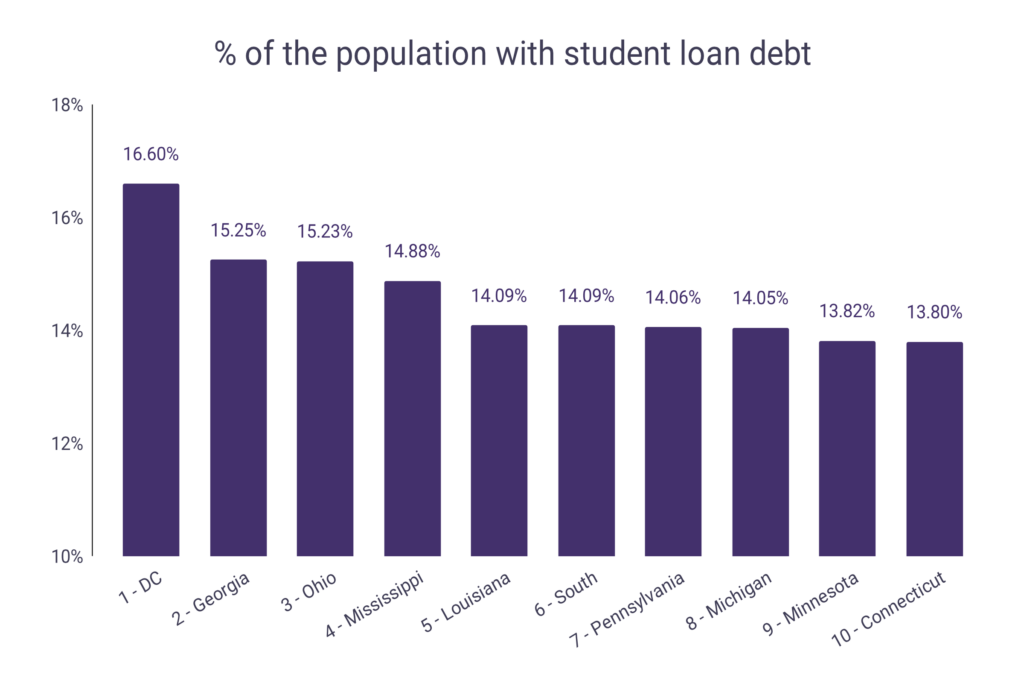 State-level financial aid for students in Georgia
Georgia is the state that spends the 5th most state funds on financial aid for students
In total, Georgia spends $888.4 million on state-level financial aid programs per year
This works out at around 0.45% of the gross state product (GSP)
While Georgia has the nation's 5th largest budget for student financial aid, it only ranks 20th as a percentage of GSP
This works out at around $2,160 per undergraduate student in the state – the 4th most of any state in the country
None of this money is distributed to students in the form of grants where the money does not need to be repaid.
All $888.4 million is distributed between other programs – some of which may be due to be repaid.