This report analyzes the average cost of tuition in US Kumon centers alongside any additional costs that may be applied upon a student's enrollment.
Typically, Kumon centers offer two standard subjects to learners, mathematics and reading (in the local language of the center).
For each subject studied, average Kumon tuition fees are around $150 per month / $1,800 annually.
This works out to around $35 per week (which frequently consists of 2 classes).
Due to this, each class session amounts to approximately $17.50.
Discounts are sometimes offered for students that wish to study multiple subjects.
Many Kumon centers offer free placement tests for new students to assess their ability.
However, new students often have to pay a registration fee of around $50.
The cost of study materials can be around $30 per subject studied.
Many Kumon centers look to quote prices in person rather than online.
As Kumon centers function as franchises, prices can vary greatly.
This is mainly due to differences in running costs in different locations.
What is Kumon?
Kumon is an educational network which specializes in teaching using the Kumon method.
Kumon is primarily used to teach mathematics and reading, but it can also be used to teach foreign languages.
Students initially are asked to take a placement test with an instructor who assesses their current abilities and potential areas for development.
Instructors must work to find a suitable starting point for the student and look to create a long-term study programme.
Kumon is used to teach content ranging from pre-primary to senior high school level (students aged 2 – 18 years old).
The typical levels for each subject are given below:

Mathematics:

21 levels (6A through to Level O).
Elective course (5 sub levels).

Reading:

23 levels (7A through to Level L).

Foreign languages:
Estimated first month Kumon costs
For a first month student:

The total estimated cost to study one subject is $230.
The total estimated cost to study two subjects is $380.

Registration fees are standard one time fees for each student of approximately $50.
Materials fees are approximately 20% of the total monthly cost of tuition (excluding any discounts given).
| | | |
| --- | --- | --- |
| Fee type | One subject | Two subjects |
| Tuition fee | $150 | $270* |
| Registration fee | $50 | $50 |
| Materials fee | $30 | $60 |
| Total fees | $230 | $380 |
(*assumes 10% discount for two subjects)
A graph is given below to show estimated first month Kumon costs by type: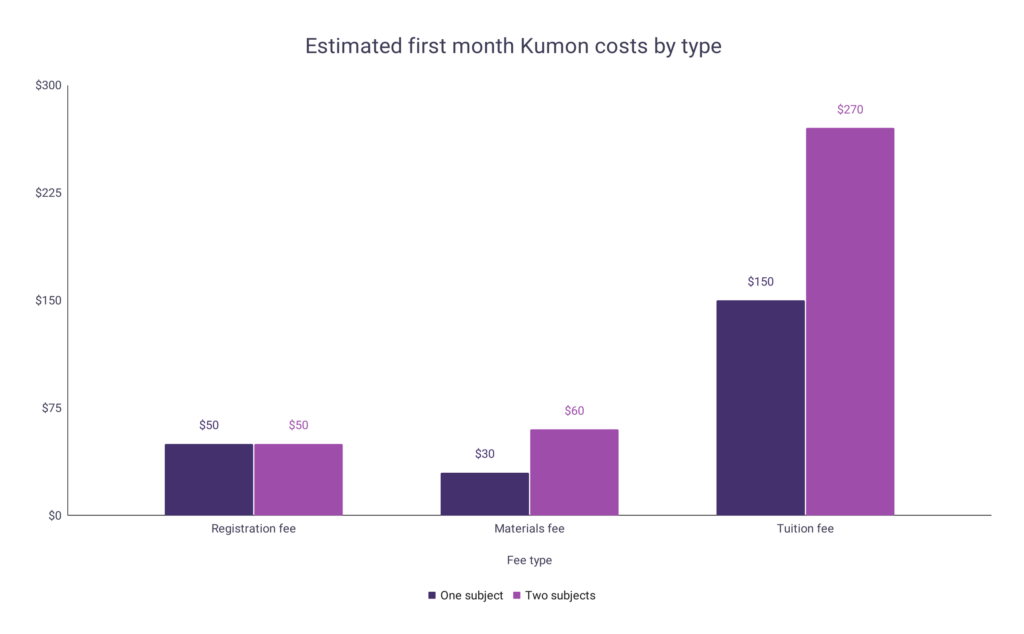 History of Kumon
Kumon was invented by Toru Kumon, a Japanese educator.
Prior to officially starting the company, he saw that his son was having difficulties with math at school.
To support his learning, he began writing worksheets which he would ask his son to complete each day.
His son's ability greatly improved and due to this, Toru invited other local students to learn through his methodology.
He saw firsthand that his technique was allowing students to flourish, so decided to bring it to as many learners as possible.
In 1955, Toru Kumon opened his first Kumon center for math in Osaka.
He officially founded the Kumon Institute of Education in 1958.
In the following years, he continued to expand business operations.
By 1969, the company had reached a milestone of over 10,000 students studying the method.
The owner published "The Secret of Kumon Maths" in 1974 which was well received and drew further interest.
Kumon began international expansion by opening a center in New York during the same year.
By 1977 Kumon had arrived in South America. Two years later it came to Europe.
In 1981, the number of students enrolled in Kumon started to exceed 1 million.
Ten years later, Kumon began operations in Africa through a center in Johannesburg.
The number of Kumon enrolled students had doubled to 2 million by 1993.
1998 saw Kumon arrive in the Middle East, with new centers in Bahrain and the United Arab Emirates.
The 2000s saw steady growth and over 4 million students were enrolled globally.
The decade also saw the company celebrate its 50th anniversary.
By 2017 Kumon was present in 50 countries around the world.
Kumon tuition fees FAQ
How many students study Kumon?
Globally, an estimated 4 million students study Kumon.
In the US, there are around 400,000 students enrolled in Kumon.
Approximately 10% of all Kumon students are enrolled within the US.
How many Kumon centers are there?
As of 2023, there are approximately 25,000 Kumon centers around the world that span 58 countries.
In the US, there are an estimated 1,649 Kumon centers.
Approximately 6.60% of Kumon centers are located in the US.
Can Kumon students learn additional subjects?
In addition to mathematics and reading which are available to study at different levels, Kumon students can also learn foreign languages.
As of 2023, Kumon offers foreign language tuition for Chinese, English, French, German and Japanese.
However, foreign language programs are not available in all countries where Kumon is available.
How are Kumon tuition costs paid?
Kumon tuition fees are typically paid monthly or annually.
Failure to pay on time or returned transactions can result in fines.
Many Kumon centers require a one month notice period prior to cancellation of a student's enrollment.