Federal student loan debt statistics in Minnesota
Minnesota has a total student loan debt of $26.5 billion
This is the 22nd most of any state in the country (plus Puerto Rico and Washington DC)
The average debt for borrowers who live in Minnesota is $33,604 – this is the 33rd highest in the country
Minnesota has the 19th most residents of any state with student loan debt but the 9th highest percentage of the population with student loan debt of any state
There are 788,600 residents of Minnesota with student loan debt – this is 13.82% of the population which is just less than Pennsylvania and Michigan and slightly more than Connecticut
57.80% of these borrowers are under the age of 35 – the 8th highest % under the age of 35 in the country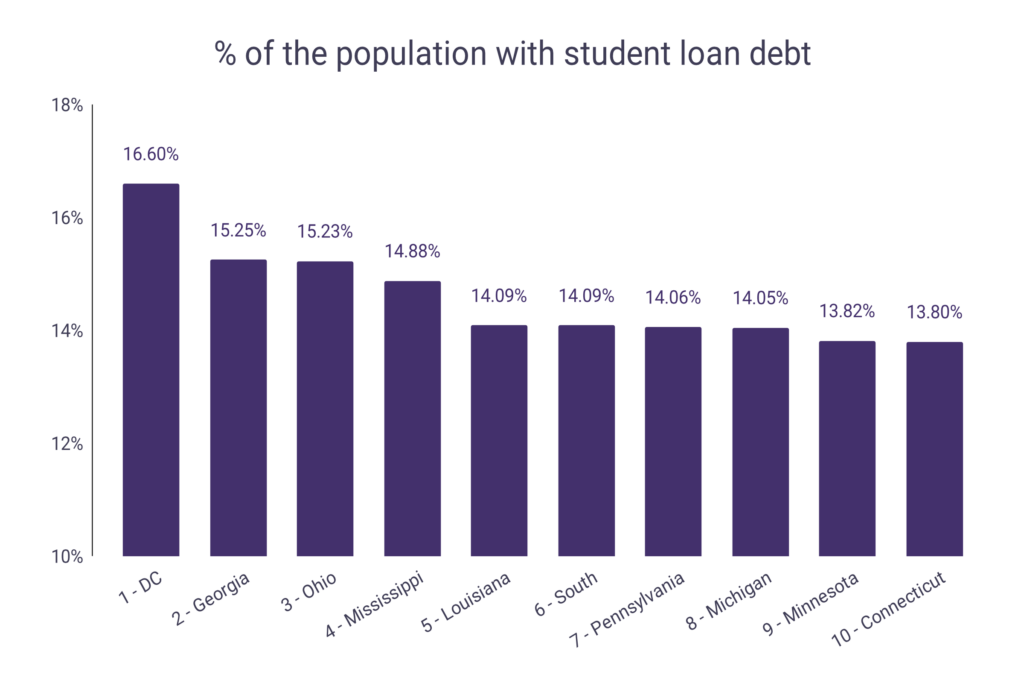 How much student loan debt does the average Minnesota resident have?
The average Minnesota borrower has a student loan debt of $33,604
This is $4,183 below the national average of $37,787
And is the 33rd-highest average student loan debt per borrower of all the states in the country
Minnesota has a high proportion of borrowers who owe within the range of the national average – 23.70% owe between $20,000 and $40,000
This is the 5th highest percentage of borrowers that owe this amount in any state
15.40% owe less than $5,000
1.70% owe more than $200,000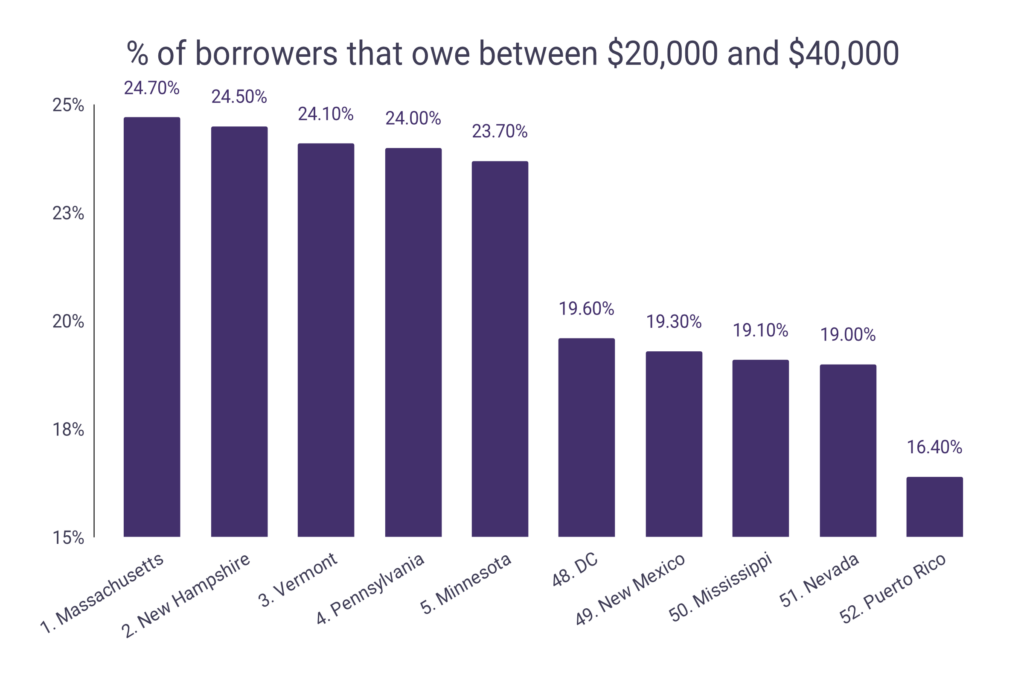 How much do Minnesota residents borrow each year?
40.90% of undergraduates take out student loans in Minnesota each year
This is the 16th-highest percentage in the country that takes student loans of any state
At two-year schools, the % drops down to 27% but as a rule, those at two-year schools across the country are less likely to take out loans so this is still the 17th-highest percentage in the country
On average, these students are given $6,226 per year towards tuition fees and living costs
This is the 9th highest amount that any state awards to 2-year college students in the form of loans
50.10% of students at 4-year colleges take out student loans each year
This is the 11th highest percentage of students at 4-year colleges taking loans in any state in the country
They are awarded $6,936 per year on average – the 16th highest amount in the country
State-level financial aid for students in Minnesota
Minnesota spends $302.4 million per year on student financial aid
The makes Minnesota the state with the 16th largest student financial aid budget
On average, Minnesota spends $1,086 per undergraduate student on financial aid
This is the 17th largest amount in the country
The $302.4 million that Minnesota spends each year equates to 0.45% of the Gross State Product (GSP)
This means Minnesota comes in 22nd place when it comes to the percentage of a state's GSP that is spent on student financial aid
$218.5 million of the $302.4 is spent in the form of needs-based grants that do not need to be re-paid
The remaining $83.9 million is shared out through other programs. Some of this money may be paid out in the form of loans that need to be re-paid at some point in the future.