We looked through the data on reading time among US citizens in order to examine the impact of Covid-19 related lockdowns and other social-distancing measures on the reading habits of people.
The average reading time during the pandemic
While time spent reading for the average US citizen in 2019 declined by 20.6% compared to 2009, people's reading time reached the highest level during the pandemic:
From May to December 2020, the average US citizen spent 20.4 minutes per day reading for personal interest.
This is a 25.9% increase compared to the average reading time in 2019, and a 13.3% increase compared to 2010.
It was also the first year during which people read over 20 minutes per day since 2009.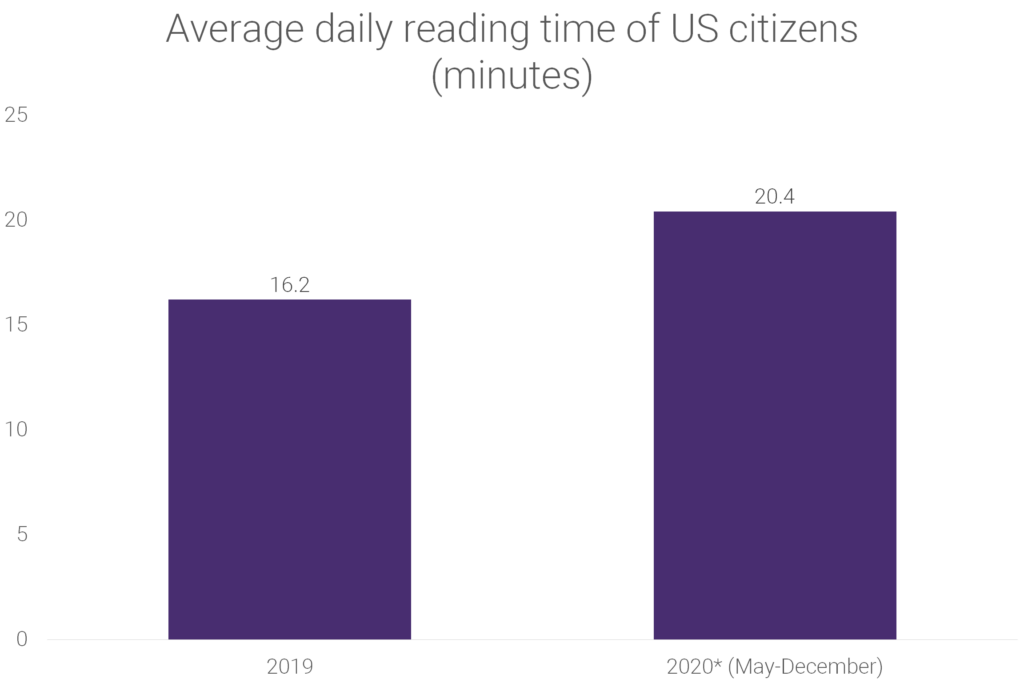 This increase is mostly driven by reading time during weekdays, which jumped by 30.8% during 2020.
Weekends and holidays reading time during pandemic also increased compared to 2020, by 16.7%.
Both genders read more during the pandemic
Men and women spent additional 4.2 minutes per day reading from May to December compared to 2019.
Women's reading time is jumped to 22.8 minutes per day, while men spent 18 minutes reading.
Men have never read more per day over the last 12 years, and women recorded the highest reading time since 2013.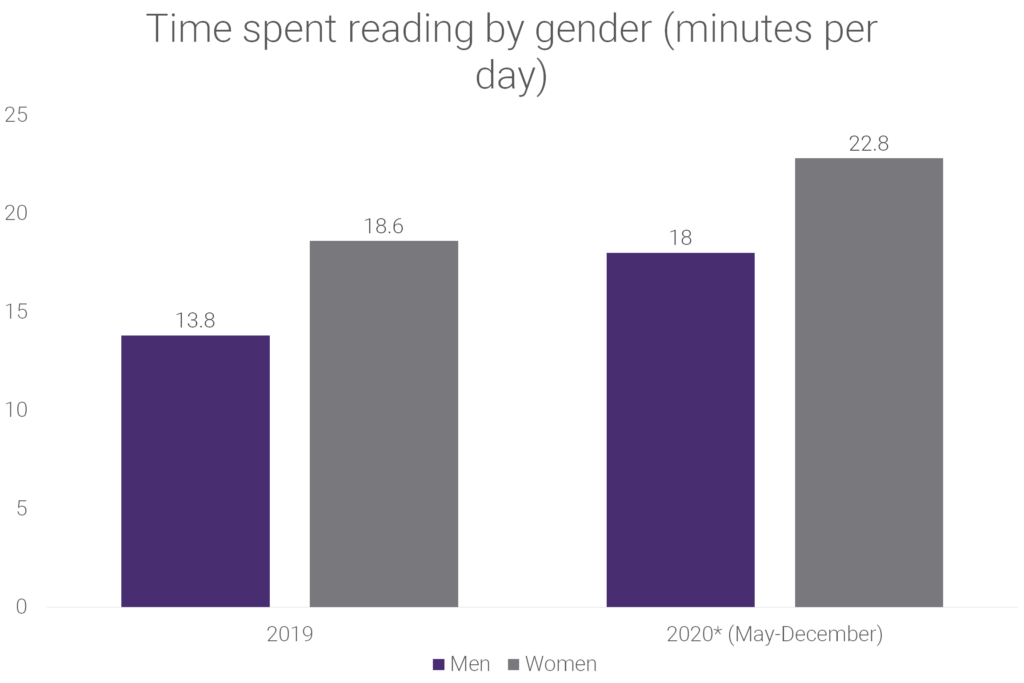 The oldest citizens read the most during pandemic
People aged between 45 and 54 are the only category that reduced the daily reading rate during 2020, dropping from 15 to 13.8 minutes per day.
All other age groups read more in 2020, with people older that 65 leading the way.
Citizend aged between 65 and 74 spent 11.4 more minutes reading during 2020 compared to 2019, while people over 75 years of age read 13.2 minutes more.
Youngest citizens, between 15 and 19 years of age, increased their reading time by merely 30 seconds per day.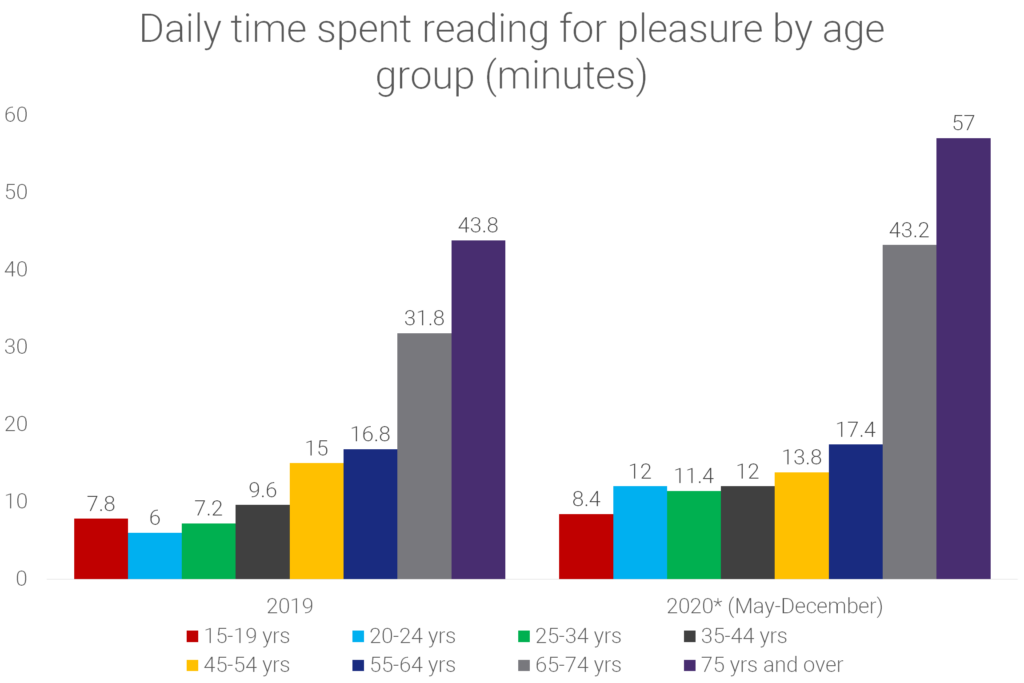 Part-time employees read less during pandemic
While overall reading rate for employed people during 2020 was 22.2% higher than it was in 2019, there are some differences among them.
Full time employees read 3.6 minutes, or 40% more per day from May to December 2020 compared to 2019.
Part-time employees, however, read 2.4 minutes, or 14.3% less during this period.
Unemployed citizens increased their reading rate by 20.9%, jumping from 25.8 to 31.2 minutes.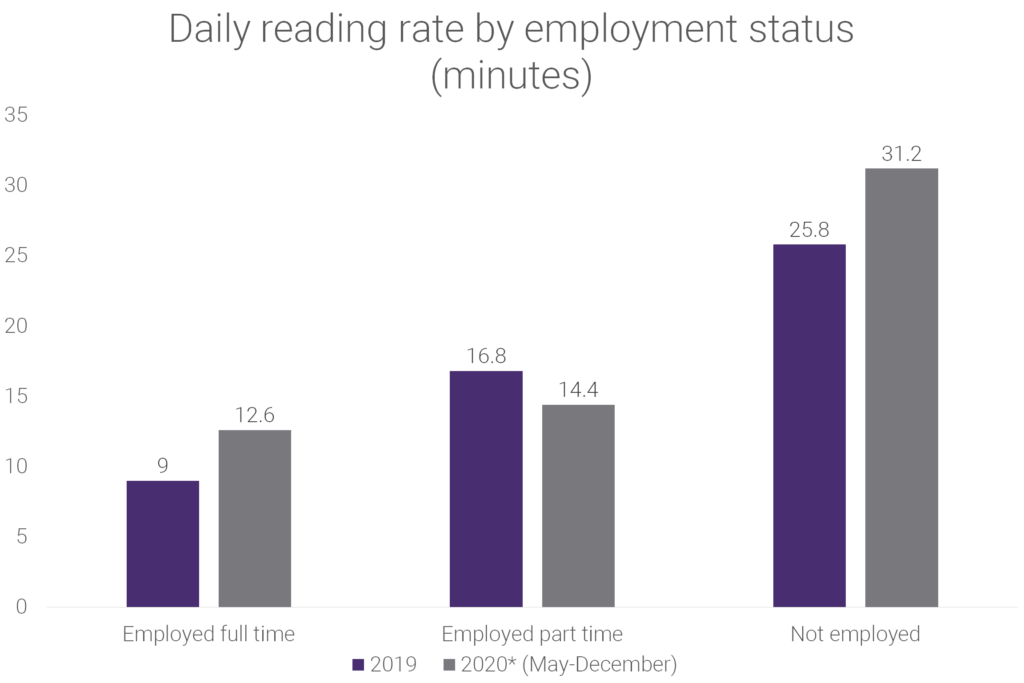 More educated people read even more in 2020
People without high school diploma read only 6.6 minutes per day during the pandemic's first year, which is a drop from 8.4 minutes in 2019.
High school graduates spent 3 additional minutes reading for personal interest during this time.
People with some college or associate degree read 19.8 minutes per day in 2020, 26.9% more than year before.
College graduates with bachelor's or higher degrees increased their daily reading time from 25.2 to 31.2 minutes during pandemic.