There are various types of federal student loans available to US citizens to help them afford the price of college. However, these loans are not interest-free and you may need to make use of multiple loans to cover the entire cost of attending college.
Top student loan interest fee statistics
The student loan program cost the government $197 billion between 1997 and 2021
There was a $311 billion discrepancy between the amount that the government thought it would make and how much it actually made
The Department of Education forecast a profit of $114 billion
The $311 billion shortfall has been attributed to favorable repayment plans, student debt cancellation, and the repayment pause introduced due to the COVID-19 pandemic
The average student loan borrower will pay $26,000 in interest over the course of 20 years repaying their student loan
Of the total amount a student repays over the course of their loan, 67.1% will be interest payments.
Current interest rates and loan fees
Interest rates on student loans are fixed. This means that the interest rate does not change for the borrower from the time they take out the loan until the loan is paid off.
Borrowers also pay a loan fee. This will be taken from the total amount so borrowers will receive less than they are granted. However, they have to pay off the full amount that they are granted.
| | | | |
| --- | --- | --- | --- |
| Loan | Borrower | Interest rate | Loan fee |
| Direct Subsidized Loans and Direct Unsubsidized Loans | Undergraduate | 4.99% | 1.057% |
| Direct Unsubsidized Loans | Graduate or Professional | 6.54% | 1.057% |
| Direct PLUS Loans | Parents and Graduate or Professional Students | 7.54% | 4.228% |
Please note: due to exceptional circumstances during the COVID-19 pandemic, student loan repayments were suspended at 0%. This is extremely unusual
Direct Subsidized Loans and Direct Unsubsidized Loans for undergraduates
Every year the federal student loan interest rates are set by Congress in May and this applies to the loans that are distributed for the first time between July of the same year and the following June.
[Graph 1]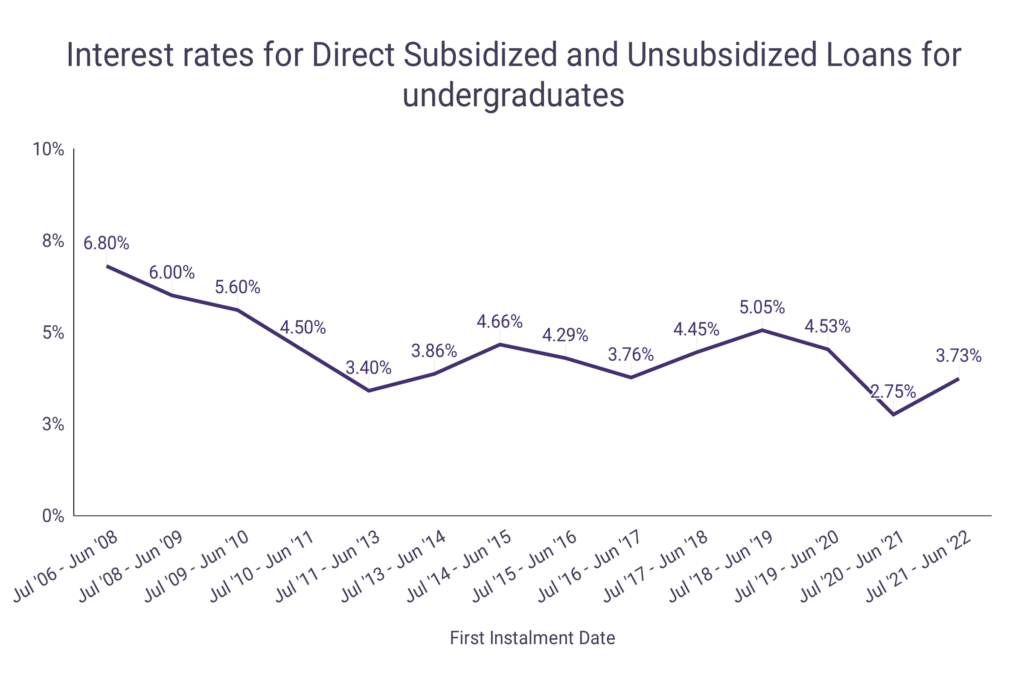 Interest rates for Direct Subsidized Loans for undergraduates
First installment date
Interest rate
Jul '06 – Jun '08
6.80%
Jul '08 – Jun '09
6.00%
Jul '09 – Jun '10
5.60%
Jul '10 – Jun '11
4.50%
Jul '11 – Jun '13
3.40%
Jul '13 – Jun '14
3.86%
Jul '14 – Jun '15
4.66%
Jul '15 – Jun '16
4.29%
Jul '16 – Jun '17
3.76%
Jul '17 – Jun '18
4.45%
Jul '18 – Jun '19
5.05%
Jul '19 – Jun '20
4.53%
Jul '20 – Jun '21
2.75%
Jul '21 – Jun '22
3.73%
Direct Unsubsidized Loans for graduates or professionals
Graduate or professional students have a higher student loan interest rate than undergraduate students
They are also ineligible for subsidized student loans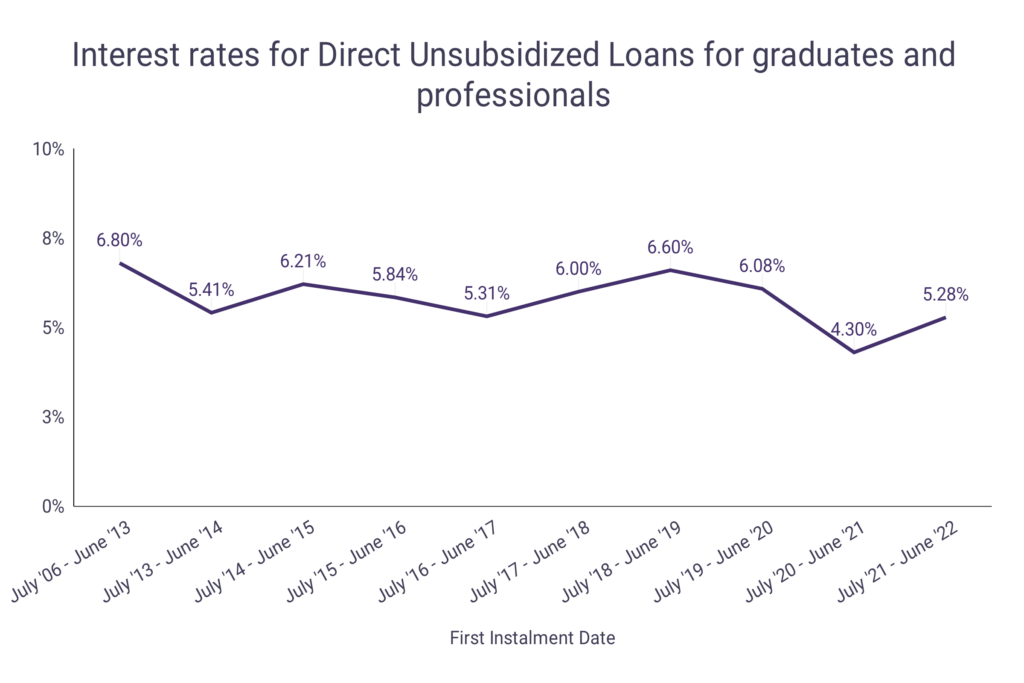 | | |
| --- | --- |
| First installment date | Interest Rate |
| July '06 – June '13 | 6.80% |
| July '13 – June '14 | 5.41% |
| July '14 – June '15 | 6.21% |
| July '15 – June '16 | 5.84% |
| July '16 – June '17 | 5.31% |
| July '17 – June '18 | 6.00% |
| July '18 – June '19 | 6.60% |
| July '19 – June '20 | 6.08% |
| July '20 – June '21 | 4.30% |
| July '21 – June '22 | 5.28% |
Direct PLUS Loans for parents of undergraduates, graduates or professional students
Parents of undergraduate students can take Direct PLUS loans to help cover the cost of their children's education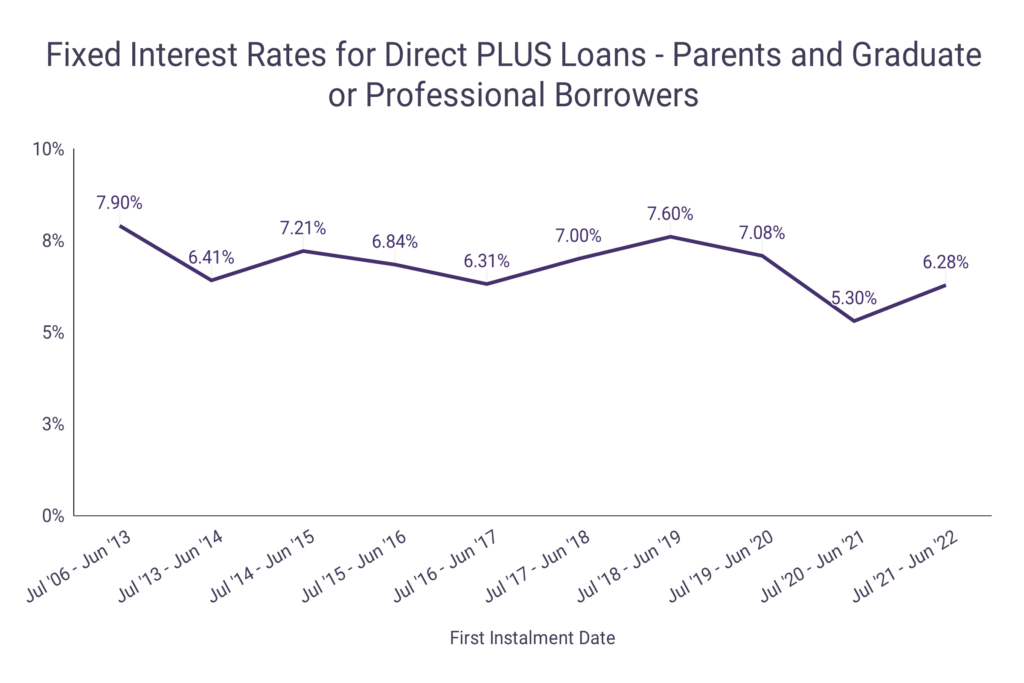 | | |
| --- | --- |
| First installment date | Interest Rate |
| Jul '06 – Jun '13 | 7.90% |
| Jul '13 – Jun '14 | 6.41% |
| Jul '14 – Jun '15 | 7.21% |
| Jul '15 – Jun '16 | 6.84% |
| Jul '16 – Jun '17 | 6.31% |
| Jul '17 – Jun '18 | 7.00% |
| Jul '18 – Jun '19 | 7.60% |
| Jul '19 – Jun '20 | 7.08% |
| Jul '20 – Jun '21 | 5.30% |
| Jul '21 – Jun '22 | 6.28% |