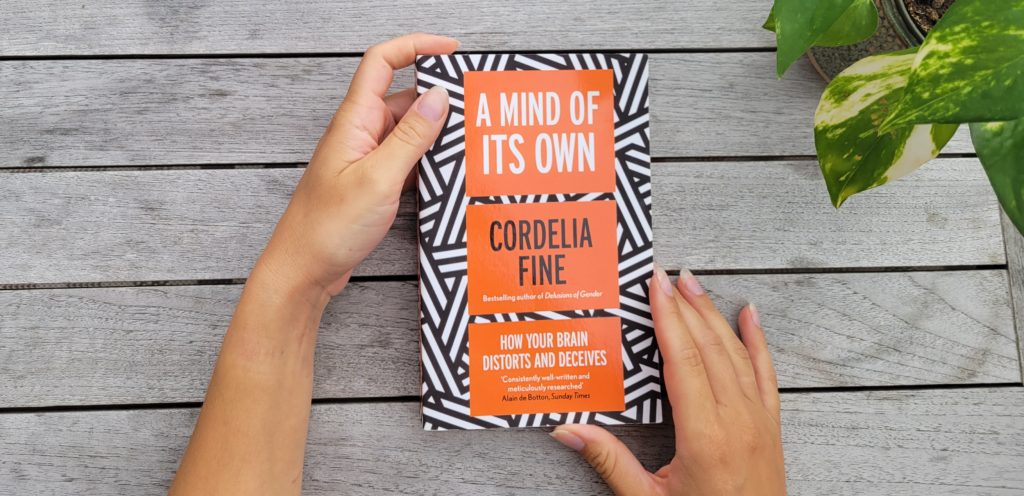 Quick summary
A Mind of Its Own: How Your Brain Distorts and Deceives is a book that explores the tricks that the brain uses to keep us sane, feeling safe, and feeling confident.
The book consists of eight chapters. Each chapter tackles a different way in which our brain behaves. Cordelia Fine details the distortion (such as The Vain Brain or The Emotional Brain), she describes the technique that the brain uses to deceive us, the research used to identify the phenomenon, and then goes on to look at the implications this has on everyday life.
Fine is an engaging author. She manages to make what could be a dry subject into an exciting and funny read.
A Mind of Its Own is worth reading if you want to get a better understanding of why you behave the way you do and why the people around you behave the way that they do.
Extended summary
A Mind of Its Own: How Your Brain Distorts and Deceives is made up of eight chapters with each chapter outlining a different technique that the brain uses to trick you or protect you.
The eight distortions are:
The Vain Brain
The Emotional Brain
The Immoral Brain
The Deluded Brain
The Pigheaded Brain
The Secretive Brain
The Weak-Willed Brain
The Bigoted Brain
The first chapter is about The Vain Brain.
For example, The Vain Brain always judges our own ability in a positive light. A survey of MIT students asked them if they thought the would graduate in the top half of their class. 97% of the students predicted that they would graduate in the top half. This is obviously impossible. Only 50% of the students can graduate in the top half, but everyone has managed to convince themselves that they are, obviously, in the top half.
Chapter two outlines The Emotional Brain. This essentially points out that our decisions are much more influenced or even driven by emotion than we would care to admit. 
In The Immoral Brain, Cordelia Fine suggests that we excuse our own immorality by making excuses or blaming external factors. At the same time, we also judge other people for their immoral behavior and don't afford them the same privilege that we afford ourselves.
Another trait of The Immoral Brain is that we blame the victims of terrible events for their own demise. Fine believes that we do this to protect ourselves from the fear that such terrible things could also happen to us.
For example, Fine mentions 9/11 conspiracy theorists who believe that the victims of the attack essentially attracted their own misfortune due to negative thinking, even though they were left in a situation where there was nothing that they could have possibly done to survive.
The Deluded Brain re-writes our own personal history to omit many of the bad things we have done and keep the good things so that our own memory fits in with the story that we want to tell ourselves.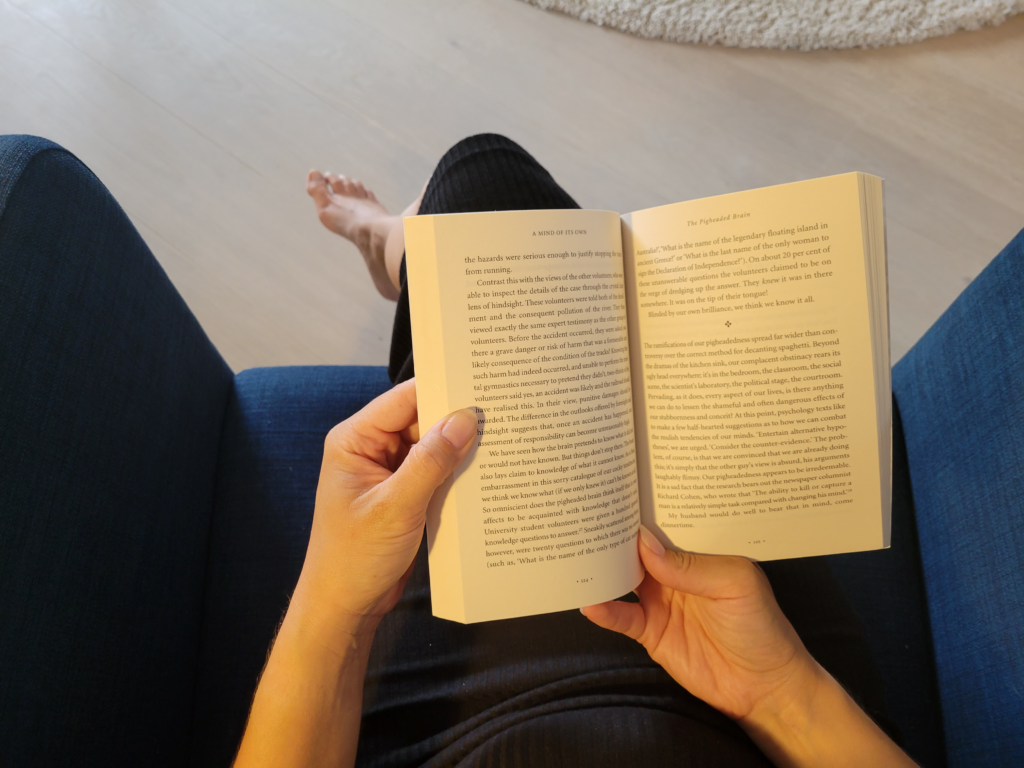 In chapter five, Fine details The Pigheaded Brain where we form opinions very quickly and very easily but it is almost impossible to admit to ourselves that we jumped to conclusions too quickly and change our minds.
The Secretive Brain states that our thoughts and actions are actually controlled by our subconscious brain. This is a hard concept to take in as it challenges the entire notion of free will in some ways.
The Weak-Willed Brain is chapter 7. Fine suggests that our willpower is a finite resource. In fact, Fine goes as far as to say that we have very little willpower so the idea of doing something like giving up smoking without any help is almost impossible.
The final chapter is The Bigoted Brain. This chapter notes that we are very quick to subscribe to stereotypes and apply them to people we know. We then treat people how we expect them to act based on those stereotypes and even influence those around us to behave the same way.
Fine has done a really good job with the book to make it still engaging, fast-paced, and even funny while also not talking down to the reader. The book is also extremely well researched and Fine cites the research throughout the whole book.
Tone of the book
A Mind of Its Own: How Your Brain Distorts and Deceives tackles some quite complex psychological research, concepts, and experiments. However, Cordelia Fine is able to keep it light-hearted, entertaining, and even funny throughout the book. Very funny in fact, especially given the context and subject. Fine is able to point out the absurdity of the findings in a humorous way.
Fine also made a good choice in keeping the book relatively short. At times there was overlap between various chapters about the eight different types of brains that we have. If there had been more chapters or if some of the existing chapters had been longer then the book would begin to drag but Fine has managed to find the right balance.
A Mind of Its Own is written in a light and engaging style. Although it covers examples from scientific research, Fine also pulls examples from her own life and family often featuring her husband or children. These examples make the author relatable but it also makes it easier for the reader to relate the concepts that Fine is explaining to their own lives.
The reader also gets the sense that the author is trying to be as honest as possible. Fine tries to convey as accurate a picture as possible of what is going on without engaging in hyperbole. She does not sensationalize the results and seeks to present the benefits of the various ways our brain works as even-handedly as she paints the negative aspects.
One difficult aspect of Fine's style is that she is prone to use flowery language. Fine is clearly very well educated. At times she uses complicated words where a simpler word would work just as well. A number of readers mentioned that they had to stop and look up the definition of words on more than one occasion. This took them out of what was otherwise a fast-flowing, engaging read.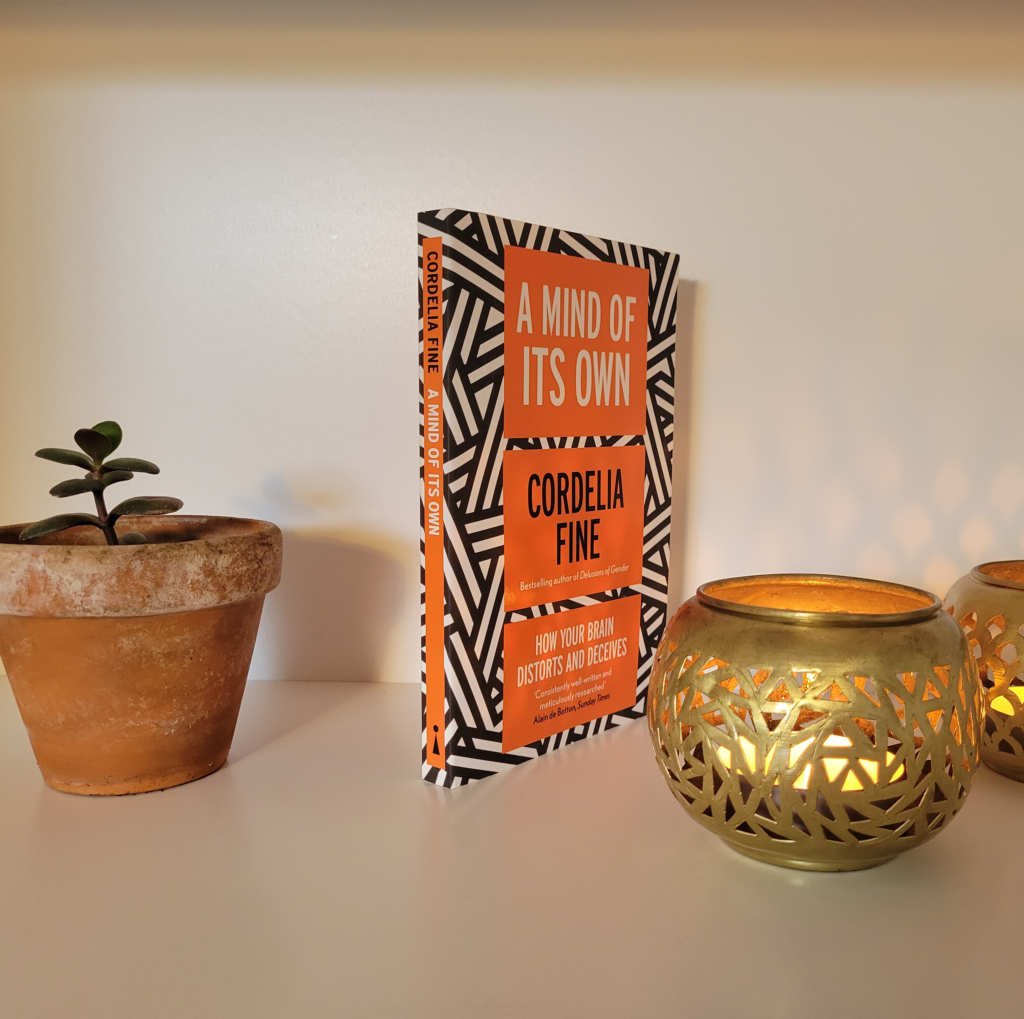 What do readers say about A Mind of Its Own: How Your Brain Distorts and Deceives?
Relatable – You'll smile in recognition
When reading A Mind of Its Own: How Your Brain Distorts and Deceives you will give a little chuckle of recognition when Fine explains one of the mind's distortions or deceptions.
That is because you will most likely realize that these are all things that you do yourself but perhaps had not quite realized until you had seen it written down and articulated as clearly as Fine articulates it here.
Comprehensive and meticulously footnoted
Readers mentioned that A Mind of Its Own: How Your Brain Distorts and Deceives is extremely detailed and covers the 8 distortions in great depth.
In fact, at times some readers suggested that Fine went into a little bit too much depth and the overlap between some of the different distortions meant that the book became slightly repetitive in places.
However, on the whole, the feedback was that the well-researched nature of the book helped to add credibility. For each of the distortions laid out in the book, Fine cites multiple scientific studies and research papers that support her arguments. Each of these are footnoted to allow the reader to go away and read the source material where and when they want to.
As well as outlining the specific technique of distortion used by the brain in each of the chapters, and the research used to discover the distortions, Fine also explains what impact the distortion has on everyday life.
Accessible while covering complex topics
As mentioned, each of the distortions that Cordelia Fine covers in A Mind of Its Own: How Your Brain Distorts and Deceives is backed up by the research used to discover them.
This means that the entire book is built upon peer-reviewed scientific concepts that have been published in various psychology journals. The source material is extremely dense and complex.
At times, some readers noted that there was nothing particularly new in the book. But what Cordelia Fine has managed to do is to break down these extremely complex concepts into a book that is actually reasonably straightforward to follow and manages to be entertaining and funny at the same time.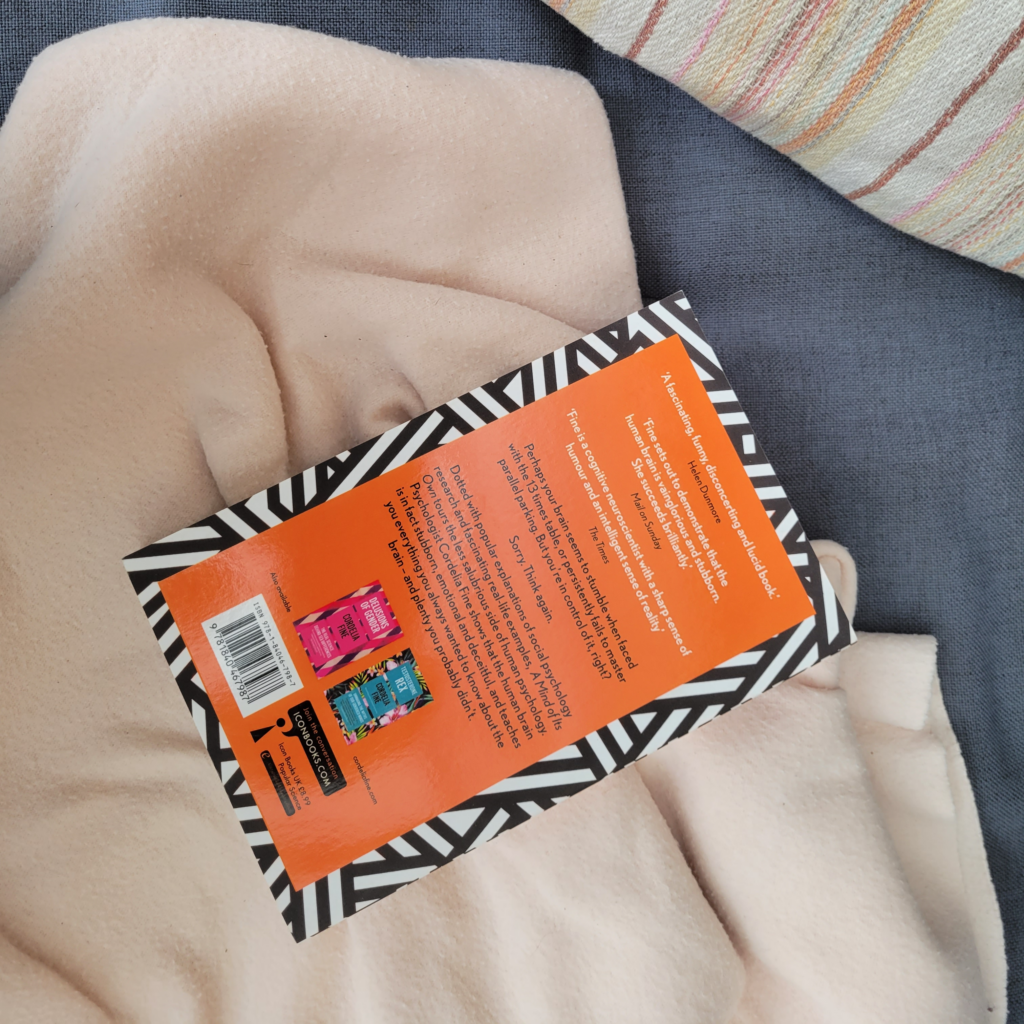 Language is too convoluted at times
Where Fine has perhaps fallen slightly short in her writing is where she decided to flaunt her expansive vocabulary.
It is difficult to understand the author's word choice at times.
She has managed to take these complicated ideas and distill them into simple language that most people can understand. But then she goes on to use complicated words in her analysis that are not psychological jargon but attempt to portray a vivid image. 
Fine may come from a background where that is simply how one talks but it many readers mentioned that this disrupted the flow of the book for them which was a shame.
Audiobook review
The audiobook for A Mind of Its Own: How Your Brain Distorts and Deceives is 7 hours and 24 minutes long.
It is produced by Audible Studios and narrated by Judith West. West has over 40 audiobooks on Audible that she has narrated. These are a mix of both fiction and non-fiction books.
Listeners of the book praised West for her style. They mentioned that she was able to capture the spirit of author Cordelia Fine.
Similarly to the physical book, the word choice is quite adventurous and a number of listeners noted that it was not always easy to follow along where Fine had chosen words that were more complicated than they needed to be. In the physical version of the book, it is easier to scan back and re-read the word, understand the context or look up the meaning. For the audiobook version, it requires you to take out your phone and pause or rewind before looking the word up.
Similar books to A Mind of Its Own: How Your Brain Distorts and Deceives
Readers mentioned a number of books that they felt were similar to A Mind of Its Own: How Your Brain Distorts and Deceives.
The most commonly cited was Thinking, Fast and Slow by Daniel Kahneman. A large part of Kahneman's book is dedicated to bias and heuristics. This was the work that he undertook with fellow psychologist Amos Tversky and was covered in a book called The Undoing Project by Michael Lewis.
Another book that readers mentioned was Incognito: The Secret Lives of the Brain by David Eagleman. They mentioned there was a large degree of overlap between the two books and even the style of writing. However, most people agreed that Fine's book was more engaging and flowed better as Eagleman's felt more like a series of standalone essays rather than a book.
Readers also mentioned overlap with Blink: The Power of Thinking Without Thinking by Malcolm Gladwell. The criticism of Gladwell's book is that he over-simplified the concepts to the point that what he was writing was no longer accurate. Readers mentioned that they felt Cordelia Fine was better able to find the right balance between accuracy and accessibility.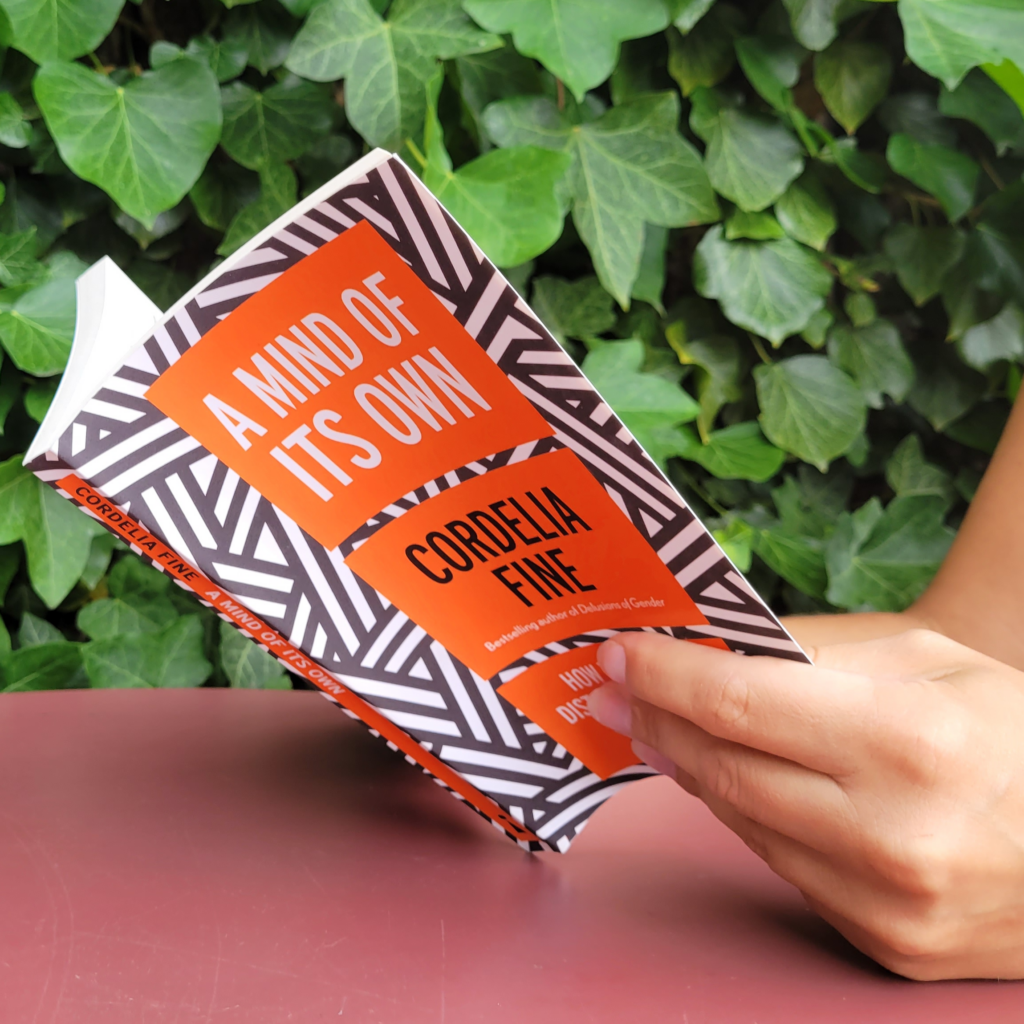 Should I read A Mind of Its Own: How Your Brain Distorts and Deceives?
Positive
Funny, well-written, and engaging
Simplifies complex concepts without being demeaning
Relatable and helpful
Negative
Repetitive at times
Convoluted word choice
Yes.
A Mind of Its Own: How Your Brain Distorts and Deceives is an interesting book for anyone that wants to understand themselves better.
It is not a self-help book as such but more an exploration of the mind. Cordelia Fine, the author, does not take herself too seriously by keeping the tone light-hearted, conversational, and personal.
However, Fine clearly takes her work very seriously. We can see this by the amount of research that has gone into the book and the way that each piece of research has been meticulously footnoted throughout.