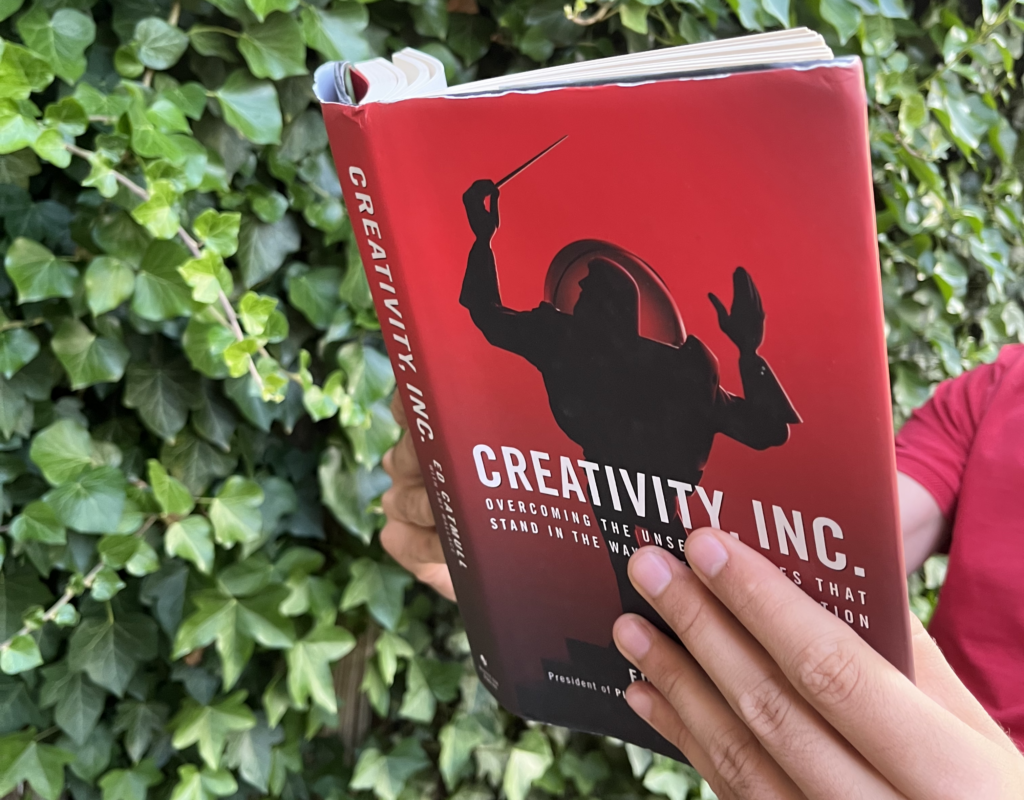 Quick Summary and Verdict
Part memoir, part business book, in Creativity, Inc. co-founder Ed Catmull tells the story of how some of Pixar's best-loved movies come together and how the creative culture at Pixar has influenced its success.
Many people enjoyed the peek behind the curtains at Pixar and seeing another side of Steve Jobs and the many lessons Catmull has learned in designing a culture of creativity within Pixar. However, others found the advice surface level and the story-telling slightly boring.
Overall, Creativity, Inc. is a solid management book that teaches leaders how to create an environment that creative people can thrive.
Long Summary
Ed Catmull's dream was to create the first ever computer animated movie.
Creativity, Inc. is partly the story of how this came true and partly a business book outlining the culture Catmull created within Pixar that lead to all 14 movies (at the point of publication) released by the studio to be box office smash hits and critical success stories.
Throughout the entire book, Creativity, Inc. is a business book. Its purpose is to explain fundamental principles of business and team creativity. Catmull does this by using examples of his experiences within Pixar.
However, for the first half, the book resembles a hybrid model of part memoir, part management book for the first half. It is not a cold, management textbook but an experienced industry leader sharing his principles, explaining the idea behind them and then showing the results of how that worked in practise.
Catmull explains how he began working with George Lucas. In the interview, he was asked who else they should consider for the job and Catmull listed off some of the top names in the industry. The people that were his competitors for the role. It turned out that Lucas had already interviewed all those people and asked them the same question. None of them gave any other names. It made it clear to Lucas that Catmull truly believed the smartest people should work on the toughest problems. Lucas respected the honesty of the answer and the commitment to solving the problem over self interest.
From there, Catmull explains how Pixar was formed and his interactions with Steve Jobs. It's clear throughout that Catmull has a huge amount of admiration and respect for Jobs.
At this point, the book begins to become more lessons and business focused and less memoir. Throughout the rest of the book, Catmull still gives plenty of examples that outline his beliefs but it becomes less about his life and more about the business implications.
Some of Catmull's main lessons are:
Everyone should be able to talk to everyone, regardless of hierarchy
Everyone in the company is responsible for quality and can call out problems
Always focus on quality and improvement, if you have a chance to make something better – take it.
Trust in good people, they are where good things come from
If you are not failing, you are not learning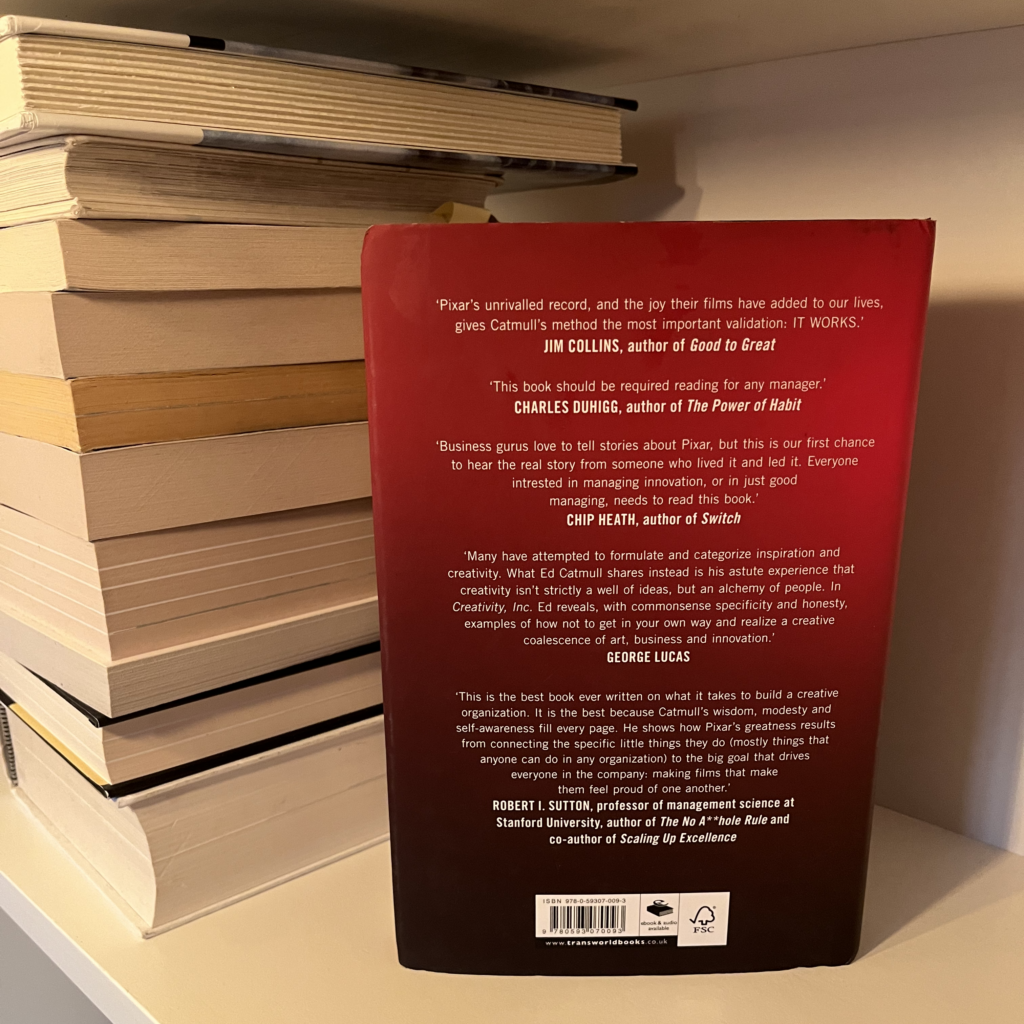 What type of reader would enjoy this book?
Business book rather than a Pixar tell-all
Creativity Inc has a broad appeal given the worldwide, mainstream success of so many Pixar movies. However, just because you enjoyed Toy Story, it doesn't necessarily mean this book is for you.
While there are some elements of a memoir, this is a business book at its heart. If you are not interested in company culture, management and creativity then you will be overwhelmed by the business side of the book.
For managers over creatives
The book is also more about putting in place the structures to allow creativity rather than where an idea comes from. So this book is more aimed at managers than individuals or freelancers who are looking for a guide on how to come up with ideas by themselves. Remember, Pixar is a large company that was bankrolled to the tune of millions of dollars and this book reflects that.
What do readers say about Creativity, Inc.?
Great takeaways
Many readers have stated there are a number of interesting and applicable takeaways. The entire book is littered with interesting observations and Catmull explains throughout how he came to the conclusions that he came to – both in terms of successes and failures. He explains how he turned these insights into structures that can be applied to most medium to large businesses.
Ideas don't have broad application
On the other hand, there were a small number of detractors who believe that a number of the takeaways were too specific to the animation industry and could not be taken to be applied in a broad sense in other companies or industries.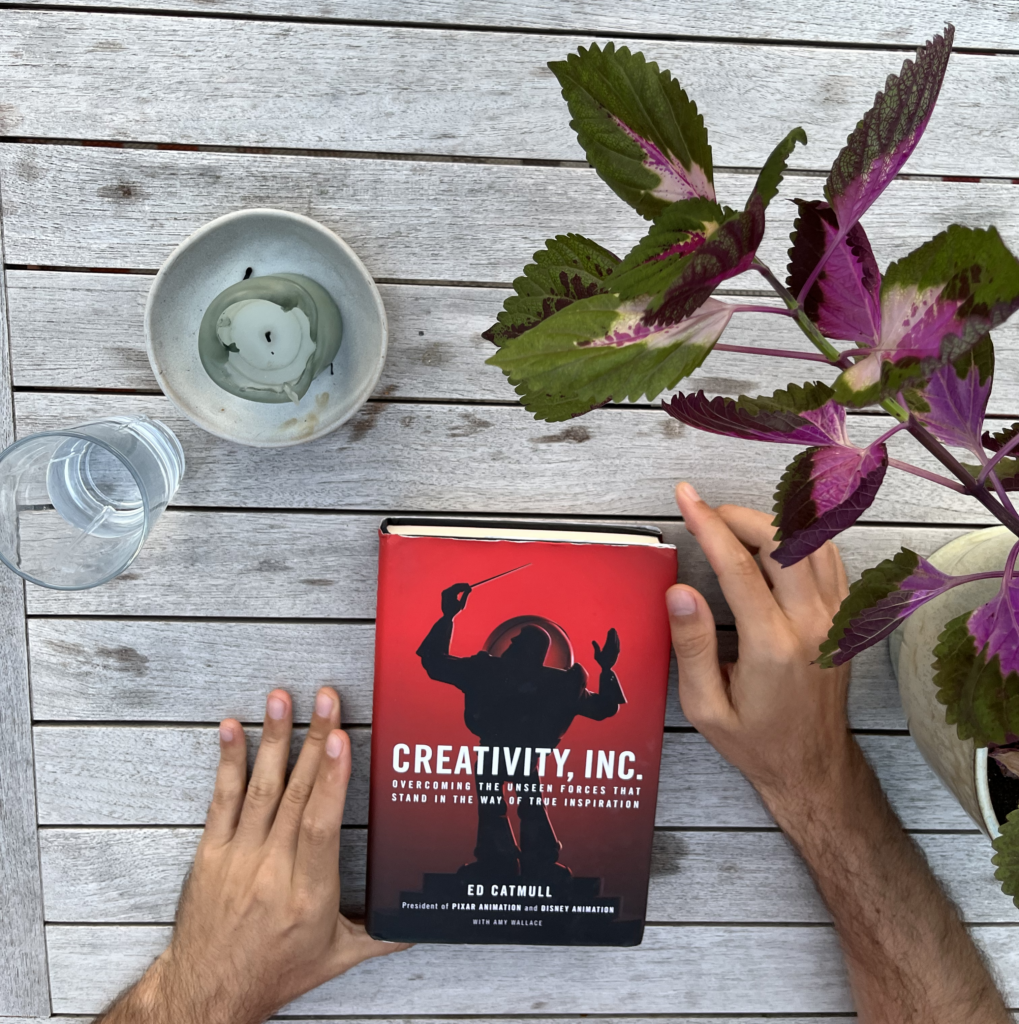 Not enough about the creative process
One of the major criticisms of the book is that there is not enough about the creative process. Simply by reading the title, many assume Creativity, Inc. is supposed to be a book about how creativity works and coming up with ideas.
However, the book is more about management and structures. It's about hiring the right people and giving them the environment to be creative themselves and as part of a team. But many people are looking for a deep dive into how and where the ideas came from. They are looking for an exposé on how this thought triggered that, and in turn, this happened. Or even a step by step guide to being creative.
That isn't what this book is about and some readers felt let down by this.
Earnestly and passionately written
Many readers loved Ed Catmull's passion which shines out from the pages of Creativity, Inc.
It's clear that he loves animation, he loves Pixar and he loves the work that goes in to creating great animated movies.
Readers comment that Catmull's advise is earnest. They really believe that Catmull believes what he is saying. He's trying to make sense of what has happened throughout his career and distill it into useful information that people can use.
They enjoy that he is working towards a goal bigger than himself. For Catmull, making a great movie is the objective. To this end, individuals are less important. It is the team that means everything. That's why it's not about who is right and who has the best idea but it's about the team getting the right idea.
Catmull says it is important to detach ego from the idea. Don't get attached to an idea because it is your idea. It's all about getting the best end result, so if an idea doesn't work, move on or iterate until it does work. Don't hang on to it because of your ego.
Like talking to a mentor
Ed Catmull writes this book like he is a father figure or a mentor. Many readers found this to be both comforting and inspiring.
Good balance and Interesting format – ⅓ memoir, ⅔ business management
There are many differing opinions on the format of the book. In reality, it all depends on what a person is looking for going in to reading Creativity, Inc.
There are a group that came into the book looking for a behind the scenes book about Pixar. Looking for the in-depth story of it's founding and how each movie was made. Creativity, Inc. touches on these points throughout the book but the information is used as the storytelling vehicle to get business and leadership lessons across.
A second group was looking for an insight into where ideas come from. Again, this book did not work so well for them because it is about managing a creative team rather than coming up with ideas.
The format worked very well for the third group. These are the people that came in looking for a leadership and business management book. The fact that the book was part memoir made it a less dry than a lot of other business books. Plus the behind the scenes information that is included in the book also provides light and shade from the more dense business parts of the book.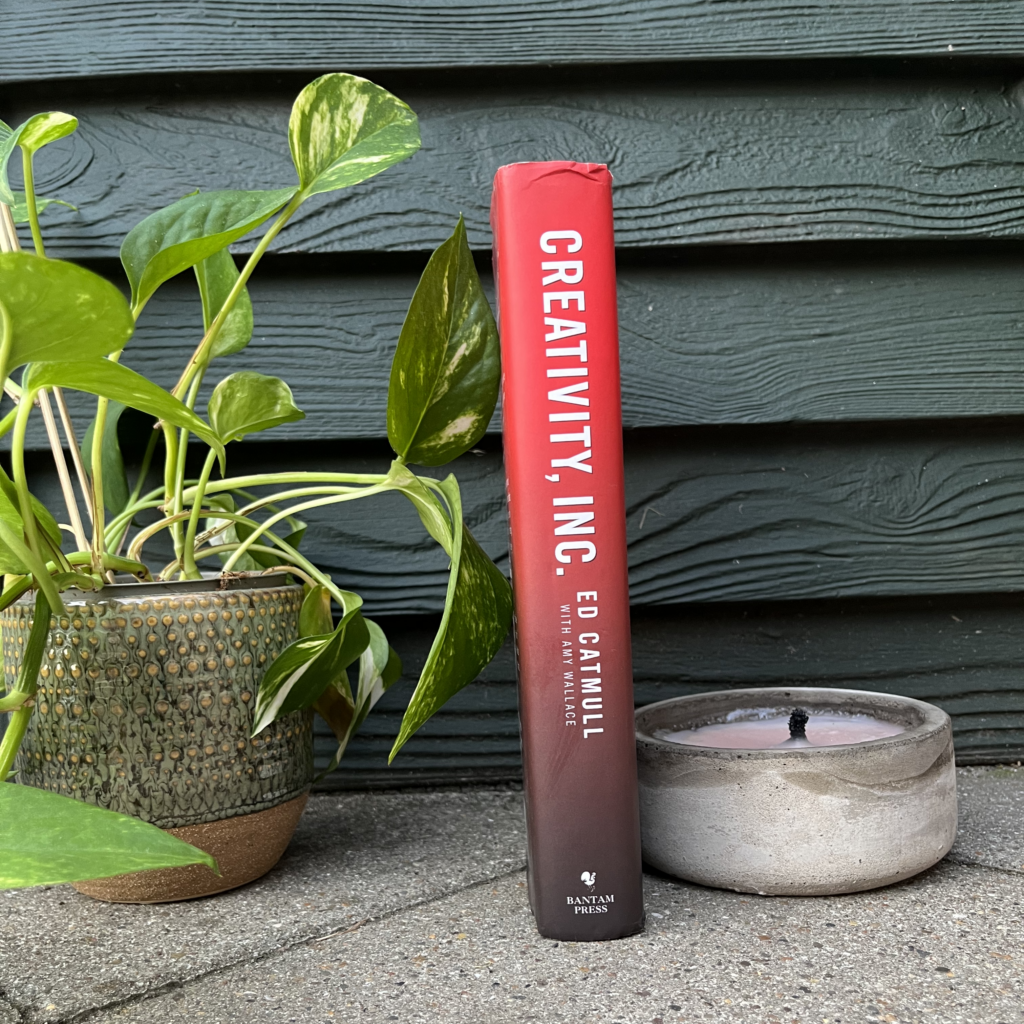 Behind the scenes insight into Pixar and Steve Jobs
Some people expected way more behind the scenes information on Pixar. But, for those who knew they were getting a business management book it was very interesting to get real life examples of Steve Jobs' management style and real life examples of how the lessons being learned in the book were applied to their favorite animated movies.
Buzzwords and basic advice
Those who didn't love the book pointed towards the advice given throughout the book as being rather obvious.
One such example is the advice to go on research trips. For example, when Pixar were working on Ratatouille (a movie about a rat who becomes a chef), the team went to a professional kitchen to learn what it was really like to be in that environment.
This is objectively good advice. The trip to the kitchen has a positive impact on the outcome of the movie. However, readers point out that this is pretty obvious and common sense. In fact, some go as far as to suggest that it would have been a dereliction of duty to have not performed the necessary research.
Lessons ring hollow given what's come to light
Many of the lessons in the book discuss having, hiring, trusting, and investing in good people. Then once you have good people, give them the environment and tools to reach their full potential.
In the years since Creativity, Inc. was published, two major scandals involving Pixar have reared their heads.
One scandal pertains to artificially repressing the wages of animation employees at major Hollywood studios. It is believed that there were agreements between various studios that they would not "poach" the top talent from each other. This essentially removed a worker's ability to create competition between prospective employers as there would not be a bidding war between the companies for the animator's services.
Many argue that the moral of the story of Creativity, Inc. is about caring for your employees, giving them all the tools and allowing them the freedom, responsibility and autonomy to flourish.
By employing this anti-competitive agreement, Catmull has shown that caring for his employees is actually a means to an end rather than a principle that he lives by.
The second scandal relates to Catmull's co-founder, John Lasseter. Lasseter resigned from Pixar after a sexual harassment scandal. This also suggests that employees at Pixar did not have the best possible working environment.
The tone of Creativty, Inc.
Throughout the book, Catmull tries to get across timeless business principles by telling engaging stories. His humble, yet informed style is endearing and brings the reader along with him throughout the book.
The purpose of the book is to teach companies how to generate a creative culture but he does this by way of a semi-memoir where he can explain occasions, steps, reasoning, failures, iterations to the process, and ultimate success.
The general consensus is that Catmull is an engaging storyteller and writes akin to a mentorlike figure. Both lovers and detractors of the book agree that Catmull is a sympathetic and earnest figure who is genuinely trying to do his best.
However, some readers have suggested relies heavily on clichés and the content lacks substance below the surface level.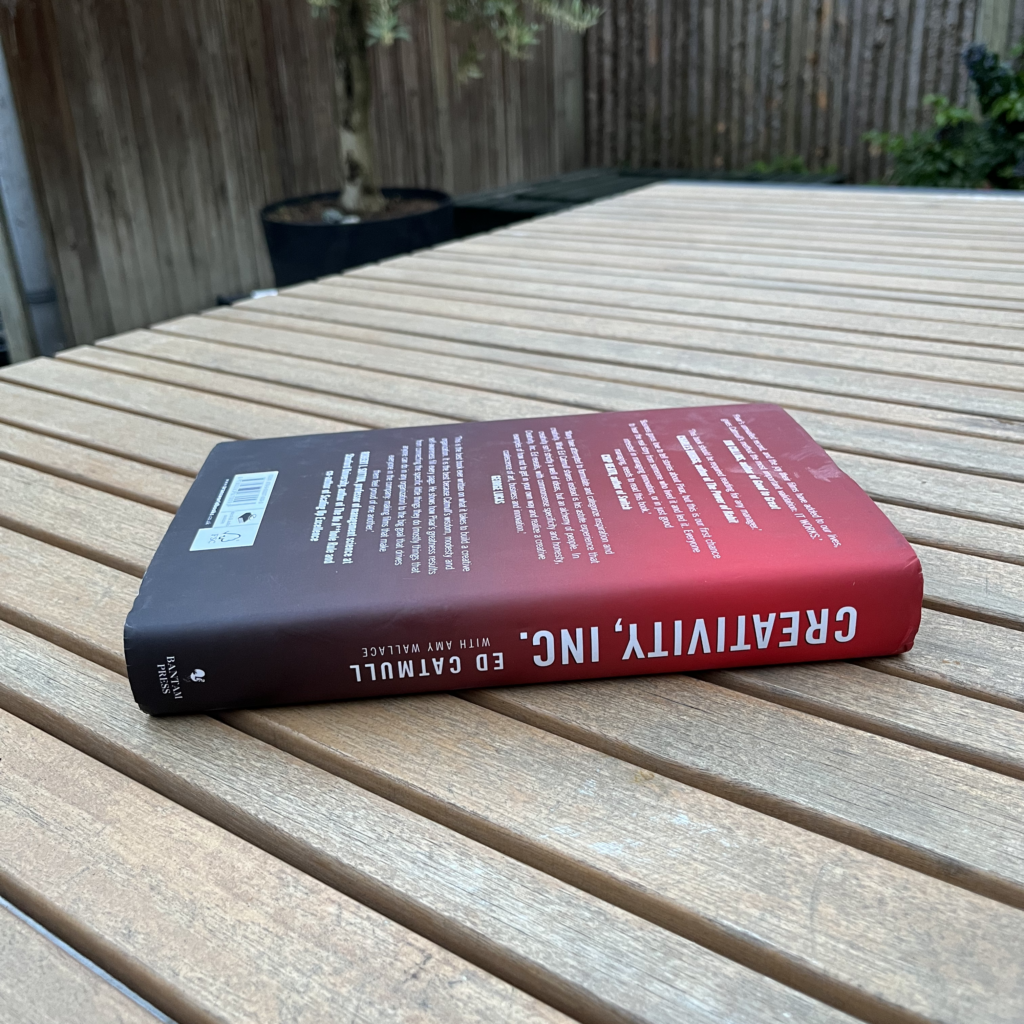 Audiobook Review
While reviews for the content of the audiobook were generally positive, there were a lot of negative comments with regards to the narrator.
The narrator is an older gentleman. Listeners enjoyed that made the sensation realistic by keeping them within the mindset that the book was being read by the author himself.
However, many people were puzzled by the performance. At times, the narration was slow, lacking energy and expressiveness. At other times, the narration was overly dramatic or boastful. Part of the charm of the tone of the book lies within the humility of the author. The narration undermines both the content, feel and the personality of the author. It takes the listener out of the experience by making the author unlikeable at times.
To summarize, the narration takes away from the book rather than adds to it. If you wish to read Creativity, Inc. it is likely to be a more enjoyable experience to read the book rather than listen to it.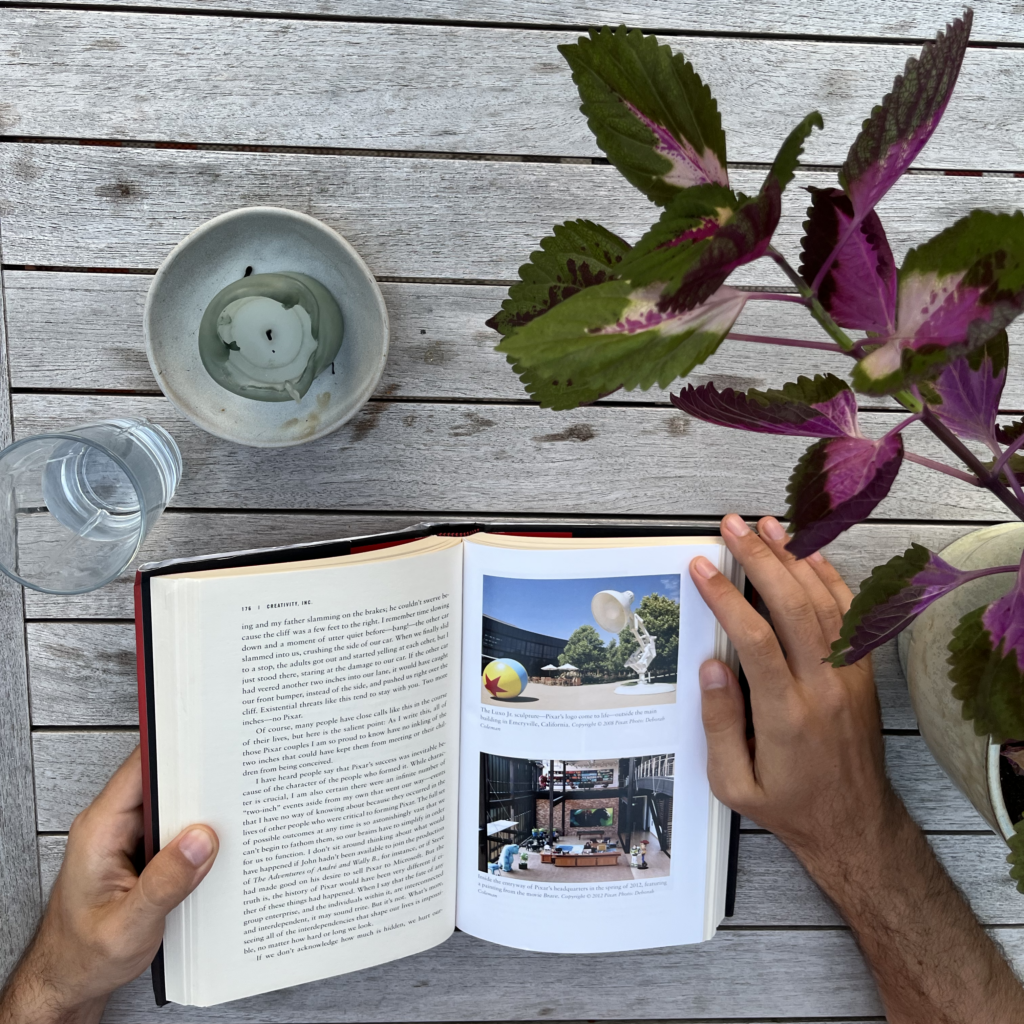 Should you read Creativity, Inc.?
Positive
Clear takeaways
Book accentuated by examples and reasoning
Earnestly written by someone who has a goal he believes in
Negative
Hypocritical stance given events taht later came to light
Poor audiobook narration
Not as much background into Pixar as people would have liked
Creativity, Inc. is worth reading for managers and people working with large teams in creative environments. The lessons throughout the book are not groundbreaking but everyone that reads the book will take something useful away from it. Compared to standard management books, it is interesting to get real-life examples from the man who implemented many of the processes laid out thrghouout the book rather than someone theorisizing.