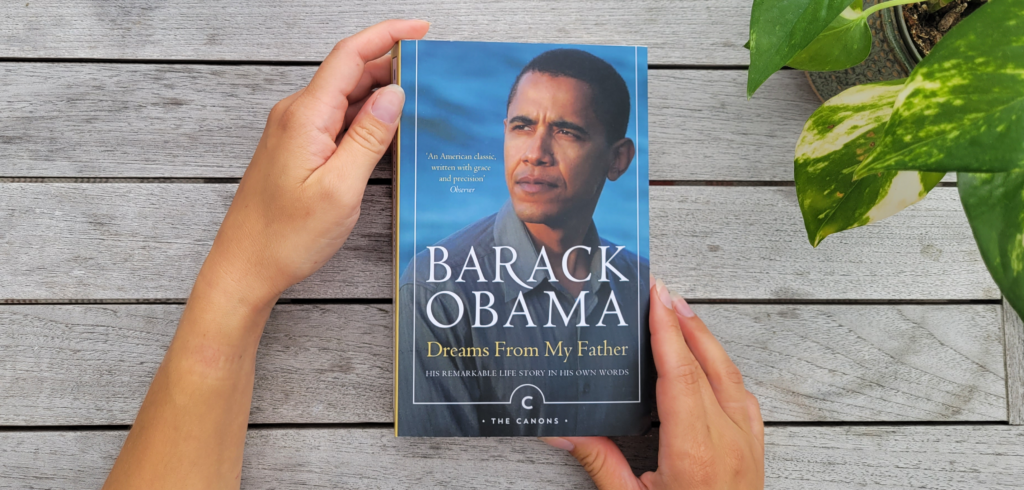 Quick summary
Dreams from My Father: A Story of Race and Inheritance is the story of Barack Obama's search for who he is and where he belongs.
At the age of 21, Obama receives a call to let him know his father has died suddenly in a car crash. This sets off a long journey where Obama starts to explore who he is, where he fits in the world, and what he stands for. These memoirs are a raw and honest look at why Obama is the way he is and how he manages to reconcile his identity, his father leaving him and his mother, and his father's early death.
This book is an interesting read for anyone who is interested in American politics or how Obama was formed as a man rather than as a politician. It's a long read that gets slightly bogged down in the middle but it's worth pushing through for the interesting beginning and introspective ending.
Extended summary
At the age of 21, Barack Hussein Obama received a phone call from an aunt that he had never met before to let him know that the father he was named after had died in a car accident in Kenya – a place Obama had never even visited.
Obama then goes on to tell the story of his life and how it lead him back to Kenya to find out who he really was, find his estranged family and finally come to terms with how and why his father had left him and his mother at a young age.
Obama's mother and her parents came from a relatively small city in Kansas called Witchita. In 1960, a year before Barack Obama was born, the whole family up and moved to Hawaii.
Obama's mother, Ann Dunham, enrolled in college locally in Hawaii. It was there that she met a Kenyan student by the name of Barack Hussein Obama. After Dunham fell pregnant, she married Obama.
By 1962, Obama Sr. had graduated from the University of Hawaii and headed to graduate school at Harvard. Dunham and Obama Sr. separated in 1964.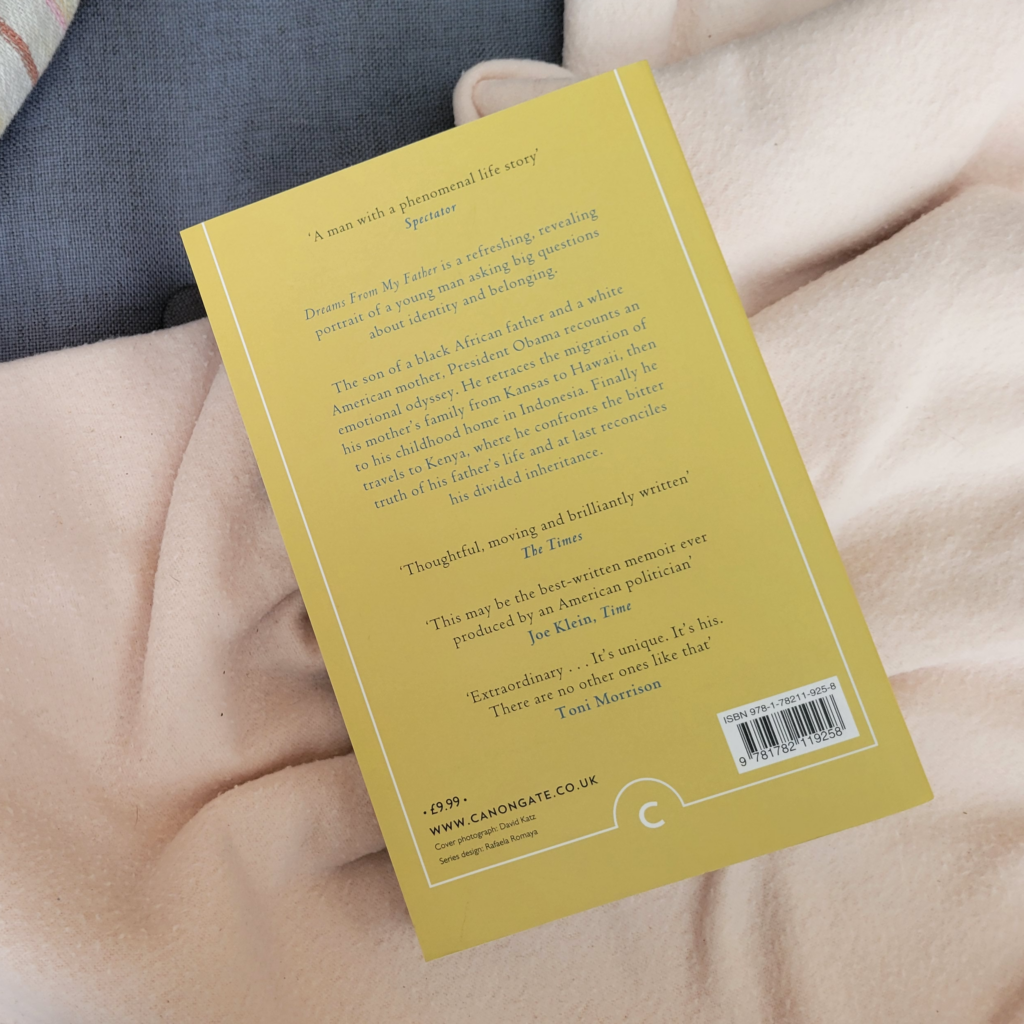 In 1966, Back Obama has a new stepfather. His mother had met an Indonesian man called Lolo Soetoro who was visiting Hawaii on a student visa. She married him and in 1967 the three of them packed up and moved to Indonesia.
Obama lived in Indonesia for four years with his mother and stepfather. However, she sent him home to Hawaii to live with his grandparents. Dunham had been worried about Barack understanding who he was as an American and being proud of his black heritage.
At the age of 9, Obama was back living in Hawaii. While in Indonesia, his mother had tried to teach Obama about his black heritage and to be proud of it. But, when he went to school in Hawaii he was one of only two black kids in his class and faced regular racist comments from his classmates.
He was excited to find out that his father was visiting for Christmas. He had no memories with his father, only stories that those close to him had told young Barack. Quickly, Obama realized that he preferred the stories of his father rather than reality. He found him to be controlling and was in no hurry to build a relationship with the man.
At the same time, Obama was struggling with his identity. He was beginning to realize what being a black man in America meant. He started to play basketball and made more black friends. They began to disabuse him of the notion that white people were inherently good and had his best interests at heart. That was difficult for a young Obama to understand given that he was raised by a white mother and white grandparents.
Without a black, senior role model or father figure in his life, Obama felt he was missing some important pieces of the jigsaw when it came to race. He spoke to his Gramps black friend and asked him about going to college. The friend, Frank, told Obama that going to college was important but that it would only make Barack a non-threatening black man.
It was around this time Obama was starting to get a real grip on the race issues in America and he started to get angry. He began drinking, smoking pot and when he went to college he began to mix with the more radical black students.
As a mixed-race person, he feels like he doesn't fully belong in either camp. He feels like he is not black enough and starts to take these frustrations out on fellow black students who don't act black enough in his opinion. He was angry. A friend spoke to him and he realized he needed to change his way. At this point, he transferred to Columbia University.
After graduating from Columbia, he moves to Chicago and starts community organizing. Obama has a number of successes in Chicago but also faces a number of impossible challenges between systemic racism, bureaucracy, and more. He decided it was time to try and make a difference another way. He decided to go to graduate school at Harvard.
In 1988, before starting at Harvard, he made a trip to Kenya. Here, he met many of his paternal family for the first time. He was able to learn about his father's life, upbringing and the complicated dynamics of Kenyan families and politics (in which his father was heavily involved as an economist.)
A large part of the book is focused on this trip where he explores the sudden death of his father, his issues with his father leaving him and his mother and finally feels at home in Kenya.
Who should read Dreams from My Father: A Story of Race and Inheritance?
Dreams from My Father is the first of three books Obama has written about himself, his identity, and his politics.
It is worth reading for anyone interested in Obama's life before becoming president or even a presidential candidate. The book deal came about as a result of him being elected as the first Black president of the Harvard Law Review so is interestingly not completely tied to his future political aspirations.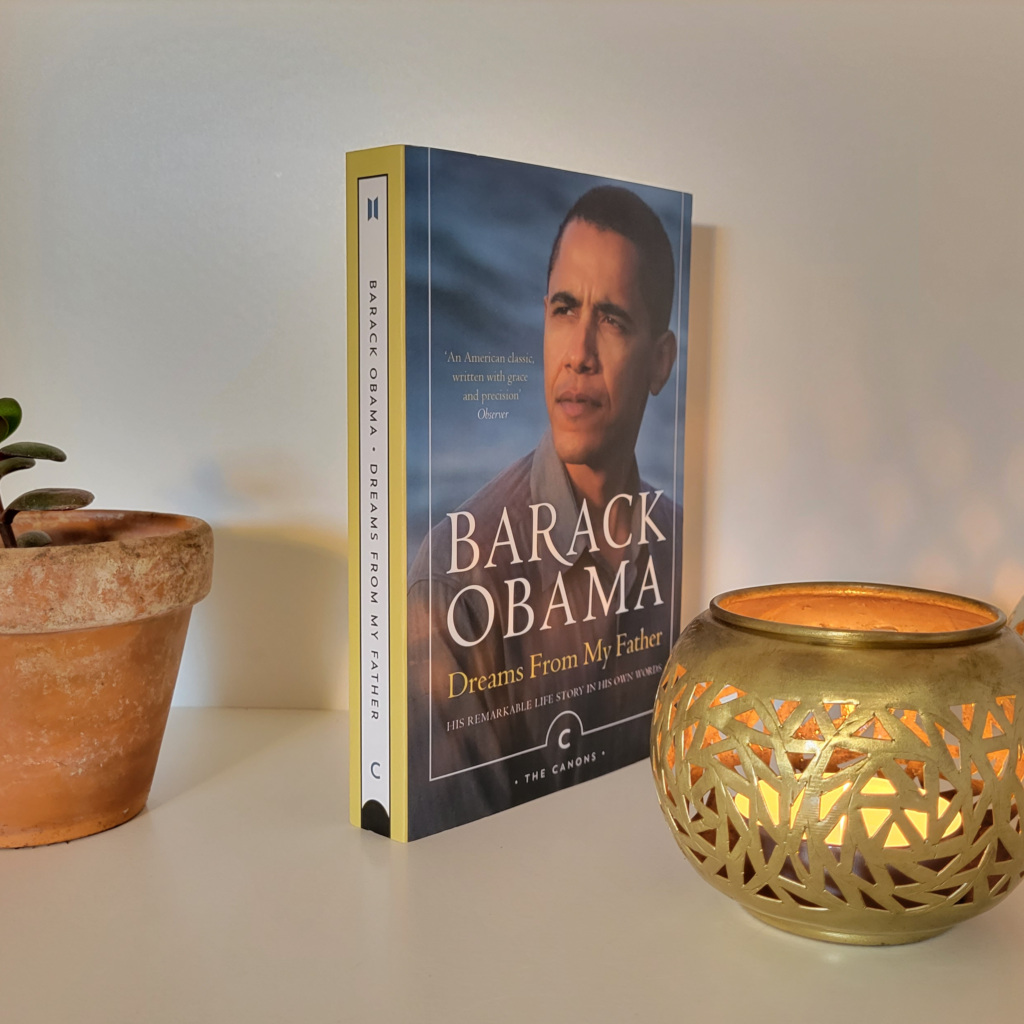 Tone of the book
Barack Obama is well known for his polished and inspiring speeches. Dreams From My Father has a lot of the aspects from those speeches. The prose is poetic, honest, and moving.
A lot of the book is very thoughtful and introspective. He looks back at his life to try and understand where he fits in and how that has made him the man that he is today. It's a very emotional, raw memoir. He deals with some really difficult issues head not – not shying away from them.
He talks about not knowing and not having any memories of his father as a young boy. His father left when he was young, so Obama only had the stories and the legends that he had been told of his father, not the first-hand experience of what his father is really like.
The book is 450+ pages and it can be quite a long read. There are sections in his childhood that are engaging. Then when he arrives in Kenya the book is difficult to put down. However, there is a large section focused on his time as a community organizer in Chicago. At this point he goes into a lot of detail about things that are not particularly interesting.
The book was released in 1995, way before Obama was even a rising star in the Democratic party. Perhaps he was trying to pad out his political CV by focusing so much on the details of his experiences while organizing and helping people but it took away from the flow of the book.
As stated though, particularly in the final section in Kenya, the prose is particularly vivid when he is painting a picture of the people, the landscape, and the food.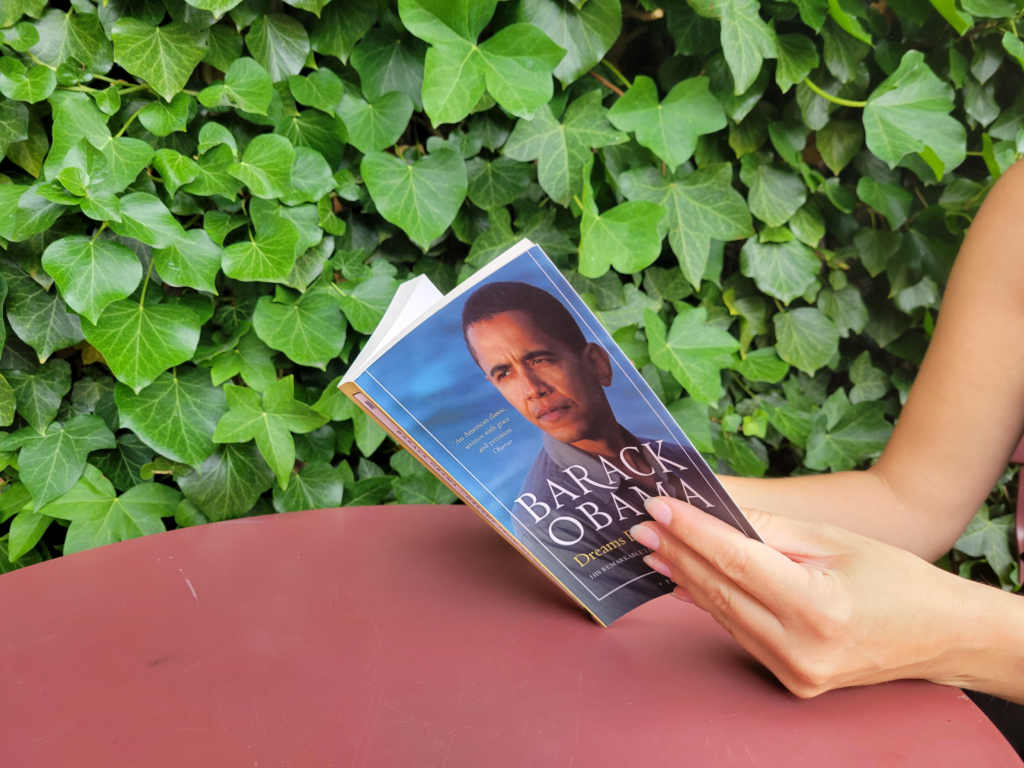 What do readers say about Dreams from My Father: A Story of Race and Inheritance?
Fascinating insight into Obama's life
Dreams from My Father: A Story of Race and Inheritance was first published in 1995, well before Obama had even contemplated running for president.
For many readers, it's fascinating to see how he describes himself at this point. How he so openly discusses the fact that he smoked pot in college and had flirted with some radical policy positions in college.
Loses steam in the middle but picks up speed again
The book is really made up of three key sections. It describes Obama's childhood and his struggles with his identity throughout his life. How and where he grew up and how that shaped him.
Then there is a large section about Obama's time as a community organizer in Chicago. Many people seem to think this section has gone into such detail because at the time Obama was trying to discuss his political achievements and credentials. However, he goes into way too much detail and many readers found this section was boring or didn't fit in with the rest of the book.
The final section is where Obama makes an almost pilgramage to Kenya. He meets his extended family, learns about his father from those who knew him best and finally comes to peace with who he is, his relationship with his father and connects with his Kenyan roots. The part is extremely moving and provides a fascinating insight into who Obama is but also into what is possible in America.
Relateable search for identity and belonging
For many readers of mixed backgrounds – be that race, sexuality, religion, or something else – this book was relatable.
A huge part of the book is Obama searching for who he is and where he fits in. Obama has a white mother from Kansas, and a Black father from Kenya. He was brought up in Indonesia by his mother and Indonesian step-father for a number of years before heading back to the US to Hawaii where he was raised mainly by his grandparents until it came time for him to leave to go to college.
It speaks of being a young, black kid in Indonesia and not knowing of the struggles that black people faced in the US. Of starting to find this out when he returned but not having a black support network as his father had returned home to Kenya when he was young. He talks of not feeling black enough but not feeling white. Of struggling to make black friends and then moving off to college and not feeling black enough all over again. How he overcompensated by taking it out on fellow black students that were not radical.
Audiobook review
Barack Obama narrates the audiobook himself rather than the production company hiring an outside actor to read the book.
This seems to have been a masterstroke given that the listeners repeatedly commented how great it was to hear Obama's voice. Many mention the strength and belief with which he tells the story and how this comes across in the audiobook in a way it doesn't for those readers who had also read the book rather than just listened to it.
Listeners mentioned how it did not feel like Obama was reading the book but was simply telling you a story.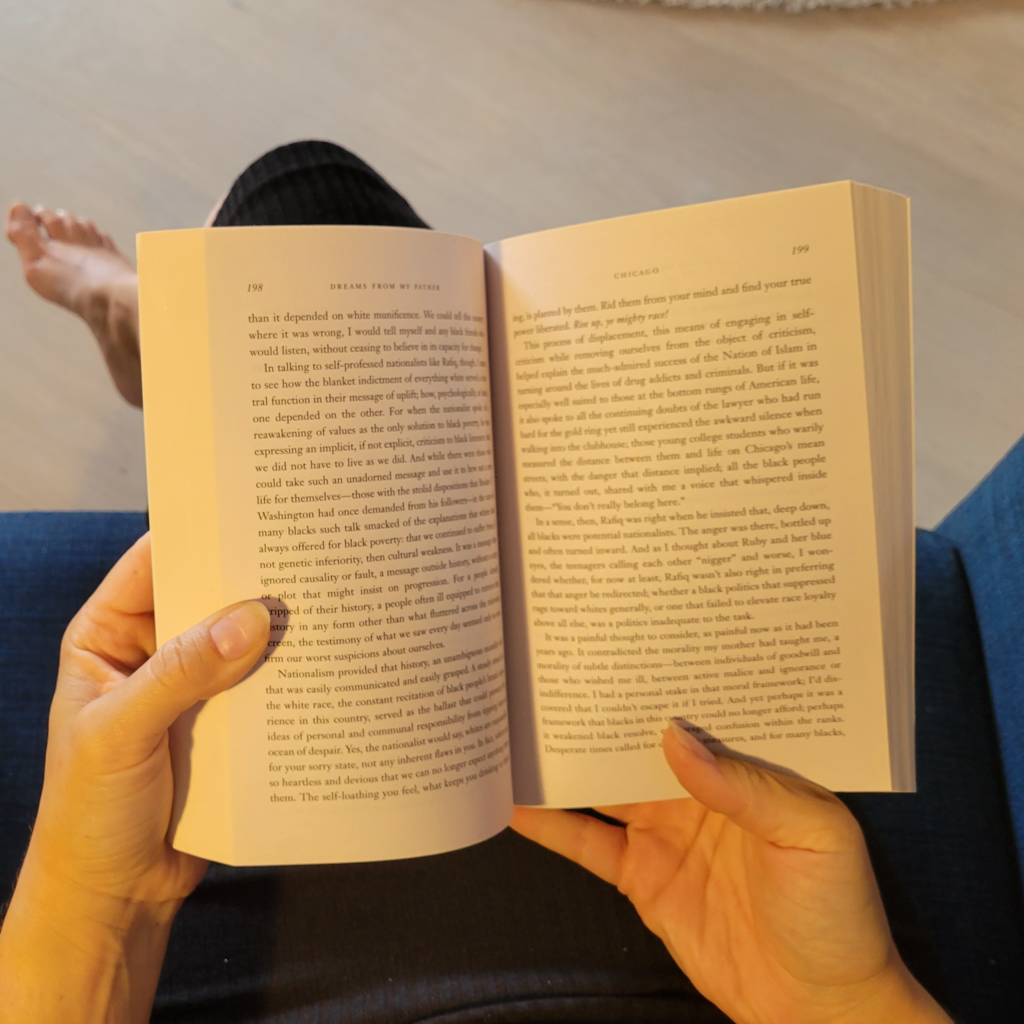 Should I read Dreams from My Father: A Story of Race and Inheritance?
Positive
Fascinating insight into Obama's life
Tale of fitting in and belonging
Negative
Gets a bit boring in the middle
Time magazine called Dreams from My Father the best-written memoir ever produced by an American politician. If you are at all interested in the making of the 44th President and first Black president of the United States then this book is the best thing you're going to get.
Dreams from My Father tells who Obama was as a person before he was President Barack Obama and before the polished facade of a politician was added to this fascinating character. It tells a real honest story about who he is and how he found his place in the world rather than an "I did this and then I did that" style memoir or autobiography.