Quick Summary
"Let My People Go Surfing" is a memoir of Yvon Chouinard – from his days as a climber, beginnings of manufacturing outdoors equipment, to founding Patagonia, one of the most environmentally-friendly companies in the world. This book provides readers with unique perspectives on how to run a successful business in a way that's not conventional or even intuitive for most people.
Full Summary
The book starts with Chouinars's early days and provides insights into his family, their decision to move to California, and his earliest encounters and eventually falling in love with outdoor activities in his 20s.
During this period, he started to develop his blacksmith skills to start producing climbing equipment for himself and his fellow climbers. At the beginning of his business endeavors, Chouinard was selling his equipment from the "trunk of his car," The business started to grow due to the high quality of his products.
The team redesigned and improved just about every climbing tool. Quality control was always foremost in their minds because a failed tool could kill someone. Chouinard Equipment doubled sales each year but showed only about a 1% profit.
Because they were constantly coming up with new designs, they would scrap tools and dies after one year that should have been amortized over three or five years. However, the competition was low; no one was foolish enough to want to get into that market. By 1970, Chouinard Equipment had become the largest supplier of climbing hardware in the U.S.
Soon enough, his first company, "Chouinard Equipment," became the biggest manufacturer of climbing equipment in the United States. However, even with increasing sales, the company never really managed to make a lot of profits, and in the 80s, the company ended up filing for bankruptcy.
Since the employees could buy out the company, they moved it to Salt Lake City, and today the company is one of the largest producers and suppliers of climbing equipment called "Black Diamond."
After spending years reading every business book available, looking to find a way to build a stable and profitable business, Chouinard founded Patagonia, a company that will grow into a global brand, recognized and loved all over the world.
However, a nationwide financial crisis in the United States in the 90s led to yet another setback for Chouinard, and the company ended up firing 120 employees to stay competitive and running. Chouinard called this moment "a single darkest day in the company history".
At this point, Chouinard decided to change the way the company operates, committing to prioritize long-term and sustainable growth based on working within the limits and available resources.
Today, Patagonia is one of the most recognized and beloved outdoor companies in the world, especially in the field of sustainability and environmental protection. Patagonia exists to challenge conventional wisdom and present a new style of responsible businesses. Chouinard believes that the accepted model of capitalism, i.e., the endless growth, deserves the blame for the destruction of nature.
Patagonia will, to prove to the rest of the business world that doing the right thing makes for a good and profitable business. Chouinard means that becoming public would compromise the mission "to use business to inspire and implement solutions to the environmental crisis".
What does the book promise to deliver?
How to run a business in a different way
"Let my people go surfing" provides a different perspective on how to run a successful business. Yvon Chouinard's philosophy and mission centered around the love for the outdoors and nature conservation is not a typical success story of a billion-dollar business.
Instead, the author shares his philosophy of not prioritizing profits – from advising buyers to purchase less (or even not buy their products) to distribute the company's profits for environmental causes.
How to reduce over-consumption
Patagonia takes a lot of pride in the quality and durability of its products. Chouinard identifies production and transport as one of the biggest factors that negatively impact the environment, so the company's mindset has always been towards reducing that impact as much as possible.
This is why Patagonia insists on producing only the highest quality products that would last long and even offers to repair them free of charge. Chouinard shares his detailed insights into how much damage to the environment is caused by the manufacturing of cheap, low-quality items.
A realistic overview of the impact of modern society on the environment
One of the things that the readers really appreciate about this book is the fact that Chouinard is honest about his own company's mistakes when it comes to the environmental impact of its products.
He provides an in-depth overview of the production process and how each step affects nature. He also points out that reducing this impact, while not economically justifiable at first sight, leads to a very strong approval among the consumers and the brand's growth in reputation.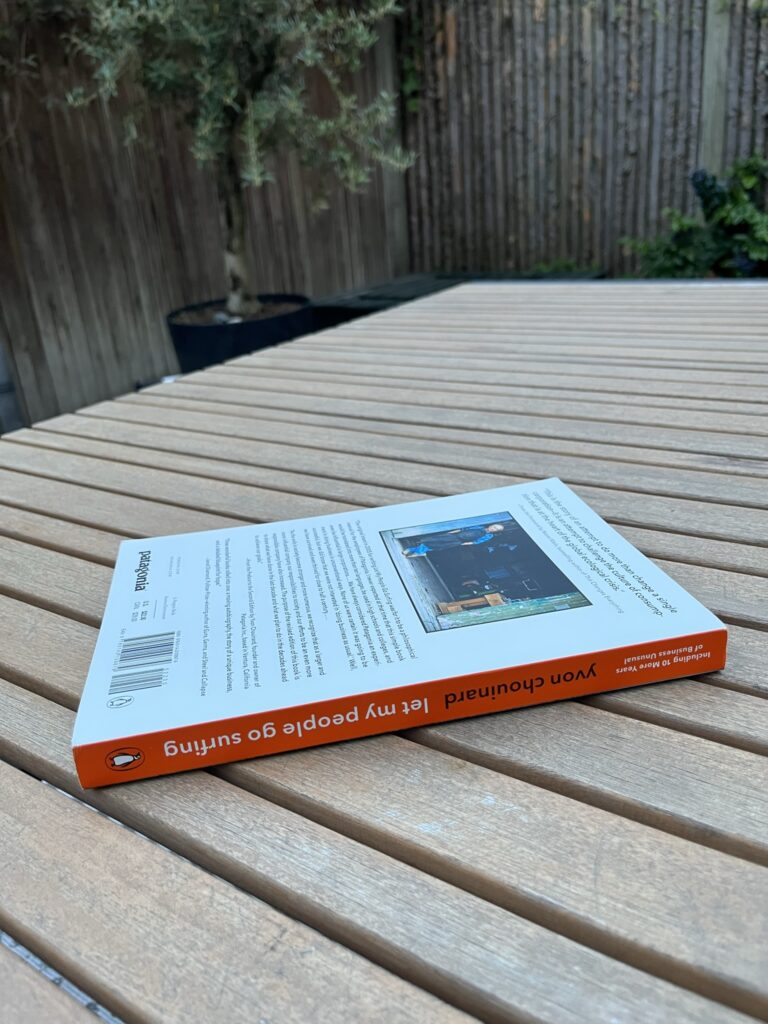 The tone of the book
Not a typical business book
"Let My People Go Surfing" is not a typical business book. Alongside business strategies, it has elements of a memoir, and the last part is wholly dedicated to the conservation of nature and human impact on the environment.
Chouinard's life story, along with the "environmental manifesto," makes this book less dry and enjoyable even for people not primarily interested in the ins and outs of business strategies.
Raw, direct, straight to the point
The consensus among the readers is that Chouinard is very direct in communicating the message to the reader, including being brutally honest about his own mistakes and fallacies in doing business.
For people who like this "no-bullshit" approach to writing, this will be a very enjoyable read. The book's tone is described as "raw" and "direct," and the author made sure he doesn't sugarcoat things and present them as they are, no matter how good or bad his company will look.
What type of reader would enjoy this book?
Since this book has elements of a memoir, a business book, and an environmental manifesto, it can be attractive to people with many different fields of interest.
"Let My People Go Surfing" is definitely recommended to people who are already in or want to get into business. It will give them a unique perspective on running a successful business without making profits a priority number one.
Chouinard's life and adventures before he started the company could be especially interesting for outdoor enthusiasts. The love for the outdoors is spread all over this book, as Patagonia has a heavy emphasis on flexibility of working hours to accommodate their employees' passion for outdoor activities.
Another group that could benefit from reading this book is HR professionals. Chouinard provides a detailed insight into how the company is run, along with all the benefits the employees have – from flexible hours to on-site daycare. There are some exciting concepts worth reading if you're in the HR line of business, which might get you inspired to start some initiatives in your own companies.
In terms of the environmental aspect of the book, people who want to know how modern society affects nature with hyperproduction and over-consumption should give this book a read. Chouinard provides an in-depth overview of how people devastate our planet and how the ignorance of their contribution to this devastation leads to even more significant problems.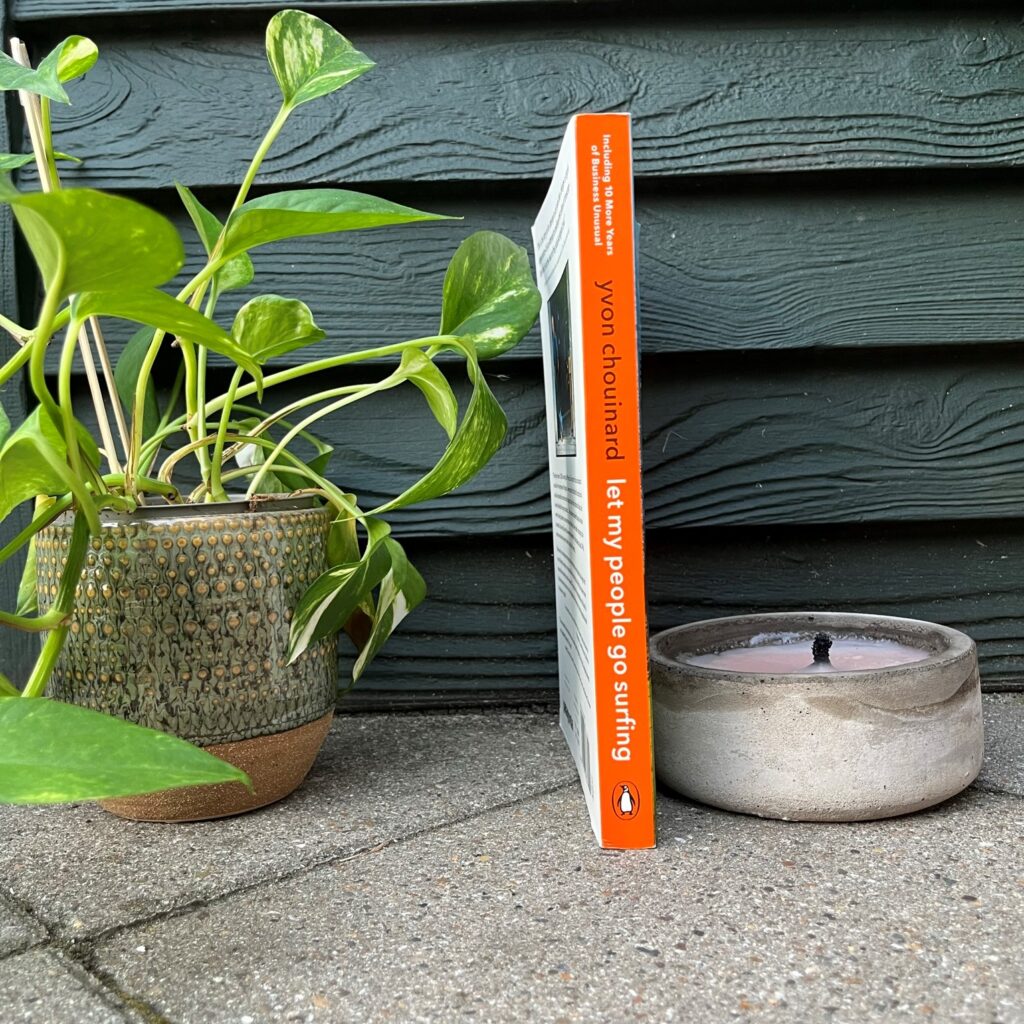 How well does the book compare with other titles in this field?
Since the book is pretty unusual in terms of its content, with several different categories incorporated, it's hard to compare it with similar titles, as there are few.
The fact that the author decided to combine his life story with his business philosophy and also lecture readers on environmental issues, this book has a bit of everything. But since the author wasn't 100% focused on one category, this book falls into the unique category, which is tough to compare with the others.
What do readers say about "Let My People Go Surfing"?
Mind changing
Readers were generally blown out by Chouinard's philosophy and the ways of doing business. Many people stated that this book changed how they think about purchasing goods and doing business.
People are stating that this book persuaded them that the conservation of nature is essential and that the resources they consume should be balanced with the planet. On the business side, readers are amazed by the way Patagonia was able to build a billion-dollar business while not making profits their main priority, and many readers stated that after reading this book, "there is no other way of doing business.".
Honesty
Chouinard stated that he's aware of the limitations of sustainability and how that's not a viable option for every person on this planet. He acknowledges that feeding and clothing everyone in a sustainable way is not possible at this moment, and readers appreciate his honesty on that matter.
Readers also appreciated the fact that Chouinard spoke honestly about his own company's mistakes and oversights when it comes to sustainability. He admits that they're still not doing enough and trying to improve, and that attitude resonated well with the readers, saying that it's a mindset that all of us need to have.
Great photos
A consensus among the readers was that the photos provided in the book made their reading more enjoyable and exciting. This is why most of the readers advise others to go with the printed version of this book instead of listening to audio.
The pictures in this book will be fascinating to outdoor enthusiasts, as they mostly display some of the author's adventures, as well as pictures of Patagonia's employees enjoying their time in some of the most spectacular places in the world.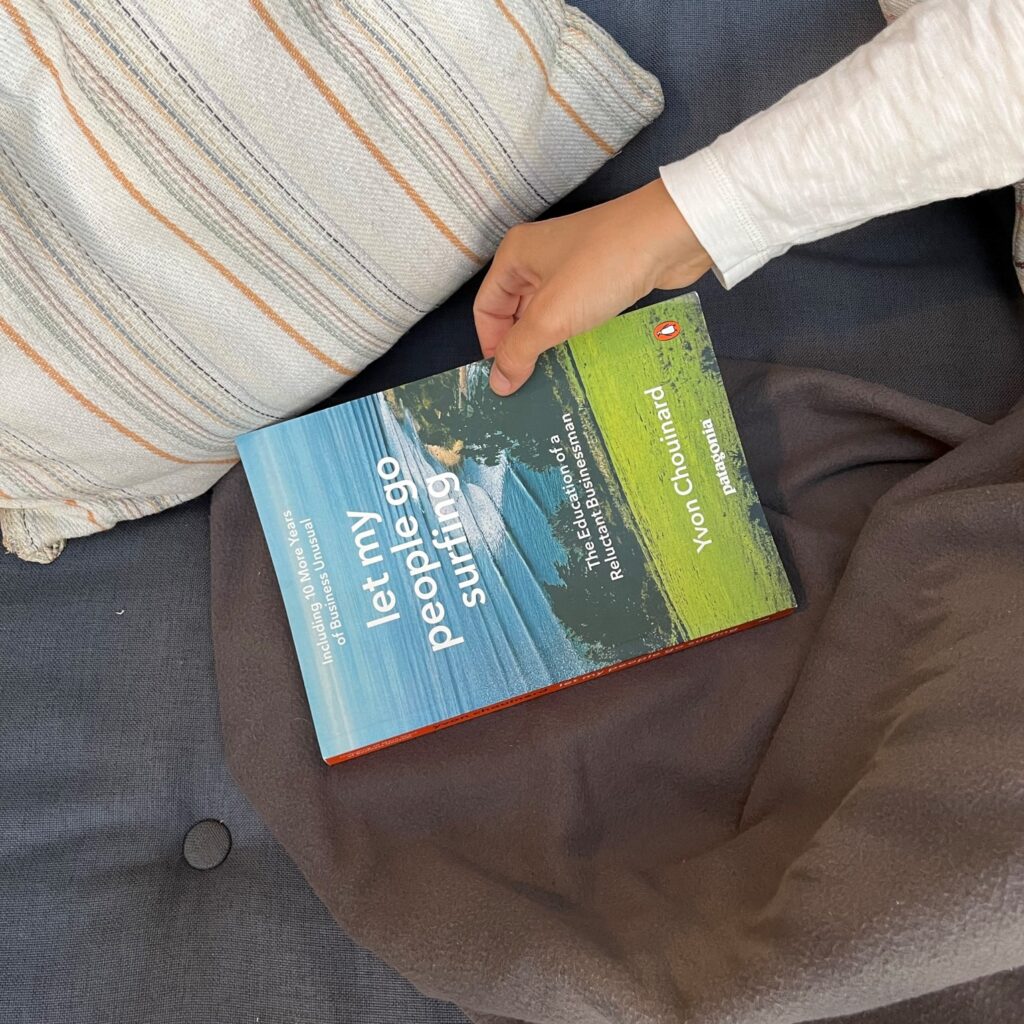 Ahead of his time
Patagonia was a pioneer in the way the companies take care of the environment, and many readers recognized that they were "ahead of their time" in some of the policies related to sustainability.
Focus on family
Readers responded extremely well to Chouinard's insight into the company's flexible hours policy and specifically on how the company created a "family-friendly" environment. They universally praise Patagonia's generous maternity and paternity leave, along with providing their employees a daycare onsite.
Informative even for hard-core fans
Among the readers well familiar with Chouinard's life story and Patagonia, there is a consensus that this book provided some new information that they were not able to hear elsewhere. Even for people who follow Patagonia's work, the author was able to surprise them and deliver something they had never had a chance to hear before.
Hard to replicate
As much as readers were fascinated by the way Patagonia conducts its business, they point out that replicating its model is extremely difficult and advise people not to get themselves into this model.
They describe Chouinard's sustainability strategy as almost "puritanical", and that "doing the right thing even if it's not profitable" is not something that most businesses can replicate and stay competitive.
A bit outdoor-elitist
Some of the readers didn't like the fact that Chouinard was harsh on some professions that he considered "unimportant." They didn't appreciate the fact that the author is very critical and even "makes fun" of other professions, even though they are essential for his own business (lawyers, for example).
Readers also felt like the author's message is that working in the outdoors industry and living for the outdoors activities is the only worthy thing to do in life. Because of this, some of them felt Chouinard to be a bit "elitist" about his way of life as the only one that matters.