Quick Summary
"Poor Charlie's Almanack" is a collection of stories from and about Charles Munger, one of the wealthiest people in the world and Warren Buffet's partner who preferred hiding in the plain site while successfully running a multi-billion dollar business. The book includes parts of Munger's life, including his upbringing and childhood, a collection of his speeches at various events, containing advice and insights into the world of finance and investing, accompanied by developing psychological skills and menthol models required to become a successful decision-maker and better understand the world.
Full Summary
Charlie Munger is a "silent" partner of one of the most famous and successful billionaires in the world – Warren Buffet. He is not well-known among the average people as Buffet, and when people think about some of the wealthiest people on the planet, Munger's name is rarely, if ever, mentioned in the conversation.
However, Munger is a huge part of Buffet's success, and this book provides detailed insights into how exceptional and unique Munger's mind is. "Almanack" show readers how Munger thinks, how he keeps learning and educating himself throughout his whole life, and what aspects of life he finds the most critical and essential for any kind of success.
The book is divided into several parts, starting with the introduction of Charlie Munger through the eyes of his family, colleagues, business associates, and other prominent figures in the business world. This introduction will help the reader understand the amount of respect people hold for Munger, as some of them find him to be among the most brilliant minds they've ever encountered.
The book continues with the description of Munger's childhood, education, and rise to success. Readers will get to know how Munger was taught, from an early age, to keep gaining knowledge and appreciate science and the role his parents played in his perception of the world.
A huge part of the book presents a collection of talks and speeches that Munger held at various events, some on business, finance, and investing, some on the general view of the world and importance of constantly learning and educating yourself. Munger lays out his multidisciplinary approach to business and shows readers how to incorporate knowledge from various fields, including economics, psychology, and science leads to the best decision-making process.
The book finishes with Munger's insights into psychology and the role it has on people's decision-making abilities. He provides the reader with a mental checklist on how to avoid biases in decision-making and how to create the proper mental framework to prevent these biases from blinding a person and negatively affecting their judgment.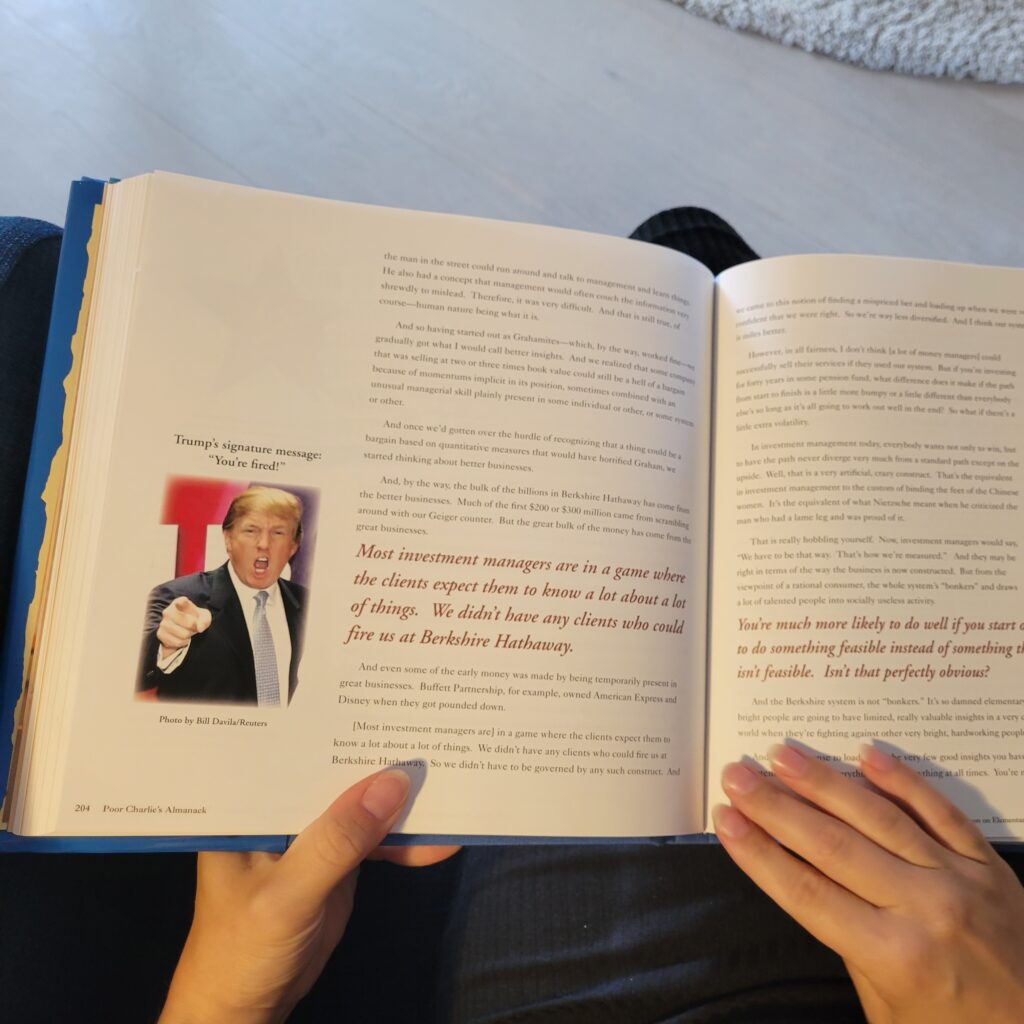 What does the book promise to deliver?
"Charlie's almanack" is a combination of biographical records containing details from Munger's personal life, his speeches, and his insights into the decision-making process and guidance on how to understand the world of finance and investments. This book doesn't easily fit in any of the categories, which is why "almanack" is a perfect word to describe the essence of the book.
Even though the book offers wisdom and insights into various aspects of life, the most important takeaway for the reader is understanding how one of the most brilliant minds alive thinks – how he structures his mind, adopts various psychological models across various disciplines, and how any reader can apply these principles into their own decision-making process.
This book will show the reader how to think and how developing the right way of thinking leads to making the best decisions, whether it's investing opportunities or any other aspect of business and life. It helps the reader to understand and develop mental models in order to filter and process the information.
For this reason, readers can expect a lot of concepts from psychology, ethics, morality, history, decision-making, and general business. Munger equips the reader with all the necessary tools to get themselves in the right mindset to find the best possible solution to any problem they face.
What type of reader would enjoy this book?
Considering how broad in scope this book is, "Poor Charlie's Almanack" will be beneficial to a wide range of readers. Overall, it could be said that anyone interested in improving their way of thinking and getting the tool necessary to create a precise picture of the problem and world overall will benefit from this book.
With that said, there are some very specific fields of science and business discussed in this book, and readers will have a chance to get familiar with the basic ideas and concepts that will help them create a foundation for further research into any of these areas. Aside from economics and finance, areas for which the author is the most famously known, people will have a chance to learn something about cognitive psychology, evolution, complexity theory, and several other fields of science.
Any reader not very familiar with any of the above-mentioned categories will benefit greatly from reading this book, as the author does a fantastic job in defining them and laying out the basic concepts behind them, but also show how developing and constantly gaining knowledge from these fields helped him in this business endeavors.
However, if you're interested in the in-depth knowledge of finance, economics, psychology, and many other fields that the author deals with in this book, then "Almanack" isn't the best choice. It will help you build a foundation but not master any of these fields.
How well does "Poor Charlie's Almanack" compare with other titles in this field?
It's not an easy task to categorize this book, considering how broad in scope it is and how many different areas of life, science, and business it touches upon.
Many readers who have already read this book advise people interested in "Poor Chalie's Almanack" to start with a book also centered around Charlie Munger but from a slightly different perspective and a more narrow in scope. This is Peter Bevelin's "Seeking Wisdom," which deals with a specific aspect of Munger's personality.
In "Seeking Wisdom," readers can get a great introduction to Munger's way of thinking without much depth as the book is much shorter and narrow in scope compared to the "Almanack." However, people advise that readers start with this book as it's straight to the point and introduces Mugner's core principles in a way that will get you interested in exploring further, and this is the perfect point to introduce the "Almanack," where readers will get further insight into the mind of Charles Munger.
Another book frequently mentioned alongside "Poor Charlie's Almanack" is Daniel Kahneman's "Thinking Fast and Slow." Both books deal with our cognitive biases and how we tend to fool ourselves into making the wrong decisions, and both provide solutions to this problem.
With "Almanack," readers felt like Munger did a better job at explaining and dealing with the psychological effects on our minds, utilizing his memorized checklists to understand them and how they relate to each other. Because of this, readers feel like Munger's book is excellent for people who want to get introduced to this field as the author does a fantastic job of laying out the basic principles on how to avoid biases in decision-making.
Audiobook review
The audiobook version of "Poor Charle's Almanack" is narrated by Fred Stella and runs for 6 hours and 21 minutes. The overall comments from the listeners are positive, with some critiques about the book's structure that interrupted the flow of listening.
Most of the listeners agree that the information and stories presented in the book are extremely valuable, regardless of the topic that the listener is interested in. It's a universally valuable book that helped them gain insight into the ethics, mindset, and discipline of one of the wealthiest people on the planet.
On the other hand, some listeners found footnote references distracting, and many of them stated that the continuous referencing interrupted the flow of the book and made it difficult to follow the story. While interesting, listeners feel like these references should have been cut down and make the book's flow more smooth and easier to follow.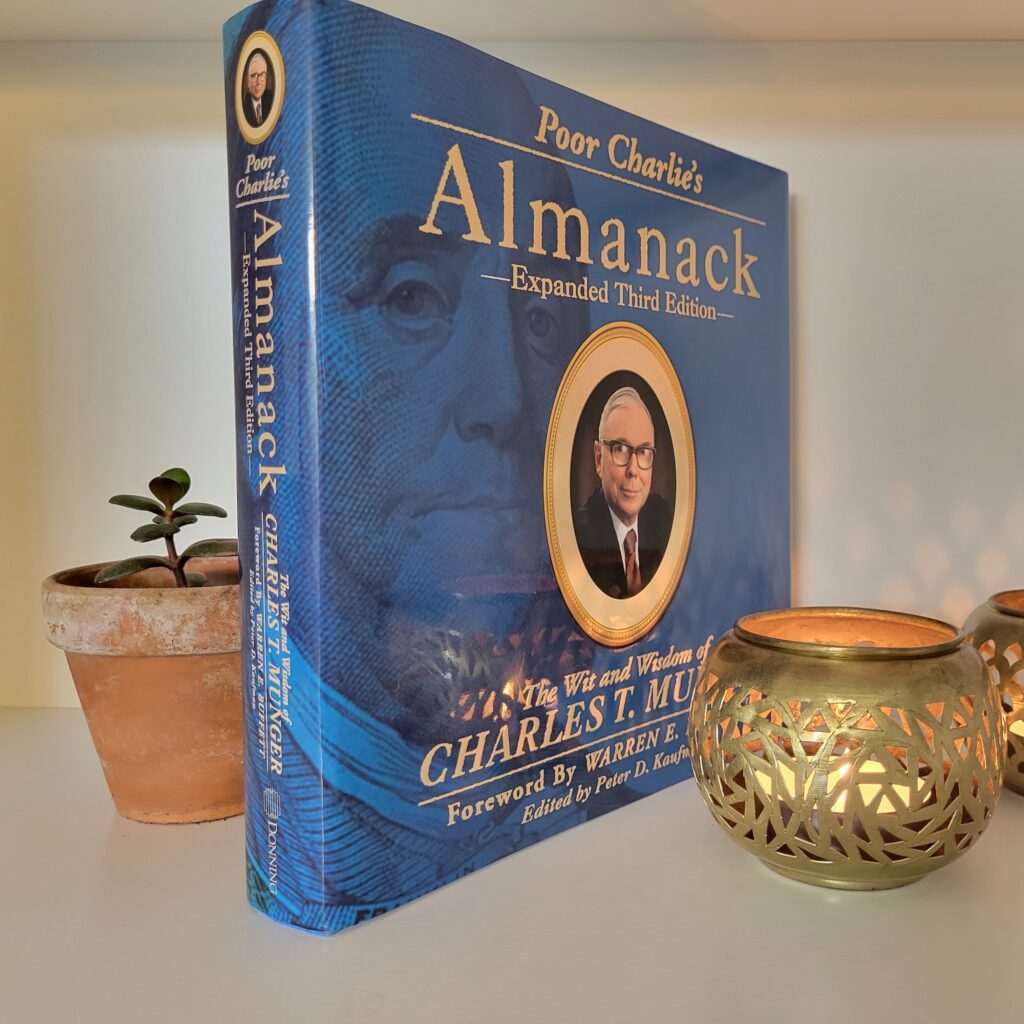 What do readers say about "Poor Charlie's Almanack"?
Value of reading
One of the main takeaways from this book, by the majority of readers, was the value of reading. Munger points out that, in his whole life, he hasn't met a single wise person in any line of work who didn't read a lot. This was a message that resonated with the readers, and this is part of the book that has been quoted the most times among them.
Munger argues that reading books written by great and accomplished people have immense value to anyone interested in expanding their knowledge and understanding of life and stresses the privilege of having these authors as friends and teachers, even though they don't necessarily have to be physically present or even alive.
Like a treasure map
Many readers felt like reading this book is like opening a treasure map that will guide a reader to find the treasure itself. People point out that this treasure contains different values for every reader – some will prefer economic and financial knowledge, and some want to gain insight into framing their minds to be programmed to make the best possible decisions.
People keep mentioning how broad in scope this book is, and this is one of the main reasons why so many people, coming from different backgrounds and spheres of interest, found it helpful. The consensus among readers is that, after reading this book, they realize why Charlie Munger is considered to be one of the brightest minds in the world, and they felt like this book gave them a great insight into principles and routines that helped him reach that level of knowledge and wisdom.
Lots of references
Some readers were happy to see that the author kept readers hungry for more information by constantly referencing other books and historical figures that helped him shape his mind and view of the world. All along the way, Munger keeps mentioning and recommending books, authors, intellectuals, and other figures that will help readers pursue additional knowledge on various topics, from psychology to investment.
Considering how essential the author finds reading and learning from the best, he ensures that readers are given the same opportunity. "Almanack" didn't just provide valuable information but also showed readers the way to keep pursuing any of the various topics touched upon in the book, as the author kept suggesting literature and experts that will help readers build upon the knowledge obtained in this book.
This is a huge book, literally
Many readers took note of the size and the format of "Poor Charlie's Almanack," pointing out how big the book is and how that affected their experience with the book. The comments were mostly positive, with major setbacks being the challenge to carry this book with you.
The book is in a coffee table style format with hard covers, and readers mostly appreciated the fact that this made them put the book on the table and read it while sitting down, focusing on the book entirely. This is not a book that could be easily read in bed or carried in a bag to read on a bus – this is a book you read in a house, at the table.
Another positive side of the book's format is the fact that readers didn't need to hold pages with their hands to avoid page-turning, as the book's weight did all the job for them. On the other hand, because it's not the most accessible book to carry, many readers were eager to read an ebook version or at least wanted to see a paperback version released.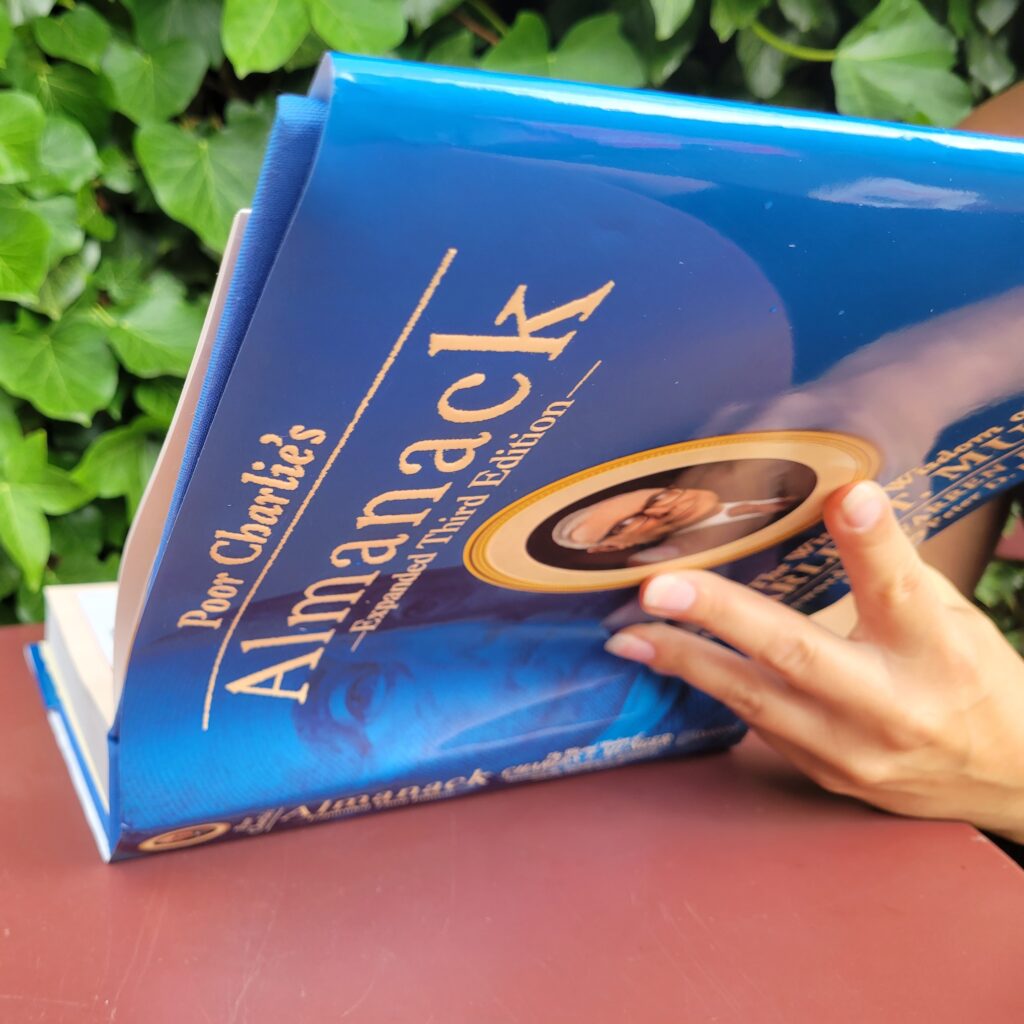 Distracting trivia
All along the way, the editor made sure to frame the content on the pages with sidebars of trivia and random facts. While many readers found this information interesting, they also felt like the amount of additional information on the pages interrupted the flow of the reading.
This is mainly related to the part of the book where people can read Munger's public speeches. People found it hard to keep up with the train of Munger's thoughts and the amount of information he lays out in his speeches while at the same time having to pay attention to sidebar notes and trivia.
Lack humility
Some readers felt like the book is a vast collection of praise for the author and even self-praise, which they found repulsive and counterproductive for the core message of the book. While they all agree that "Almanack" contains so much valuable information, some of them think that it lacks humility.
These comments are mostly related to the first part of the book, where readers are introduced to Charlie Munger through the eyes of other people, from his business partners and colleagues to his children. They think that comments on his personality are naturally biased and thus unnecessary and even counterproductive to the overall experience of reading the book.