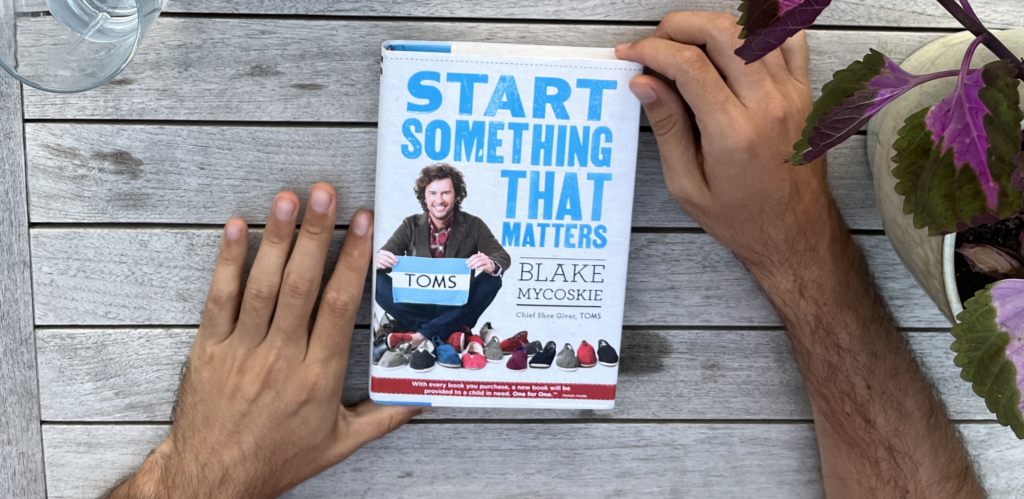 Quick summary and verdict
Start Something That Matters by Blake Mycoskie is a brief overview of his journey to set up TOMS – an overview of the famous "buy one give one" charitable and marketing scheme – plus a 6-point framework to find profit, meaning, and passion in your business.
This is a relatively short book at 189 pages where Mycoskie tries to convince the reader to do something bigger than just themselves.
In general, the advice within the book is rather basic and general. However, there is a section that forces the reader to ask themselves some penetrating questions about what they are doing with their lives. If you are feeling lost or interested in starting something new, this book is worth a look at.
Extended Summary
In Start Something That Matters, Blake Mycoskie's main argument is that you can have it all. A person can earn money, have a great career, and devote themselves to a cause all at the same time.
This is what Mycoskie says he did with TOMS. At the age of 29, with a little bit of entrepreneurial experience under his belt, the author went to Argentina on vacation. During this time he encountered a number of kids without shoes. Kids walking long distances without shoes are likely to get bruising on their feet and other superficial injuries. But, these kids are also far more likely to suffer from disease too – all as a consequence of having no shoes.
Mycoskie wanted to come up with a solution. But it had to be more than just giving the kids he came across a pair of shoes. It had to be bigger – and long-term!
He started brainstorming ways to ways that he could help the kids.
That's when he came up with selling espadrilles (a traditional, lightweight, Argentine shoe) in the USA. Along with this, he came up with the now famous "buy a pair, give a pair" or "buy one, give one" model. This is where, for every pair of shoes he sells in the US, he would donate a pair of shoes to a child in need in Argentina.
Note: The publisher of this book also said that they would donate a book to a child in need for every copy sold.
Mycoskie had found his purpose.
He states that a good story is essential for starting a business. It has to be something that the founder feels, and the target market can relate to. That it is important to connect to people through stories instead of just talking about features. He encourages the reader to find their passion, reflect on their dreams, and use that as the main component of their story.
After finding your story, Mycoskie goes on to talk about fear. Fear can hold you back. He considered abandoning his project with TOMS a number of times but he pushed through. Mycoskie's advice is to look at what your deepest fears are with the project.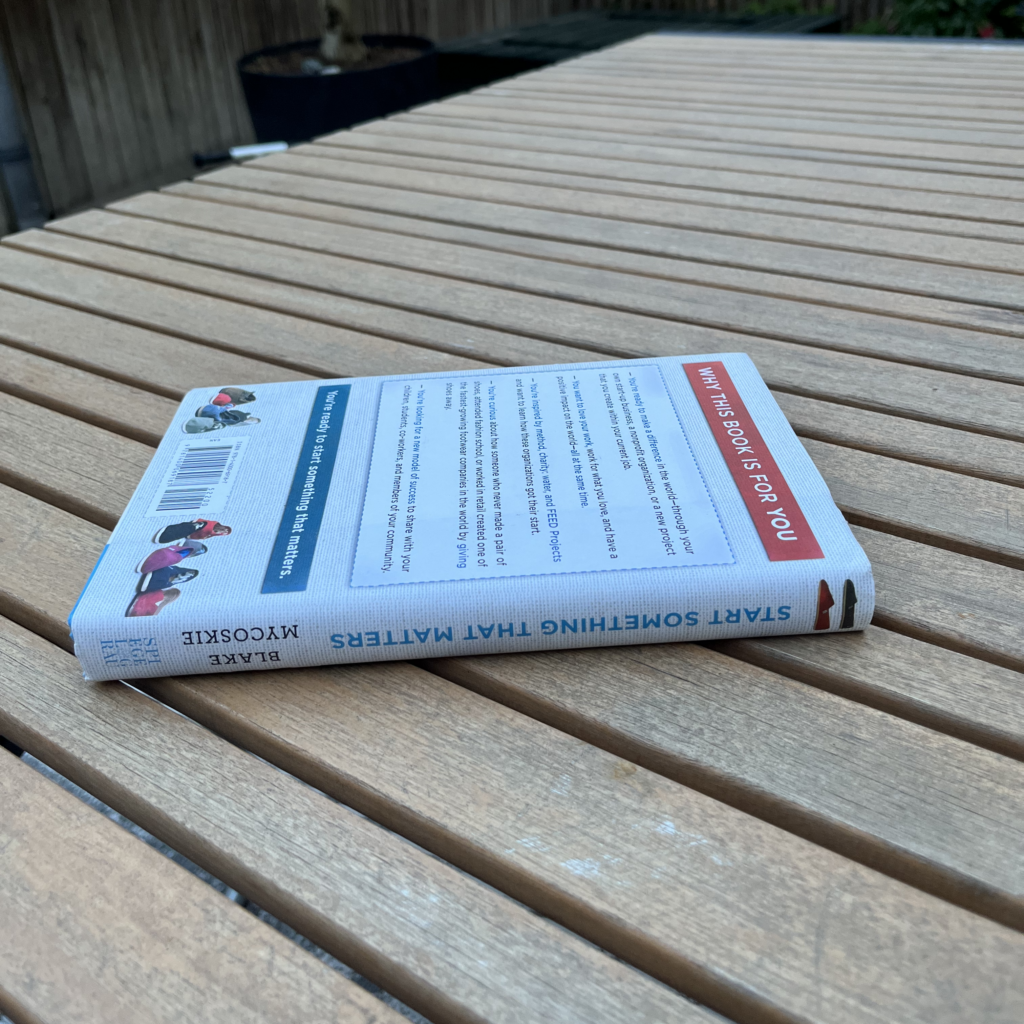 Once you have realized what your biggest fear is – write it down. Put it on paper and get it out into the world. Once it's on paper, you can then fight it with logic. On the other side of the paper, opposite his biggest fear, Mycoskie wrote down what the worst possible outcome was.
For him, this was no one buying his shoes and him being back where he started. But he realized that he was already there. And if the business turned out to be a failure, he would have learned a lot along the way and met a number of new people, having fun and informative experiences along the way.
This wasn't so bad after all. He had found a way to reason with fear and push through the other side.
While it's natural to seek security, that's not always possible in the world of business. In fact, it's highly unlikely when founding a business. Mycoskie argues that you simply need to embrace the uncertainty. For this, it's important to stay away from toxic people that will sow doubt. They will drain your energy, drive, and inspiration.
One reason many new businesses don't get off the ground is that the founder believes they don't have the resources to be successful – or even to get started.
A big lesson from Mycoskie is to be resourceful with your resources. He argues that you don't need investment or even a lot of your own money to meet the initial demands of the business. Instead, Mycoskie argues that limits to your resources can inspire creativity.
With few resources, you can just try the brute force approach of throwing money at the problem and hoping that it works. Instead, you need to use trial and error. Be creative and come up with different or efficient ways of doing things.
TOMS started in an apartment that Mycoskie shared. He was using all the spare space in the apartment to store shoes, and equipment and fulfill orders.
In fact, in the beginning, Mycoskie couldn't even afford business cards. Instead, he re-used old business cards that people had handed him, then wrote his contact details on the back. This fitted in with the environmental image of the TOMS product and was memorable. People thought of Mycoskie as efficient and focused on spending money on the things that matter whereas Mycoskie had the fear that people would just think of him as plain weird.
Mycoskie argues that it's even easier to be thrifty today than it was when he started TOMS given the access people have to cheap and/or free advertising with social media. He states that this is a great way to engage with your customers.
The next piece of advice is to keep things simple. Mycoskie tells the reader to do one thing and do it as best as they can.
There are lots of shiny objects out there that can distract an entrepreneur from doing the most important thing at the right time. Mycoskie encourages the reader not to try and be everything to everyone. Find your niche, find what you're good at and go all in. Do it as well as you can possibly do it.
Mycoskie also advises you to be "a good company."
Whatever a "good company" is, you have to decide what that means to you. For him, a good company is one that strives to make a difference. But, it can mean different things to different people.
Mycoskie recommends having a cause that resonates with you on a personal level with something that you can make a change in.
He also talks about building trust at this stage. For Mycoskie, trust exists on 2-levels. External trust and internal trust.
Inner trust is about empowering your team. He understands good ideas can come from any level of the company, so you have to build structures that allow everyone to contribute. He talks about serving as a leader rather than being a tyrant who is domineering.
External trust is about the outside world. The best way to do this is to empower employees to be able to go the extra mile to solve any problems that customers might have.
Given that Start Something That Matters is a relatively short book compared to other business and management books, Blake Mycoskie manages to fit in a lot of advice.
However, a lot of advice is very surface level and when he does get into more practical advice, a lot of it can be outdated. For those that are seeking a new challenge, this book could be worth looking into.
Tone of Start Something That Matters
Start Something That Matters is a short read that's simple and relatable.
It's a fairly short book that focuses on high-level, blue sky thinking rather than in the trenches tactical advice.
It's simple but manages to be entertaining at the same time. Mycoskie comes across as a bit of a rebel who is exploring and finding himself. At times it does feel like he is preaching but on the whole, he seems pretty easygoing.
The book is more of a company profile of TOMS and advice on how to find your own purpose while still having a career, rather than an autobiography.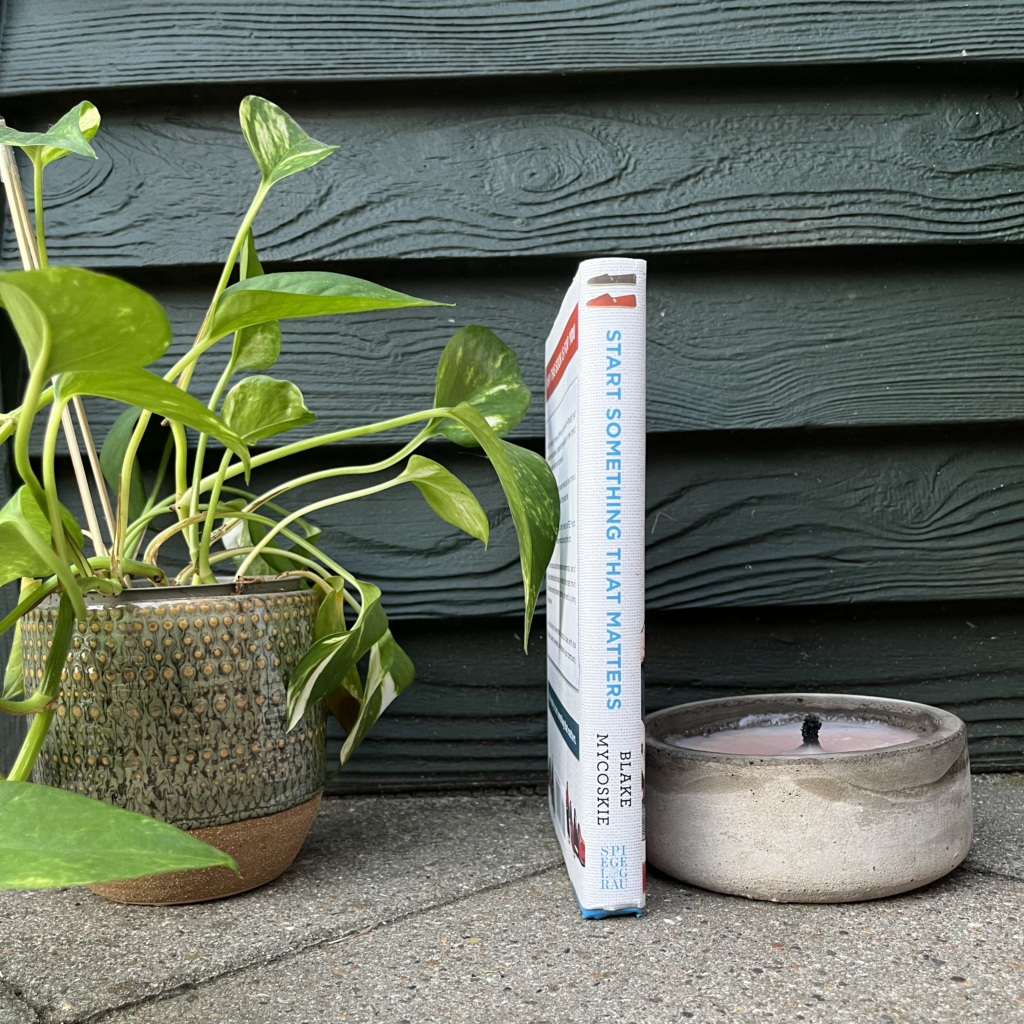 Who should read this book?
Mycoskie's publishers state that this book is for:
Anyone ready to make a difference in the world
Those who want to love their work
Anyone who is interested in any of the partner organizations mentioned in the book
Anyone interested in growing their business
Anyone looking for new case studies to share
To a certain extent, those who want to make a difference in the world and those who want to love their work fall under the same umbrella. They are those who are lost or looking for something new. And that is who this book is for.
The main takeaway from this book is you can have a career, earn money, and make an impact on the world all at the same time. You do not need to pick and choose. You can have your cake and eat it too.
This book may not be suited to those who are looking to grow their business. There are some hints and tips throughout the book that may help with this, but in the main, the book is about starting a business from scratch, finding your purpose, and overcoming the fear that comes with start something brand new. This book will not help someone who has an existing business take that to the next level.
What do readers say about the book?
Simple yet entertaining
Compared to other business books, this is an entertaining read. It tells a story of how Mycoskie founded TOMS and lays out a 6-step process to help the reader achieve something similar in an entertaining way.
Over the course of 189 pages, this is quite a lot to pack in, so the book ends up being quite fast-paced.
Company profile, not an autobiography
Start Something That Matters is about TOMS more than it is about Blake Mycoskie and his life leading up to the founding of the company.
Many people commented that the story of TOMS is inspirational – especially when focusing on the way that the company was able to help kids with shoes and the charitable aspect of the company. Many found it moving that Mycoskie was able to grow the company through doing good.
Sounds fictional
Readers commented that the stories Mycoskie tells felt too polished and too well remembered at times. The suggestion being that sometimes the stories were fabricated or he filled in the blanks that he could not remember in a way that was extremely flattering or would help move the story forward.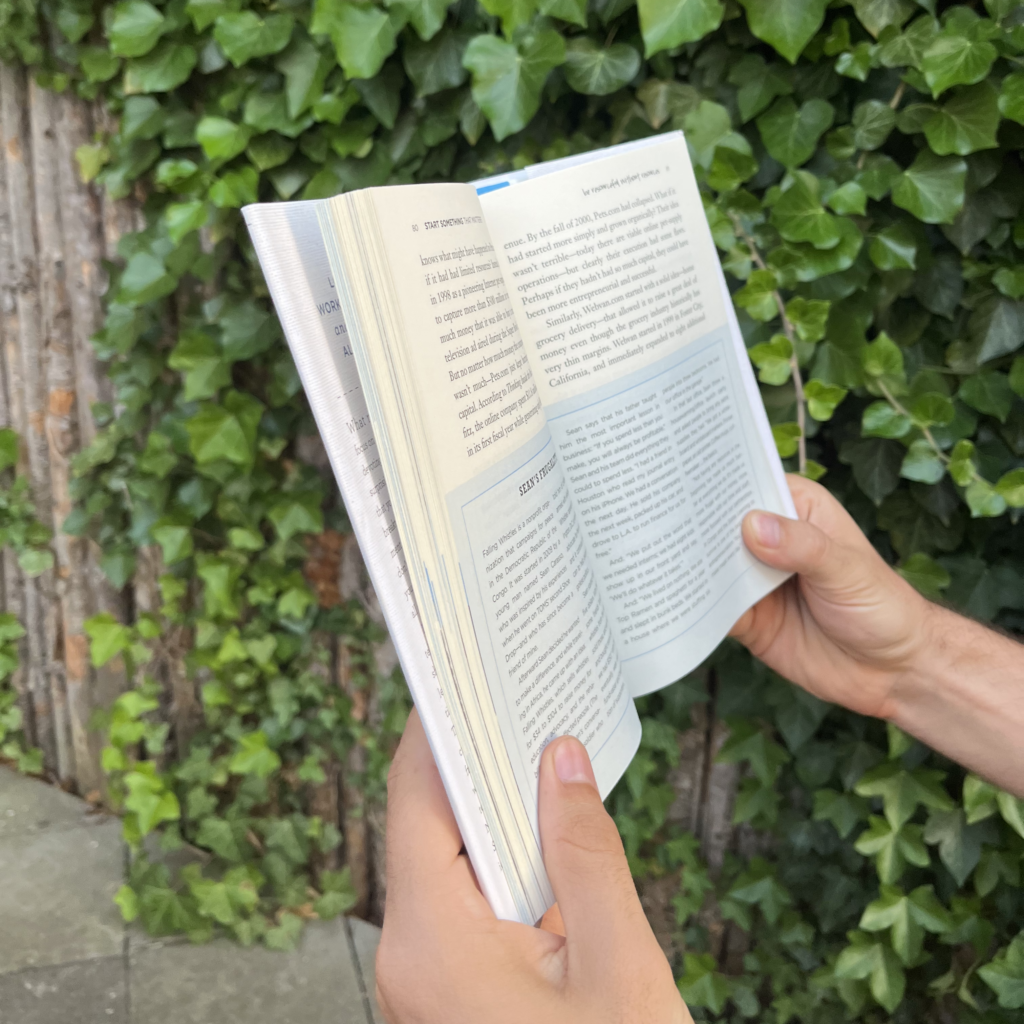 Vague platitudes
Other detractors complained that the book was lightweight and full of vague platitudes. They suggested lessons such as: find your passion, push through your fear, and be a good company were basic and obvious while offering very little practical application or benefit.
Giving as a marketing tool rather than altruism
A number of cynical readers suggested that TOMS is not quite the "feel good" story it presents itself as.
Some suggest that TOMS buy one give one scheme simply treats the symptoms of poverty rather than the root causes.
Others say that Mycoskie took a product made by artisans in Argentina, and simply massed produced it in China to sell to Americans. They suggested that moving production to Argentina could help to tackle the root causes of the problem by providing jobs rather than simply giving them shoes.
Audiobook Review
Blake Mycoskie narrates the audiobook himself. As such, this brings both positives and negatives.
The positive sentiment suggests Mycoskie reading the book brings authenticity to the performance. It makes the stories sound personal, while he comes across as real and unpretentious.
On the other hand, many listeners felt the audiobook could have done with a professional actor as the narrator. They stated that Mycoskie's narration was choppy, he mispronounced certain words and placed the inflections in odd places meaning that the intonation and emphasis took away from the story rather than added to it.
Some listeners also mentioned the narration was slow and Mycoskie's delivery was a little dull.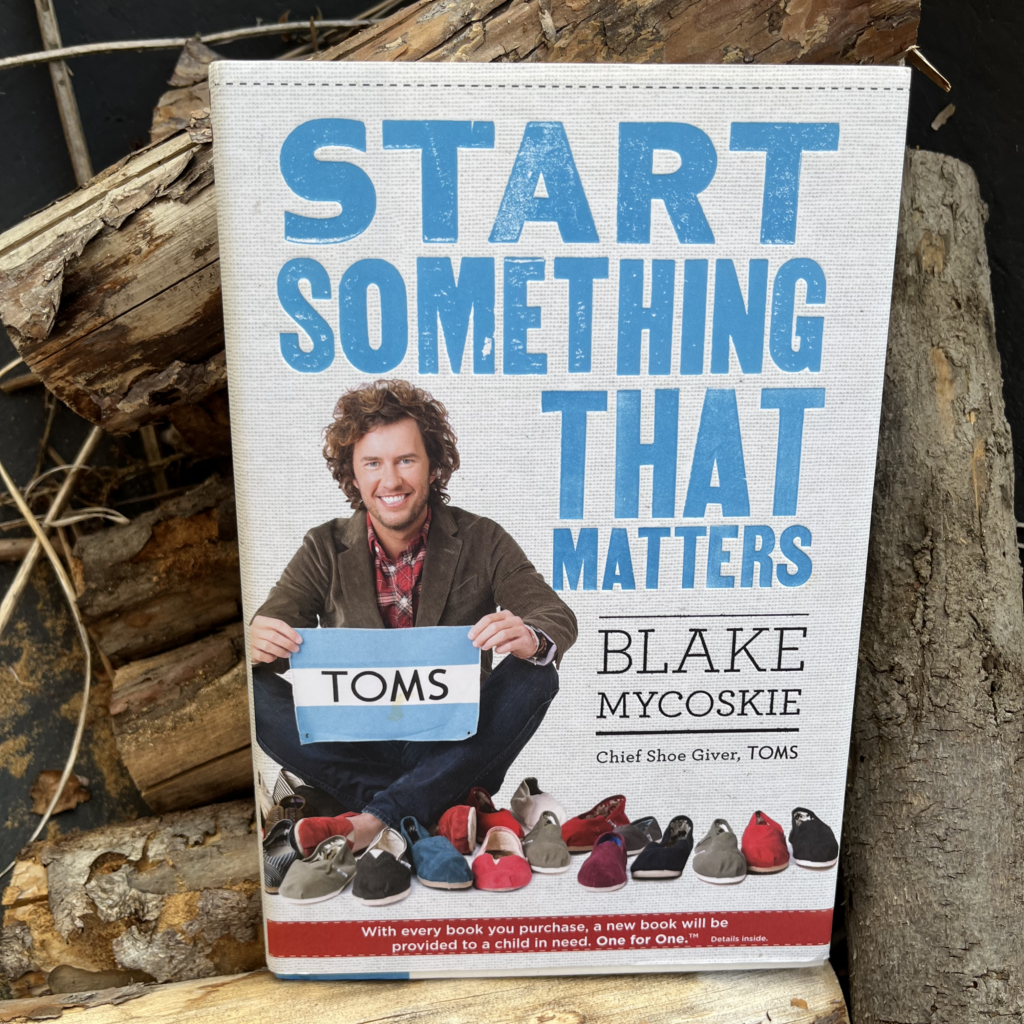 Should I read Start Something That Matters?
Positive
Short, easy read
Helpful for those looking for something new in life
Different approach to business
You should read Start Something That Matters if you are looking to start a new chapter in your life – be that moving job or starting your own business.
However, if you are working in a management position or looking for advice on how to grow an established business then this is probably not the most valuable of books.