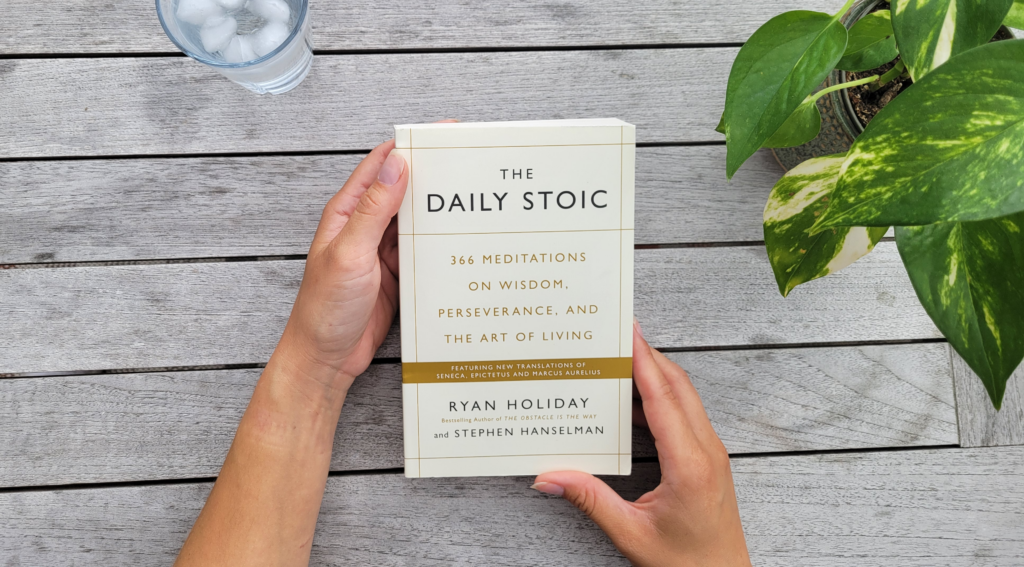 Quick summary
The Daily Stoic: 366 Meditations on Wisdom, Perseverance and the Art of Living by Ryan Holiday is a self-help book based on the works of ancient, stoic philosophers.
The book is organized into a lesson a day. The author intends that the reader consumes one lesson each day and contemplates the lessons rather than quickly consume the whole book without considering its teachings.
Each day begins with a quote or numerous quotes from the philosophers that Hanselman has translated from the original text. Holiday then goes on to explain what the quote means and how its teaching can be applied to the reader's everyday life.
Extended summary
Stoicism is an ancient philosophy first practiced in Ancient Greece, that went on to thrive in Ancient Rome, and is still widely practiced today.
Stoics essentially believe in virtue. They believe happiness is not found in things but in making virtuous choices. They believe that we cannot control external circumstances, only how we react to them.
Stoicism can be inaccessible and intimidating. Ryan Holiday and Stephen Hanselman aim to reduce the barriers to entry with The Daily Stoic: 366 Meditations on Wisdom, Perseverance, and the Art of Living.
The book provides original translations of a number of stoic philosophers such as Marcus Aurelius, Musonius Rufus, Epictetus, and Seneca amongst others.
The Daily Stoic is a self-help book. The aim is to use ancient and modern wisdom to apply to your own life in order to learn how to be more mindful, reduce or remove ego, to be still, to practice mindfulness.
The book is intended as an introduction to stoicism. It may or may not be practical, but the concept of The Daily Stoic is that the reader consumes one meditation (or one page) per day over the course of a year.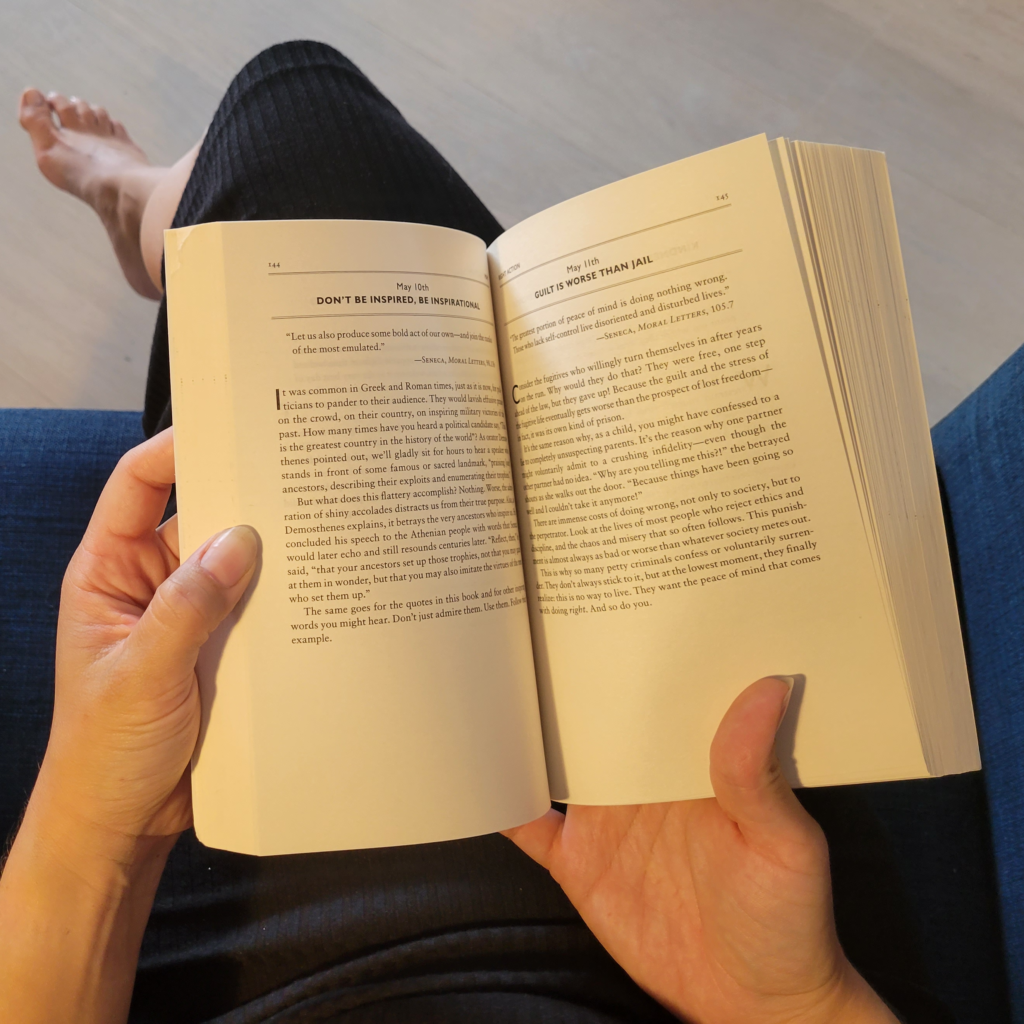 Holiday and Hanselman believe that you should start with three well-known stoic philosophers who are leaned on heavily in the book – all of whom happen to be Roman rather than Greek. These are Seneca, Marcus Aurelius, and Epictetus.
Holiday argues that if you are going to take someone on as a role model then you should respect that person and want to emulate them somewhat. That's why he leans so heavily on these three.
Marcus Aurelius is a former Roman emperor. He was known as the last of the five good emperors of Rome who managed to hold the empire together. After Aurelius died, it became clear that the respect people had for him was the only thing keeping the empire from descending into chaos. Very quickly after he did pass away, civil war broke out throughout the empire.
Seneca was a Roman playwright and political figure. He was a tutor to the tyrannical Emporer Nero. Eventually, Nero ordered Seneca's death, claiming that Seneca was part of a plot aimed to take Nero down.
Epictetus was born as a slave in what is Turkey today. His master allowed him to study and he discovered philosophy. He met another stoic philosopher – Musonius Rufus. Rufus became Epictetus's mentor. At some point, Epictetus earned his freedom and taught philosophy in Rome for almost 25 years until Domitian banished all philosophers from Rome. At this point, Epictetus headed to Greece to teach philosophy until he died at the age of 85 in 135AD.
In the book, the daily lessons are grouped into 12 themes that allow the readers to build on their knowledge of each theme over the course of the month and tackle a different theme each new month.
But the book as a whole is split into three main sections – The Discipline of Perception, The Discipline of Action, and The Discipline of Will.
These are the three main pillars of Stoicism that the ancient philosophers practiced.
Each day, there are one or more quotes that have been translated from the original text by Hanselman. Holiday goes on to explain what the quote means and how the lessons learned from the quotes can be applied to life in today's hectic, always-on world.
Holiday is clear when he states that this book is not an academic venture. The purpose of the book was not to develop new and improved translations of the ancient works. Instead, Holiday's intention was to create a tool that people can use to improve themselves by slowing down, pushing through, and mastering their emotions.
Although it seems logical to start the book on January 1st, it doesn't have to be done that way. Just as the book does not have to be read one meditation at a time over the course of a year. However, you will get the most value from the book by doing it this way. It is the author's intention that you read the daily passage and then reflect upon it throughout the day rather than consuming the whole book in one sitting and not taking anything in.
Who should read The Daily Stoic?
Those looking for an introduction to Stoicism
The Daily Stoic: 366 Meditations on Wisdom, Perseverance, and the Art of Living take the dread away for those looking to understand the basics of stoicism.
Holiday collates a collection of the most important works and principles into one place to take the initial fear factor away from tackling the subject. It is often the case that people looking to understand more about stoicism can be overwhelmed and feel they need to read the complete works of various philosophers.
But, Holiday is able to pick out key quotes from major figures, explain them, and interlace them with an explanation of the principles of stoicism as a whole.
Those in the public eye
The teachings within The Daily Stoic discuss that we are not in control of what happens to us. However, we do have control over our emotions and how we react to what happens to us.
This is a very important lesson for those who are in the public eye with lots of people stating their thoughts and opinions about them or the work they are doing. There is very little that you can do in that situation to change the narrative. But, what you can do is be in control of your emotions and how you let them affect you.
The Daily Stoic teaches lessons such as these with examples and practical tips on how to cope with situations such as this.
People who live and work in fast-paced environments
The book teaches the importance of slowing down and taking stock before rushing into decisions. Sometimes a decision needs to be made quickly, but more often than not, a rushed decision can do more harm than good in the long term.
The Daily Stoic discusses stillness – which is the concept of slowing down, appreciating what is around you, and evaluating options before taking action.
If you work in a fast-paced environment such as an office or in charge of a business then The Daily Stoic can help to hone your decision-making process.
People seeking self-improvement
The three sections of The Dail Stoic are:
The Discipline of Perception
The Discipline of Action
The Discipline of Will
The discipline of perception teaches the reader how to see things as they truly are with the emotion that clouds our judgment removed. Without these biases, we are able to see things much more clearly and therefore make much more rational decisions.
The discipline of action correlates with our relationship with society, being unselfish, being a good citizen, and working to be part of something larger than ourselves.
The discipline of will relates to things that are out of our control. That might be what other people say about us or natural disasters.
The three disciplines are interdependent and form a playbook on how to mange and improve your life. So, for those looking to make changes, this is a good starting point.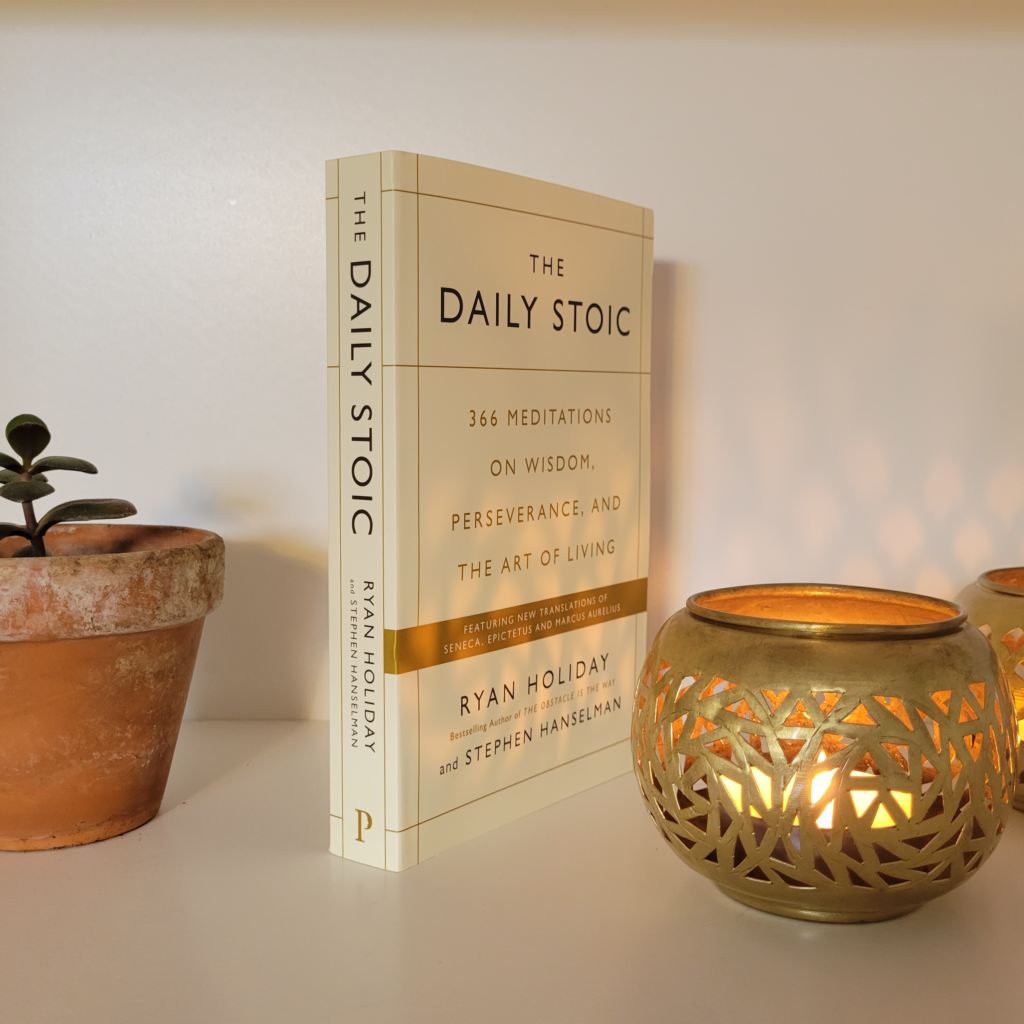 Tone of the book
The Daily Stoic: 366 Meditations on Wisdom, Perseverance and the Art of Living is a very simple, and easy-to-consume book.
Its intention is to be a guide to stoicism for beginners. The format has been deliberately designed so that it is easy to consume, and touches on all the major points of stoicism and all of the most respected thinkers in the field.
Holiday has been clever in the way that he asks readers to read just one lesson per day and reflect on that lesson before completing the next lesson. This is important because it teaches the reader the act of slowing down and being reflective rather than consuming the whole book quickly and not understanding or taking anything in.
What do readers say about The Daily Stoic?
Excellent selection of quotes
Readers felt like this was an excellent introduction to some of the main protagonists of the stoic philosophy.
The quotes touch on the key points of stoicism and are accompanied by Holiday's interpretation of what they mean. Readers felt like they were getting a well-rounded overview of the philosophy.
While quotes come from a wide range of thinkers, they tend to focus on Seneca, Marcus Aurelius, and Epictetus a lot.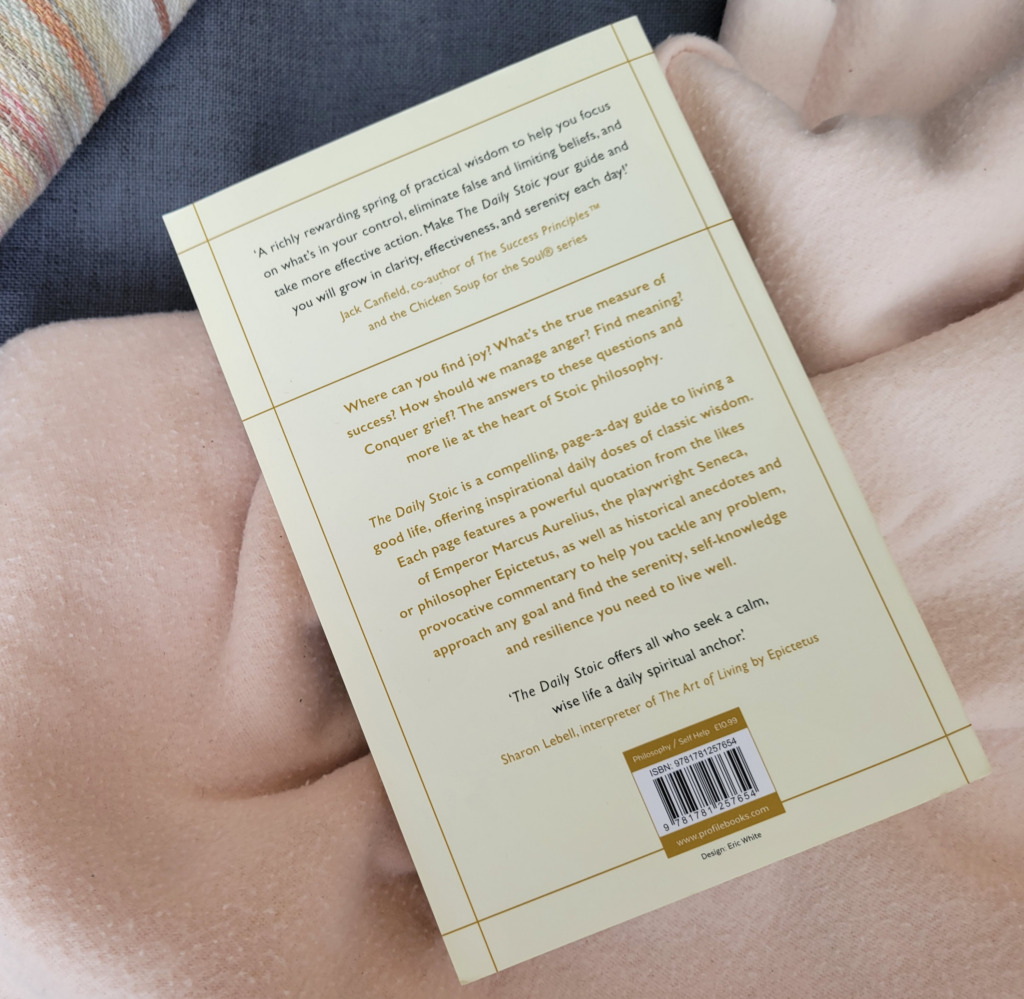 Very simple interpretation
Under each quote, Holiday gives his interpretation of what the stoic philosopher was getting at.
His interpretations came in for a lot of criticism from readers. Some felt that he was completely misunderstanding the point or actually saying something meant the exact opposite of what it actually meant.
Others stated that his analysis was lacking any kind of depth whatsoever. To counter this narrative, however, it is important to note that this is a book aimed at beginners. Therefore, Holiday may have been taking a deliberately simplified approach in order to ease the readers in gently before they can go on and read further on the topic with a basic level of understanding.
The third criticism is the lens through which Holiday views Stoicism. Readers have pointed out that one of the core tenets of Stoicism is the concept of service and virtue. This means working for something more than just yourself. However, readers have suggested that Holiday's view of Stoicism is based on wealth and a sense of self. They feel has taken this ancient wisdom and twisted it into some techniques that you can use to get a pay rise rather than elevating yourself as a person.
Format becomes tiresome
Many readers began to tire of the format. For some, the issue was that the lessons were so short it did not quench their thirst for stoic philosophy during that day. At that point, they started to read multiple lessons per day which they found to be more fulfilling.
For others, the issue was spending an entire year with the same book. A number mentioned that they began to become bored with the book or even resent it towards the end of the reading period.
It seems like the majority of readers did not read the book over the course of the year, but chose to read it at their own leisure instead.
Audiobook review
The audiobook The Daily Stoic: 366 Meditations on Wisdom, Perseverance, and the Art of Living has 4.7 stars on Audible. It is produced by Tim Ferris – famous for his podcast and The 4-Hour Work Week.
Brian Holsopple, the narrator comes in for a lot of criticism. Many listeners commented that he sounds like a performer from a bygone era or an announcer for movie trailers that does not vibe with the content of the book.
In addition, listeners mentioned that the format does not translate perfectly to audiobook format. They stated that they like to listen to audiobooks in longer sessions, and the short, daily nature of the book meant that they were listening to multiple lessons.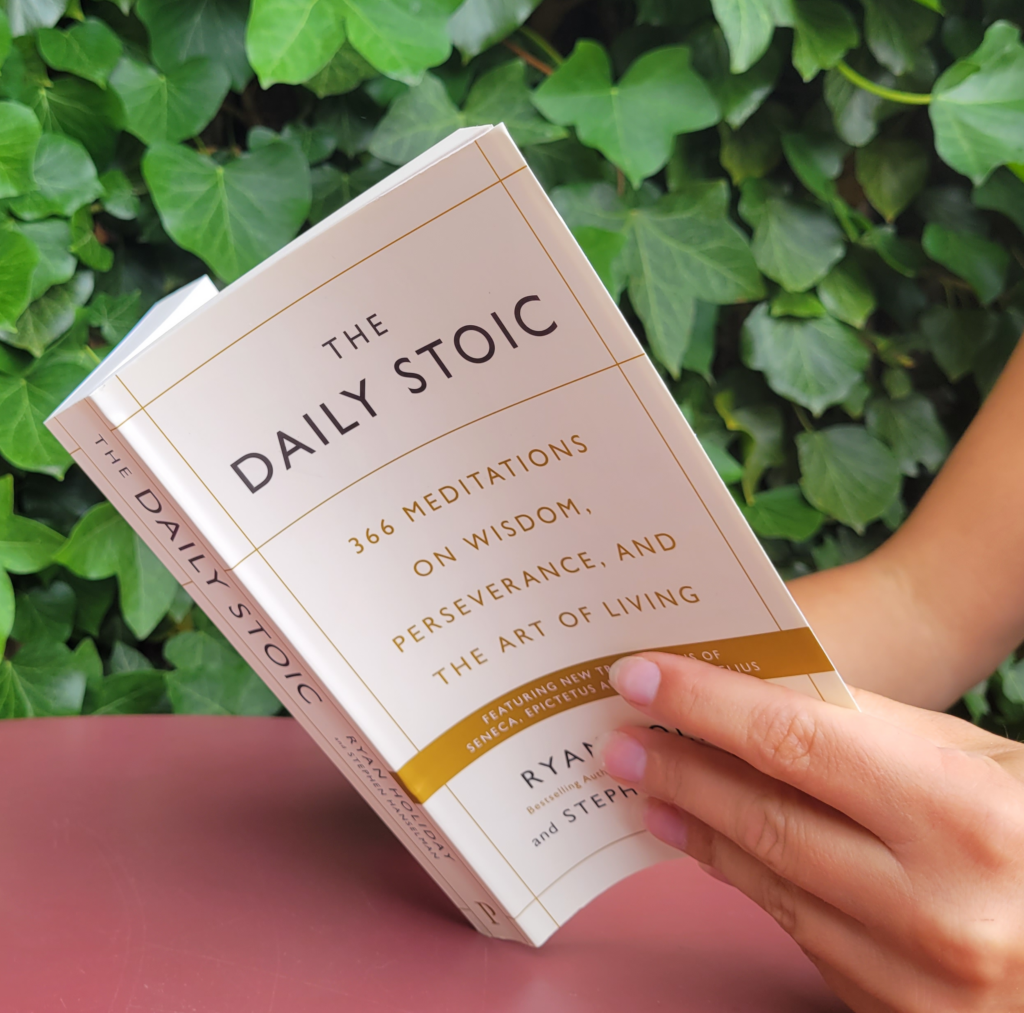 Should I read The Daily Stoic?
Positive
Good introduction to Stoicism
Easy to read, consume, and gives space for reflection
Negative
Simple or ignorant interpretation
Over-reliance on Seneca, Marcus Aurelius and Epictetus
Yes, if you want a basic overview of Stoicism.
It's short, sharp, covers the key thinkers, and means you can have a look at what you find interesting about Stoicism before reading the complete works of Zeno of Citium.