Our Words With Friends Cheat is a special tool that helps you discover and play words to score higher than your opponent in a live match of Words With Friends. Designed to help you win a round of Words With Friends, our tool gives you the edge with an array of words, making you just a bit more of a walking dictionary than ever before.
While our tool is quite straightforward to use, advanced options are at your disposal. Instructions on how to use the Words With Friends Cheat are detailed below. In essence, the tool returns a list of words (which by default will be listed by length) based on your available letter tiles, whether or not you wish to include letters that are already on the board.
How to use Words With Friends Cheat
To begin, make sure to type in the letters in the letters field based on your current Words With Friends tiles.
Inputting letters in this field will list all valid word combinations based on those letters. Remember that you can include letters that are already at play to maximize your score for that turn.
You can take advantage of the other fields to refine your word search. For example, putting "t" in the starts with field will give you all possible terms that begin with that letter. Or, inputting "5" in the length box will only return words that contain exactly 5 letters.
Much like most live crossword-type games, Words With Friends will give you a total of 7 tiles for letters per turn. Use these letters (and those already on the board) with our tool to give yourself a winning edge.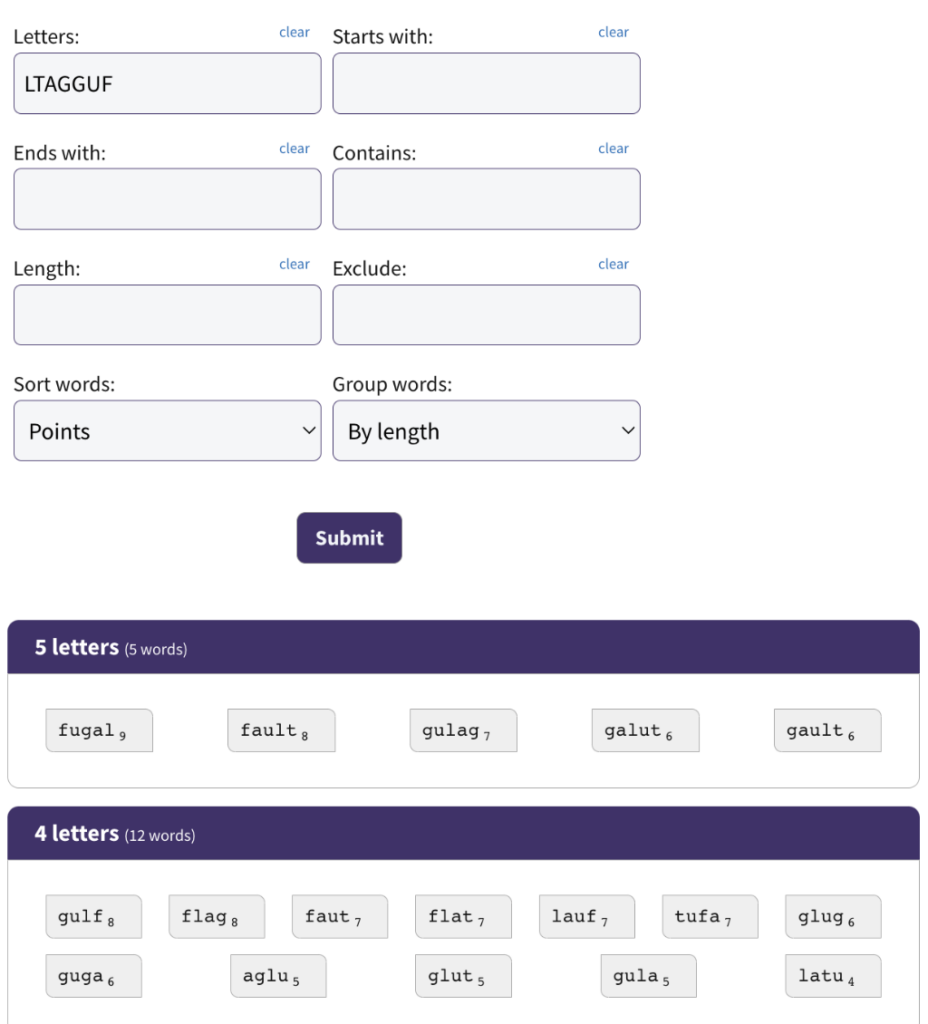 For example, if you input "ltagguf" in the letters field, you'll get all possible terms in a game of Words With Friends.
The resulting sets of words will be displayed in order of length, with each set having the words arranged based on the number of scores you would get playing them.
Let's include in the mix the other advanced options of our tool to tweak resulting words based on the letters that are already part of the board.
For instance, if you input "s" in the starts with field, you will see words such as "sulfa" and "salut." You are not limited to one letter in this field, so feel free to add another without space.
The ends with field is what you might want to take advantage of when you're looking for words that end with a particular letter. For example, with the starts with field blank, putting "b" in the ends with box returns "gulab" (a not-so-common word, but it'll net you 12 points before bonuses).
To get words made up with a specified number of letters, use the length field. By using this field, you'll only get terms based on the number you inputted in the box (no more, no less). For instance, the word that will give you the highest score for that turn requires 4 letters, so naturally the length field needs you to type "4" in it.
In this scenario, all other sets are gone, leaving you with just the 4-letter-word set.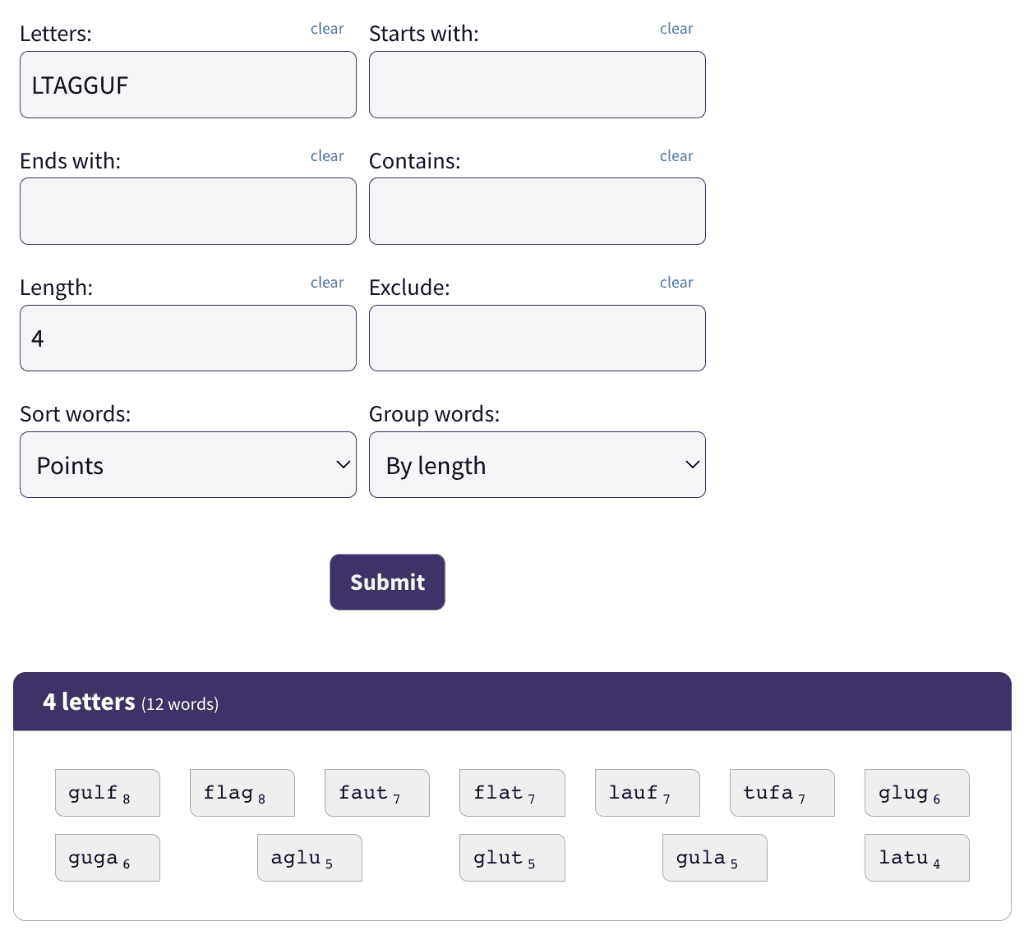 Of course, there's no stopping you from refining your word search further by combining the length field with the letter of your choice in the starts with or ends with field (or both). Our Words With Friends Cheat tool, after all, encourages you to try all sorts of combinations, so keep that in mind.
Now what if you wish to see words that don't contain a particular letter? In such a case, you simply type in that letter in the exclude field. This function is a bit niche, as you probably would just exclude that letter in the letters field in the first place. That said, when used by itself (meaning the letters field is left blank), it can help you think outside the box and expand your choices further.
On the other end of the spectrum, there's the contains field, which does exactly as it implies: It returns words that contain a minimum of 2 letters in the order they were typed. For example, inputting "ag" in the box will give you the terms "gulag" and "gaga" among others.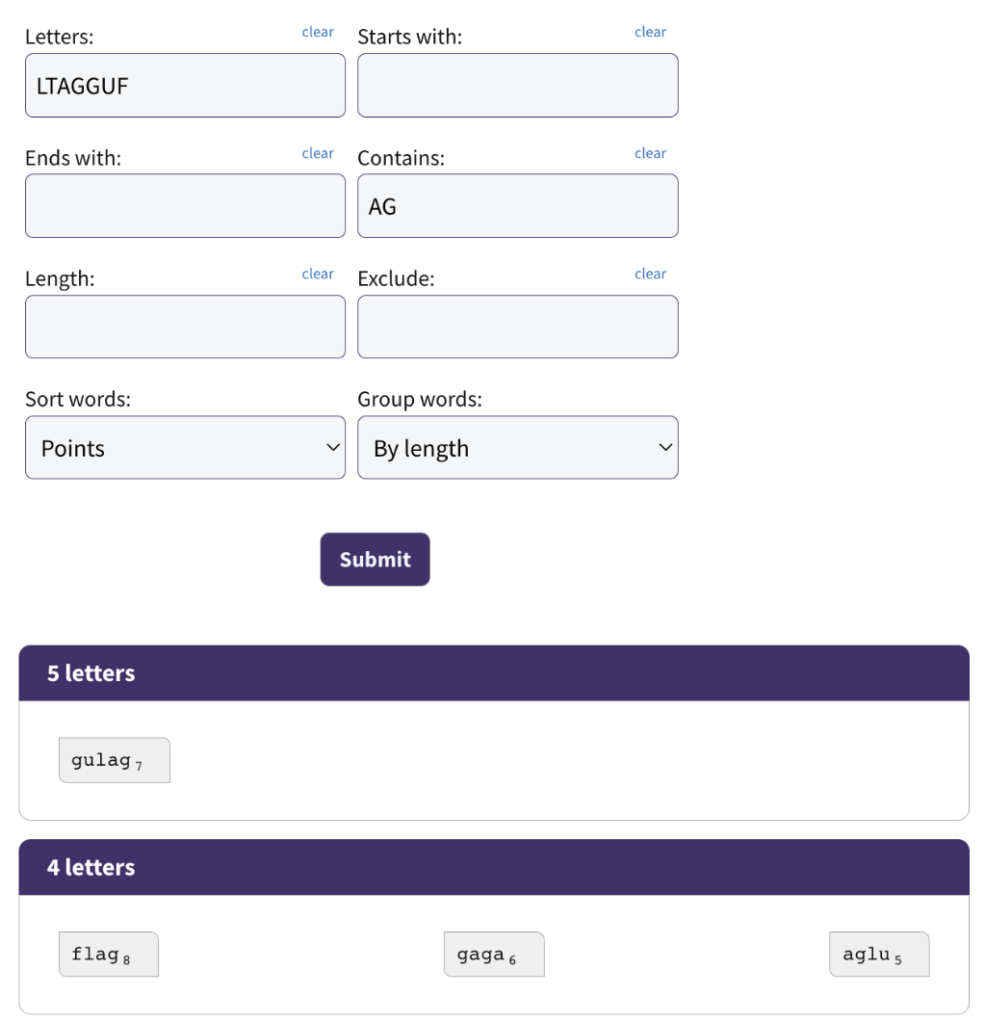 Your results, by default, are grouped by length and sorted in alphabetical order (A – Z). You can switch to Z – A at anytime to display words in the reverse order or select points to prioritize terms with the highest scores.
Finally, selecting No grouping will present all possible words in a single spread. From there, you can reorder the words alphabetically or by points.