Federal student loan debt statistics in Washington
Washington residents owe a total of $28 billion in student loan debts
This is the 21st largest total debt of all 50 states plus Washington DC and Puerto Rico
And the average debt per borrower of $35,510 is the 20th largest average student debt per borrower in the country – $2,277 below the national average
A total of 788,000 people in Washington hold student debt making Washington the state with the 20th highest number of borrowers in the country.
This is only 10.19% of the population of Washington – making Washington the state with the 46th most student loan borrowers per capita — similar to New Mexico, Nevada, and California.
Of these borrowers, 49.30% are under the age of 35 – the 44th highest in the country.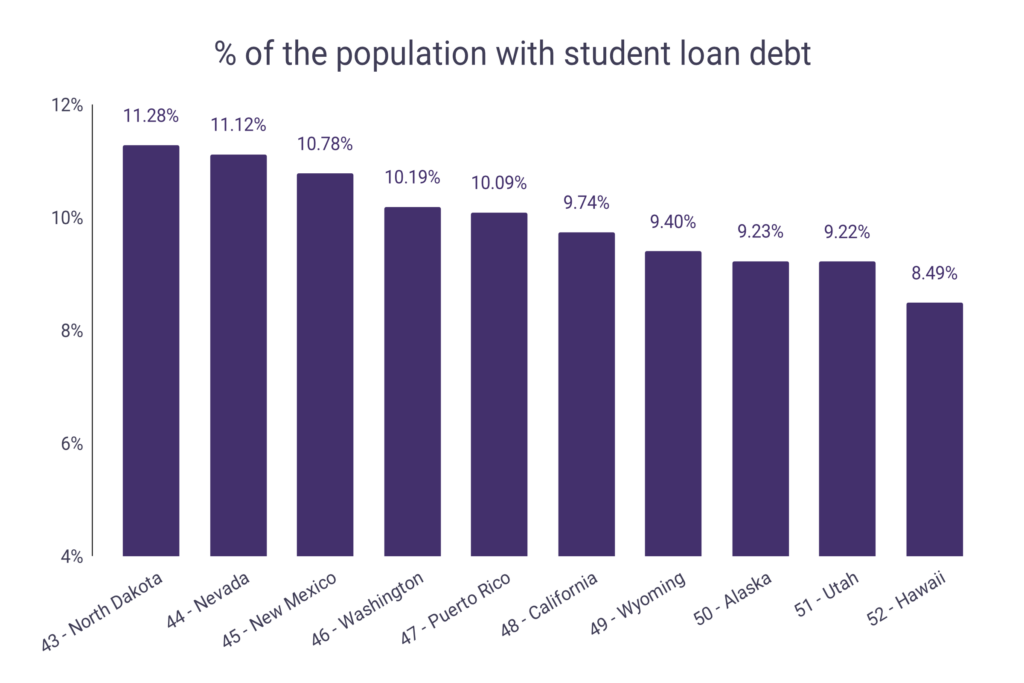 How much student loan debt does the average Washington resident have?
The average student loan debt for borrowers who are Washington residents is $39,165
This makes Washington the state with the 4th-largest average student loan debt
The average student debt in Washington is $35,510 – $1,378 above the national average of $37,721
Within this average, the amount owed by Washington residents varies greatly:

16.50% of borrowers owe less than $5k
21.20% of borrowers owe between $20k and $40k
2.30% of borrowers owe more than $200k
How much do Washington residents borrow each year?
24.40% of Washington undergraduate students take out federal student loans – this is the 46th highest in the country
For those at 2-year colleges, 13.40% of students chose to take student loans – that's 40th in the country
They were approved to get $5,549 per year on average
This is the 24th most per student at 2-year colleges of any state
More students at 4-year schools take out student loans – 25.10% receive student loans
This is 49th most out of the 50 states and DC.
These students are awarded $6,214 per year on average – ranking 50th in the country.
State-level financial aid for students in Washington
Washington is the state that spends the 11th most state funds on financial aid for students
In total, Washington spends $403.7 million on state-level financial aid programs per year
This works out at around 0.34% of the gross state product (GSP)
While Washington has the nation's 11th largest budget for student financial aid, it only ranks 38th as a percentage of GSP
This works out at around $1,168 per undergraduate student in the state – the 14th most of any state in the country
Just over $373.3 million is distributed to students in the form of grants meaning that none of this amount is repaid.
The remaining $30.4 million is distributed between some other programs – some of which may be due to be repaid.