Over 10,156 poetry books have been published each year as of 2013.
From 2002 to 2013, over 121,108 poetry books were published in the US, or just over 10,090 per year.
Poetry book publishing has been stagnant since 2004, hovering around 10,000 published titles per year, with a peak of 13,747 in 2009.
From 2013 to 2017, unit sales of poetry books increased by 21%, making it one of the fastest-growing categories during this period.
From 2004 to 2007, over 12.2 million poetry books were sold in total. This means that, on average, over 3.06 million poetry books were sold between 2004 and 2007.
During the same period, the top 10 poetry books accounted for over 22% of all sales in the category.
Even with the growth in poetry book sales from 2013 to 2017, interest in poetry is still on the decline and stands at almost half of the 2004 levels.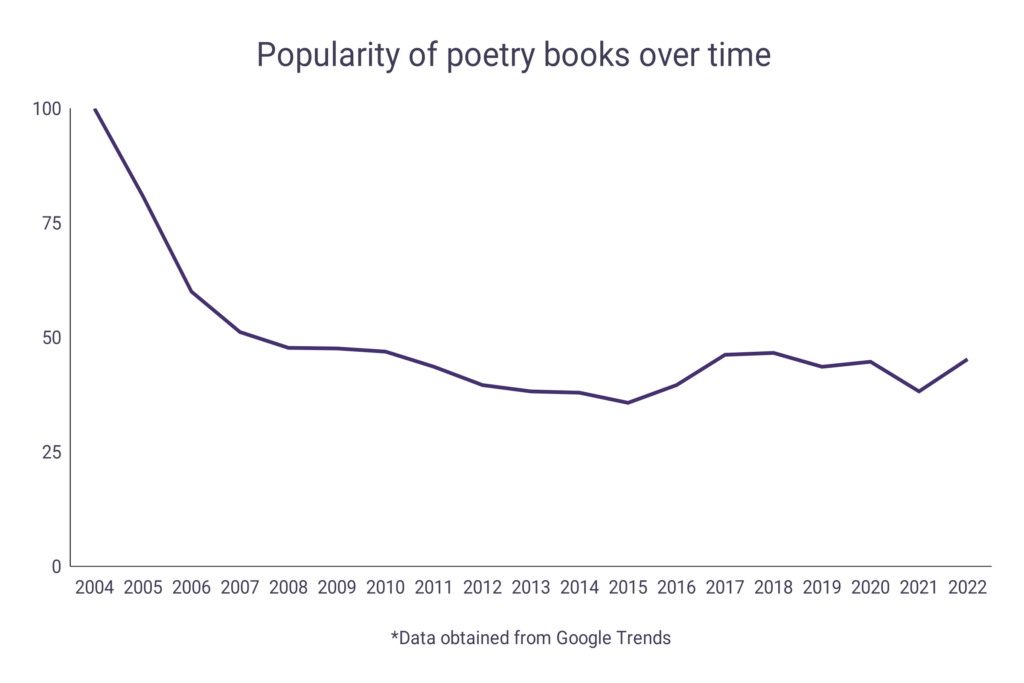 How many people read poetry?
As of 2017, over 11.7% of US adults read poetry at least once a year.
This was an increase of more than 75% compared to 2012, when only 6.7% of Americans were reading poetry books at least once a year.
However, this is still below the 2002 level of 12.1% of US citizens reading poetry books during a year.
Going back further, in 1992, over 17% of Americans read at least one poetry book over the past 12 months.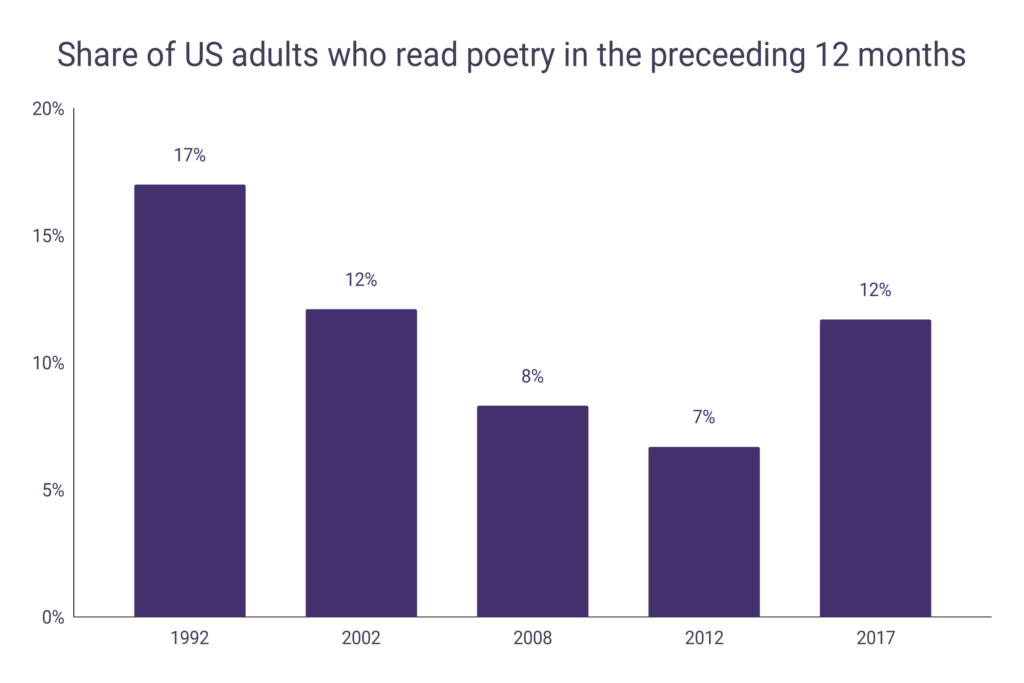 14.5% of women stated that they've read poetry during the past 12 months.
Only 8.7% of men made the same statement.
This makes women 67% more likely to read poetry than men.
Americans ages 18 to 34 are the only group that reads poetry over the national average, with 17.5% of people ages 18 to 24 reading poetry at least once a year and 12.3% of people ages 25 to 34 doing the same.
Only 9.9% of people aged between 45 and 54 read poetry books at least once a year.
Which format do poetry readers prefer?
29.3% of poetry readers read poetry only in print books.
28.2% of poetry readers use only e-books to read poetry.
9.9% of people only listen to poetry in audio format.
32.6% of people use both digital channels, e-books, and audio, to read poetry.
Poetry readers are among the most digital-friendly book readers, as over 70.7% of them don't buy print books to read poetry.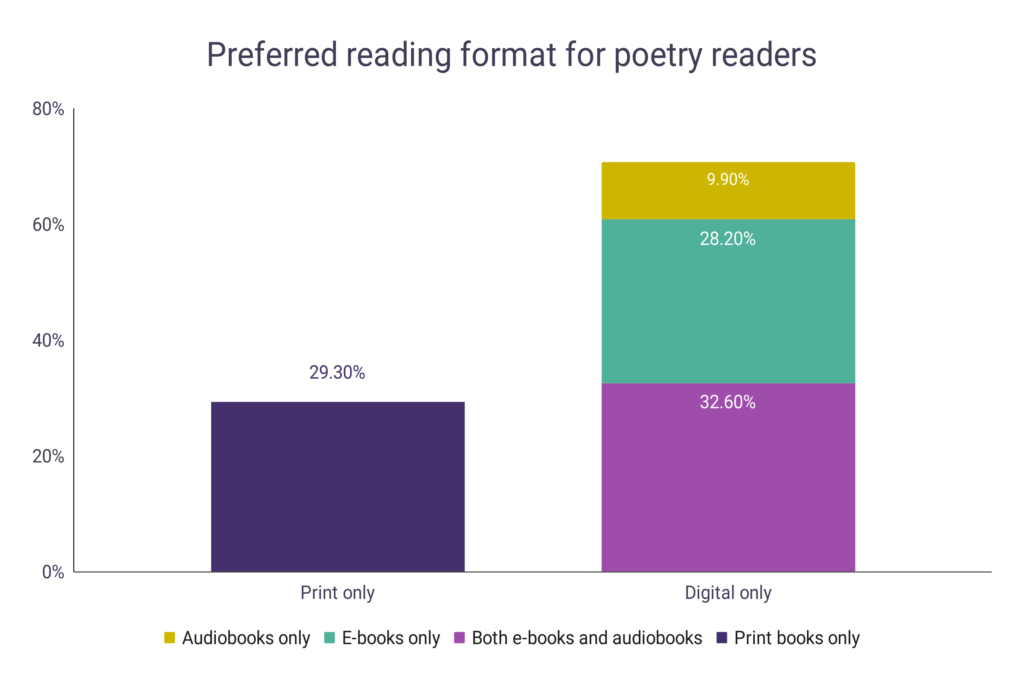 Poetry book sales in the UK
In the UK, poetry book sales generate over 12 million GBP in a year as of 2018.
During the same year, over 1.3 million poetry books were sold.
Poetry book revenue in the UK increased by 15% in 2018 over 2017, which was already 13% bigger compared to 2016.
The average poetry book in the UK costs around 9.46 GBP as of 2018.
66.7% of poetry buyers are under the age of 34.
41% of poetry readers in the UK are girls and women aged between 13 and 22.
Instapoetry statistics
Instapoetry was the driving factor behind the rise in poetry books' popularity in the US in 2017 and 2018.
In 2019, 7 of the top 20 Amazon best-selling poetry books were written by Instapoets.
This trend is especially popular in Canada, where Instapoents account for the majority of the poetry book sales.
During 2017, 80% of all poetry books sold in Canada were written by Instapoets, and in 2018 this group accounted for over 70% of all poetry sales.
Even in 2020, over 49% of all poetry sales were still coming from Instapoets.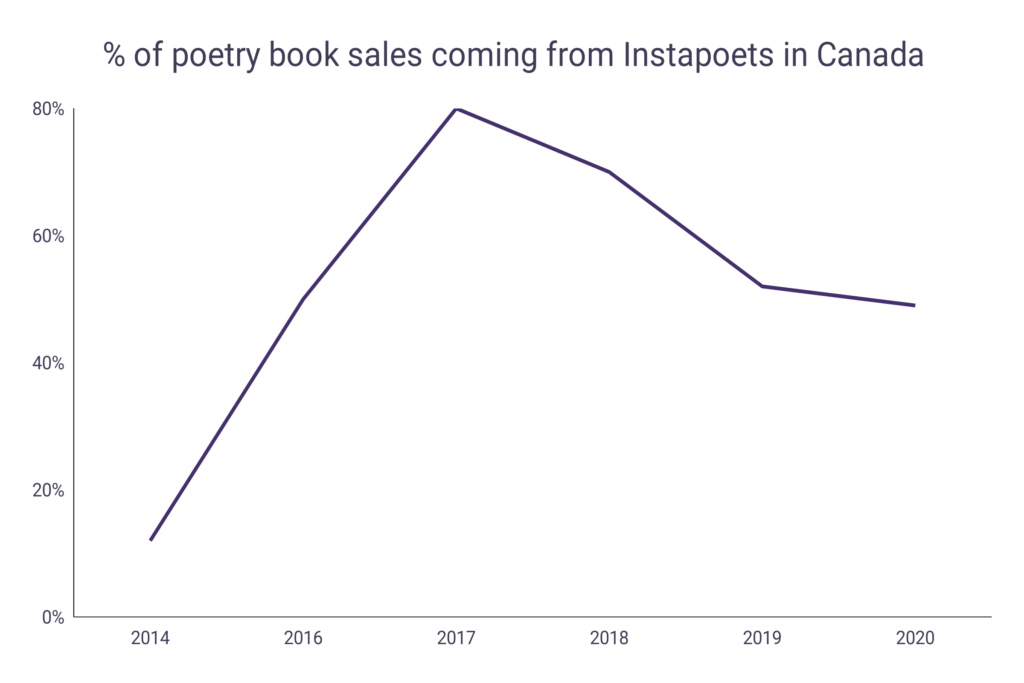 Best-selling poetry books of all time
When it comes to the best-selling books of all time, record sales in poetry are much lower than in other types of books, due to the genre's comparatively reduced popularity with readers.
From the given list, The Divine Comedy by Dante Alighieri and The Prophet by Kahlil Gibran are the best-selling poetry books of all time, selling over 11 million copies.
How the Grinch Stole Christmas! by Dr. Seuss also sold over 10 million copies.
A Light in the Attic and Where the Sidewalk Ends, both by Shel Silverstein, each sold in excess of 4.5 million copies.
The Divine Comedy is the oldest poetry book on the list, originally published in 1304.
Older titles in the list could be expected to have a far higher number of copies sold than listed, due to historical sales tracking differences.
| | | | | | |
| --- | --- | --- | --- | --- | --- |
| # | Title | Author | Year published | Page count | Estimated copies sold* |
| 1 | The Divine Comedy** | Dante Alighieri | 1304 | 848 | 11.0 million |
| 2 | The Prophet | Kahlil Gibran | 1923 | 107 | 11.0 million |
| 3 | How the Grinch Stole Christmas! | Dr. Seuss | 1957 | 64 | 10.0 million |
| 4 | A Light in the Attic | Shel Silverstein | 1981 | 169 | 5.0 million |
| 5 | Where the Sidewalk Ends | Shel Silverstein | 1974 | 309 | 4.5 million |
| 6 | Milk and Honey | Rupi Kaur | 2014 | 226 | 3.0 million |
| 7 | The Rubaiyat of Omar Khayyam | Omar Khayyam | 1859 | 101 | 2.0 million |
| 8 | The Odyssey | Homer | 1614 | 592 | 2.0 million |
| 9 | The Hill We Climb: An Inaugural Poem for the Country | Amanda Gorman | 2021 | 32 | 1.0 million |
| 10 | Change Sings | Amanda Gorman | 2021 | 32 | 1.0 million |
(*Other titles may be excluded due to sales reporting differences. **Sales numbers during the 20th century alone.)