35.03 million print copies of young adult (YA) books are sold each year as of 2022.
Compared to 2021, this is a 0.74% decrease, dropping from 35.29 million copies sold.
30.91 million young adult books sold in 2022 were fiction books, while 4.11 million were nonfiction.
Young adult books have been the fastest-growing category over the last 5 years, with print unit sales jumping by 48.2% since 2018.
This especially applies to YA nonfiction, which grew by 62.7% from 2018.
YA books benefited from the pandemic when sales grew by 24.7% in 2020 and 27.5% in 2021.
As of 2022, young adult books account for 4.58% of all book sales. This makes YA the smallest category within age groups.
However, young adult books are on the rise, and their share in total book sales increased from 3.43% in 2018, which is a 34% increase.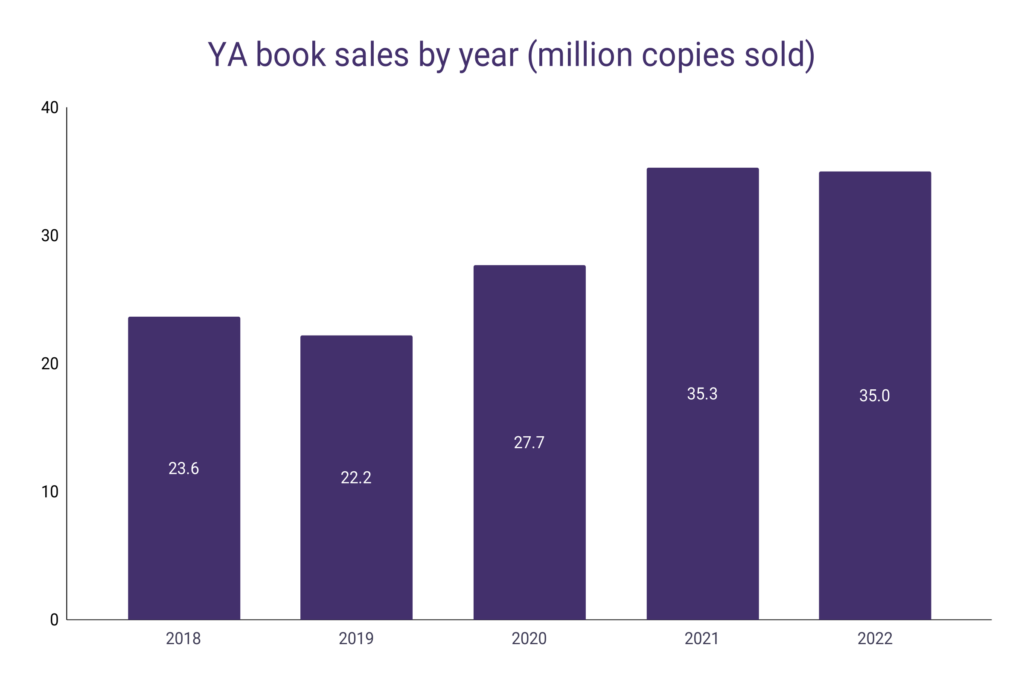 Along with children's books, the young adult segment is worth $11.34 billion globally as of 2022.
This category is expected to grow by 3.5% annually and reach $13.02 billion in value in 5 years.
YA book market is projected to grow faster than the rest of the categories over the next 5 years.
YA consumer structure
Over half of the people (55%) who buy YA books don't follow into the YA category but are over 18 years old.
51% of YA book buyers over 18 years of age are between 30 and 44 years old, accounting for 28% of all buyers.
78% of over-18 buyers are purchasing books with the intention of reading them themselves.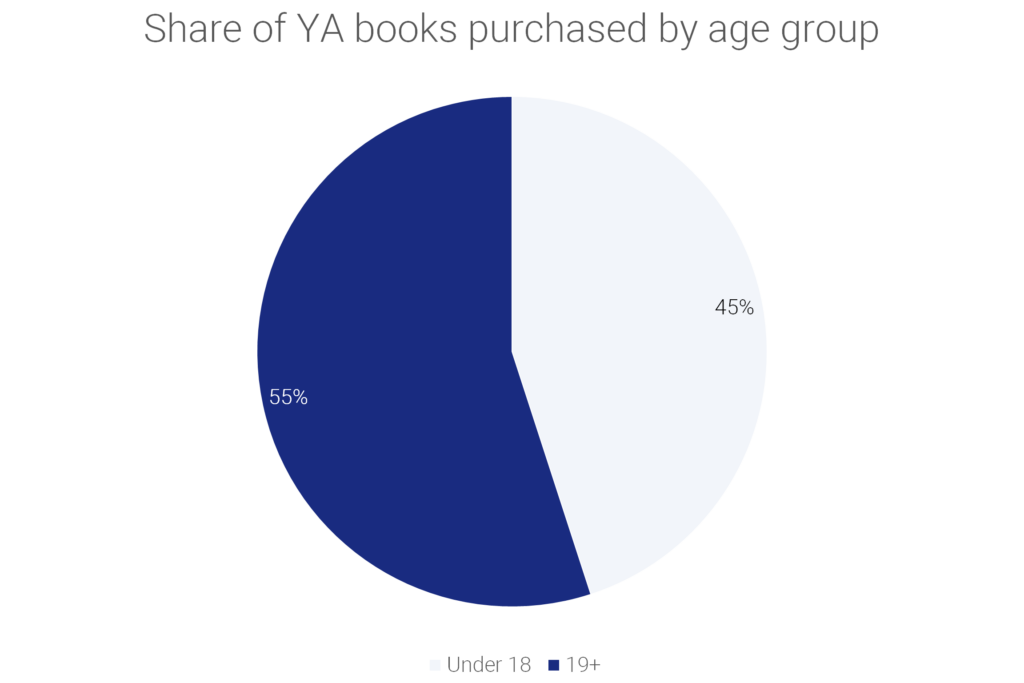 Most of the over-18 YA book buyers purchased at least one of the books from the Hunger Games series, 30% of them.
Only 2 other titles account for over 5% of total YA book sales, while the rest is divided between over 220 titles.
Over 40% of YA consumers are reported to read ebooks, making them a group with the highest ebook purchasing rate across all genres, adults included.
71% of those who buy YA ebooks stated that they'd buy a printed copy if the ebook version is not available.
66% of YA readers state that enjoying the author's previous books have a big influence on the next purchase.
Amazon is a 6-letter word. You can also find 5-letter words for Wordle in our WordsLists.
Best-selling young adult books of all time
Harry Potter and the Sorcerer's Stone by J. K. Rowling is the best-selling young adult book of all time, selling over 120 million copies.
The Hobbit by J. R. R. Tolkien also sold over 100 million copies.
All other Harry Potter series titles by J. K Rowling and The Catcher in the Rye by J. D. Salinger sold upwards of 65 million copies each.
The Hobbit is the oldest young adult book on the list, published in 1937.
| | | | | | |
| --- | --- | --- | --- | --- | --- |
| # | Title | Author | Year published | Page count | Estimated copies sold* |
| 1 | Harry Potter and the Sorcerer's Stone | J. K. Rowling | 1997 | 223 | 120 million |
| 2 | The Hobbit | J. R. R. Tolkien | 1937 | 310 | 100 million |
| 3 | Harry Potter and the Chamber of Secrets | J. K. Rowling | 1998 | 251 | 77 million |
| 4 | Harry Potter and the Prisoner of Azkaban | J. K. Rowling | 1999 | 317 | 65 million |
| 5 | Harry Potter and the Goblet of Fire | J. K. Rowling | 2000 | 636 | 65 million |
| 6 | Harry Potter and the Order of the Phoenix | J. K. Rowling | 2003 | 766 | 65 million |
| 7 | Harry Potter and the Half-Blood Prince | J. K. Rowling | 2005 | 672 | 65 million |
| 8 | Harry Potter and the Deathly Hallows | J. K. Rowling | 2007 | 607 | 65 million |
| 9 | The Catcher in the Rye | J. D. Salinger | 1951 | 234 | 65 million |
| 10 | Looking for Alaska | John Green | 2005 | 297 | 45 million |
| 11 | To Kill a Mockingbird | Harper Lee | 1960 | 281 | 40 million |
| 12 | The Hunger Games | Suzanne Collins | 2008 | 374 | 28 million |
| 13 | Lord of the Flies | William Golding | 1954 | 224 | 25 million |
| 14 | The Fault in Our Stars | John Green | 2012 | 313 | 23 million |
(*Other titles may be excluded due to sales reporting differences.)