Young adult book sales in 2021
8 million print copies of young adult (YA) books were sold during Q1 of 2021.
Compared to Q1 2020, this is a 60% increase, jumping from 5 million copies sold.
7 million of young adult books sold in Q1 of 2021 were fiction books, while 1 million sold were non-fiction.
The vast majority of this increase came from YA fiction, accounting for 90% of growth.
Fiction YA book sales grew by 62.8%, from 4.3 to 7 million copies, while non-fiction sales grew by 42.9%, from 0.7 to 1 million copies sold.
Fiction YA books sales grew at a 50% higher rate compared to non-fiction.
Within fiction, SciFi and Fantasy were the highest growing, selling 1 million more copies compared to Q1 2020.
In addition to that, YA fiction books that deal with social issues sold 700,000 more units in Q1 of 2021 compared to the same period in 2020.
YA book sales over time
Young adult ebooks were sold in 64 million units in 2020, a 56% increase compared to 41 million units sold in 2019.
During the first 3 quarters of 2020, over 19.31 million YA books were sold.
Compared to the same period during 2019, the YA book sales in 2020 grew by 20.6%.
Over 16.84 million copies of YA fiction books were sold from January to September 2020, an 18.6% increase over the same period in 2019.
YA non-fiction book sales grew by 36.5% in the first 3 quarters of 2020 over the same period of 2019, from 1.81 to 2.47 million copies sold.
YA non-fiction was the fastest-growing book category in 2020 across all ages.
Annual YA books sales growth in 2020 over 2019 was 21.4% for fiction and 38.3% for non-fiction.
In 2019, children & adult books grossed $2.26 in sales, a 6.8% increase over 2018.
These two categories accounted for 15.3% of total books sales in 2019, a jump from 14.5% in 2018.
YA consumer structure
Over half of people (55%) who buy YA books don't follow into the YA category but are over 18 years old.
51% of YA book buyers over 18 years of age are between 30 and 44 years old, accounting for 28% of all buyers.
78% of over-18 buyers are purchasing books with the intention of reading them themselves.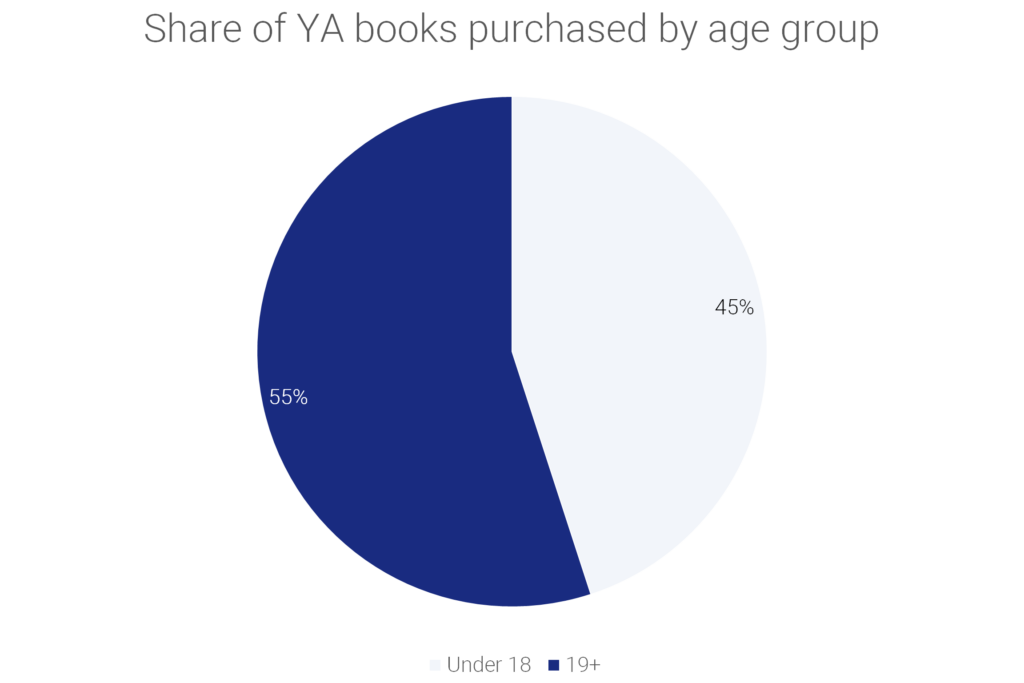 Most of the over-18 YA book buyers purchased at least one of the books from the Hunger Games series, 30% of them.
Only 2 other titles account for over 5% of total YA book sales, while the rest is divided between over 220 titles.
Over 40% of YA consumers are reported to read ebooks, making them a group with the highest ebook purchasing rate across all genres, adults included.
71% of those who buy YA ebooks stated that they'd buy a printed copy if the ebook version is not available.
66% of YA readers state that enjoying the author's previous books have a big influence on the next purchase.
Sources
https://publishingperspectives.com/2021/04/us-first-quarter-2021-print-book-sales-grew-29-percent-covid19/
https://slate.com/culture/2019/12/decade-in-young-adult-fiction.html
https://www.publishersweekly.com/pw/by-topic/industry-news/bookselling/article/84593-a-surprisingly-strong-year-of-book-sales-continues.html
https://www.thebalancecareers.com/the-young-adult-book-market-2799954
https://www.statista.com/statistics/730321/juvenile-fiction-unit-sales/
https://www.theguardian.com/books/2019/feb/27/authors-voice-alarm-after-sharp-drop-in-sales-of-ya-fiction
https://www.publishersweekly.com/pw/by-topic/industry-news/financial-reporting/article/82693-industry-sales-posted-small-gain-in-2019.html
https://hannahholt.com/blog/2017/10/19/writing-for-young-adults-a-look-at-the-numbers
https://www.publishersweekly.com/pw/by-topic/childrens/childrens-industry-news/article/53937-new-study-55-of-ya-books-bought-by-adults.html
https://www.thebookseller.com/news/crowded-market-poor-retailing-and-worthy-books-behind-fall-ya-sales-945181