Amazon's impact on self-publishing
With the introduction of Amazon's CreateSpace, now Kindle Direct Publishing, the company revolutionized the self-publishing world. The number of self-published books skyrocketed over the last decade or so, and Amazon dominates this world:
In 2007, with the release of Kindle, 5.7% of all self-published books came from Kindle Direct Publishing (KDP).
11 years later, in 2018, Amazon published over 91.5% of all self-published books in the United States.
During that period, the number of self-published titles on KDP jumped from 3,804 in 2007 to 1,416,384 titles in 2018.
These numbers don't even take into account the ebooks published on Amazon that didn't register for ISBN number, so the overall number of self-published books through KPD is significantly higher.
Even without the official numbers available, Amazon's KDP is considered the largest ebook publisher of self-published ebooks on the market.
Amazon's share in the US self-publishing is presented in the chart below: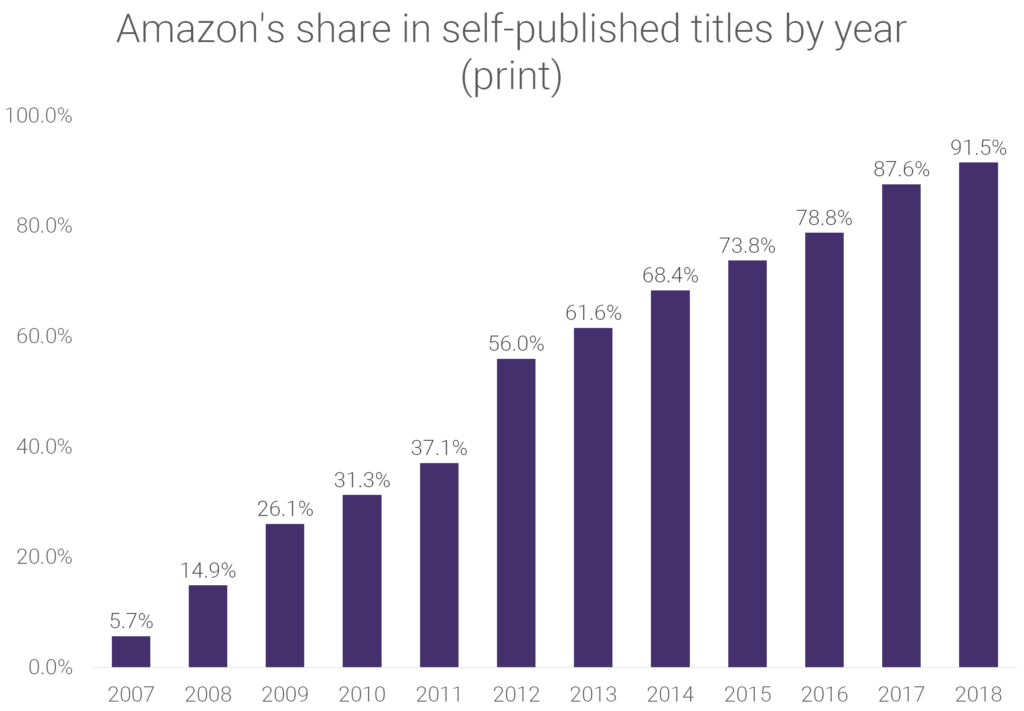 Impact of Amazon on bookstores
As the leading online retailer, Amazon revolutionized the way people shop for books. From the moment Amazon appeared on the market, physical bookstores have undergone a significant change:
In 1998, 3 years into Amazon's era, there were over 12,000 bookstores in the United States.
As of 2020, the number of physical bookstores in the USA has dropped by 52.8% since 1998 and stands at 5,733.
Independent bookstores also experienced significant changes since Amazon entered the book industry in 1995:
There were 5,500 independent bookstores in 7,000 locations in the United States in 1995, the year when Amazon started its business.
As of 2022, only 2,023 independent bookstores in 2,506 locations were registered, with a record-low number in 2009 with 1,401 stores in 1,651 locations.
This means that the number of independent bookstores decreased by 63.2%, and the number of their locations decreased by 64.2% since Amazon entered the scene in 1995.
Impact of Amazon on book sales
During the first year of Amazon, in 1995, over 61% of all book sales came from bookstores, including independent bookstores and book clubs.
An additional 29% of book sales came from other physical channels, such as drugstores, supermarkets, discount stores, etc.
Only 10% of sales came from "other" channels, such as Amazon.
27 years later, It is estimated that Amazon accounts for at least 50% of all book sales in the United States.
In reality, this figure is probably much higher, with estimates showing that Amazon might be controlling between 70% and 80% of all book sales.
In addition to that, Amazon controls at least 67% of the ebook market, while some estimates go over 80%.
Over 25% of American households use Amazon's Prime Reading feature.
Since the introduction of Kindle, over 25% of Americans have used e-readers to read books.
In addition to that, over 20% of Americans listen to audiobooks every year.
2020 was the first year where online book sales outnumbered physical bookstore sales.
Impact of Amazon on book diversity
The average book today sells around 200 copies in a year and just over 1,000 copies in a lifetime.
Amazon's algorithm-based approach to book recommendation makes it harder for "low profile" books to get discovered.
At the same time, the gap between the most popular books and the rest is getting bigger.
Considering the ever-increasing competition and Amazon's approach to promoting books that already sell well, authors outside of the best-selling lists have a hard time attracting the attention of the readers.