Amazon was initially founded as a bookselling platform in 1995. Since then, the company has gone through massive changes, becoming the world's biggest retail company in which bookselling represents just a fraction of profit.
However, even in the book sales sector, the company dominates the book publishing industry with an upwards trend, threatening to overtake the market in the future completely. On the other hand, the company did a lot of positive things for the book industry, such as the emergence of self-publishing accessible to anyone. In this report, we'll cover all the aspects of Amazon's book publishing business.
Amazon book sales
Even though Amazon's book sales make up only 10% of the company's profit, they are still the biggest seller of books in the United States and worldwide.
Amazon generates around $28 billion worldwide from book sales every year. The company is responsible for over 50% of sales from the Big Five publishers and controls between 50% and 80% of the book distribution in the United States.
Amazon sells at least 300 million print books every year.
The company reportedly controls at least 40% of the print book sales in the States.
Some estimates show that by 2025 Amazon could take over more than 70% of the US print book market.
In the UK, Amazon controls at least 50% of the market, selling over 106 million copies each year.
When it comes to ebooks, Amazon is dominating the market by a wide margin.
Amazon sells over 487 million ebooks through Kindle every year.
The company's market share in ebook sales stands at least 67%, climbing to 83% when Kindle Unlimited is included.
Amazon is estimated to control over 87.9% of yearly ebook sales in the UK.
Even though the company sold more ebooks than print books in 2011, nowadays, Amazon sells 3x more print books than ebooks.
Self-publishing on Amazon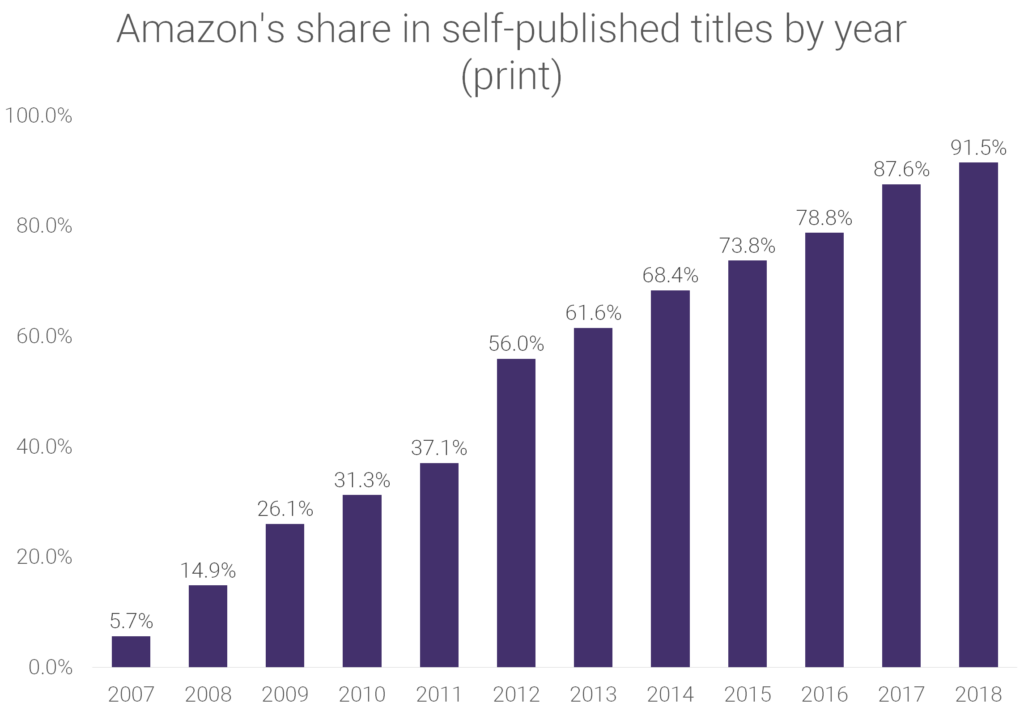 Amazon has been the driving force behind the massive emergence of self-published books in the United States:
Amazon releases over 1.4 million self-published books through its Kindle Direct Publishing every year.
This doesn't even take into account self-published ebooks with no registered ISBN number, so the extent of Amazon's self-publishing figures is much higher.
Kindle Direct Publishing is regarded as the largest ebook publisher of self-published ebooks, even without official numbers available.
Amazon pays over $520 million in royalties each year to over 1 million authors who decided to self-published through KDP.
Only 1% of audiobooks on Audible are self-published
Self-published books account for 31% of Amazon's ebook sales
Self-publishing authors have the option to publish their work in 40 languages.
Audible publishing
Amazon acquired Audible in 2008 for $300 million and made it the biggest audiobook retailer worldwide. Audible's publishing library contains over 200,000 audio products from a wide range of publishers.
As of 2022, in the US, the Audible platform has a 63.4% market share in the audiobook publishing category.
Audible generates over $1.19 billion in audiobook sales revenue per year.
The company is getting more dominant in the market, increasing its market share by 54.6% over the last 5 years.
In total, Audible produces 10,000 titles annually.
Amazon's impact on the publishing industry
Since the company entered the book market in 1995, Amazon has been the driving force behind massive changes that the publishing industry has faced over the last 30 years. One of the most significant contributions of Amazon is an explosion of self-publishing books:
At the release of Kindle in 2007, 5.7% of all self-published books came from KDP (Kindle Direct Publishing).
However, as of 2018, Amazon published more than 91.5% of all self-published books in the U.S.
For the period of 2007-2018, self-published title numbers on KDP surged from 3,804 to 1,416,384.
The company is one of the pioneers in online bookselling, which has overtaken the market over the last decade. This trend had an enormous effect on the bookstores, which have been declining in popularity:
From 1998 to 2020, the number of bookstores in the USA dropped from 12,000 to 5,773, or more than 52.8%.
Independent bookstores also suffered, with the number of stores dropping by 63.2% and the number of locations by 64.2% from 1995 to 2022.
On the other hand, online sales soared, with only Amazon contributing to at least 50% of all book sales in the USA.
Number of books published by Amazon
Aside from publishing over 1.42 million self-published titles through KDP, Amazon also published over 1,000 books each year through its imprints.
This makes Amazon one of the biggest book publishers in the world, on par with the Big Five.
Per Bookdepository, Amazon has listed 16,002 imprint books (printed) as of 2023.
Overall, Amazon's store contains over 32.8 million published titles.
English language books make up 52.44% of all published titles, followed by French and German with 6.1% each.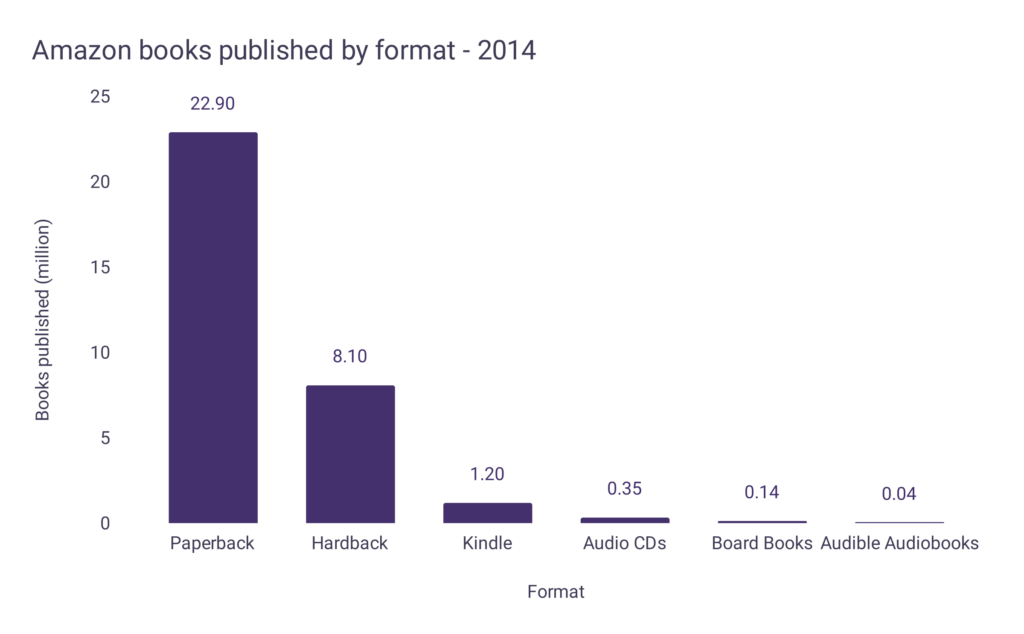 Complete stats on the number of books published by Amazon can be found on our detailed statistics page.
Amazon publishing imprints
As one of the largest publishers in the global book market, Amazon owns 17 publishing imprints, ranging from adult to children's literature.
82.35% of Amazon's imprints are marketed toward the adult segment.
The remaining 17.65% is marketed towards the children/YA segment.
Amazon's imprints are home to over 80 authors with over 1 million readers worldwide.
Amazon Publishing publishes over 55.3% of the company's books, followed by Thomas & Mercer and Montlake with 11.3% each.
Bestselling self-published authors on Amazon
Andy Weir, who wrote "The Martian," has sold 5 million copies just in the U.S.
In 2015, the book was adapted into a movie that grossed $630 million globally.
5 years later, he sold film adaptation rights to his "Project Hail Mary" book to MGM for $3 million.
Multiple New York Times bestselling author Marie Force has sold upwards of 12 million copies worldwide.
In 2016, she claimed that 80% of her revenue was generated from 30 self-published titles.
A complete list of bestselling self-published authors on Amazon is available here.
Amazon publishing – FAQ
How big are Amazon's royalties?
As the biggest self-publishing service in the world, Amazon's KDP enabled over 1 million authors to get their books published. The company is expected to pay out over $522 million in royalties in 2022 alone, a 16% increase from the previous year.
For paperbacks, Amazon offers a 40% fixed royalty on the listed price after all costs are deducted.
For ebooks, Amazon offers 35% and 70% royalties, less the expenses, depending on the exclusivity level of the company.
For Audible, authors can expect 40% royalty for an exclusive deal and 25% for a non-exclusive.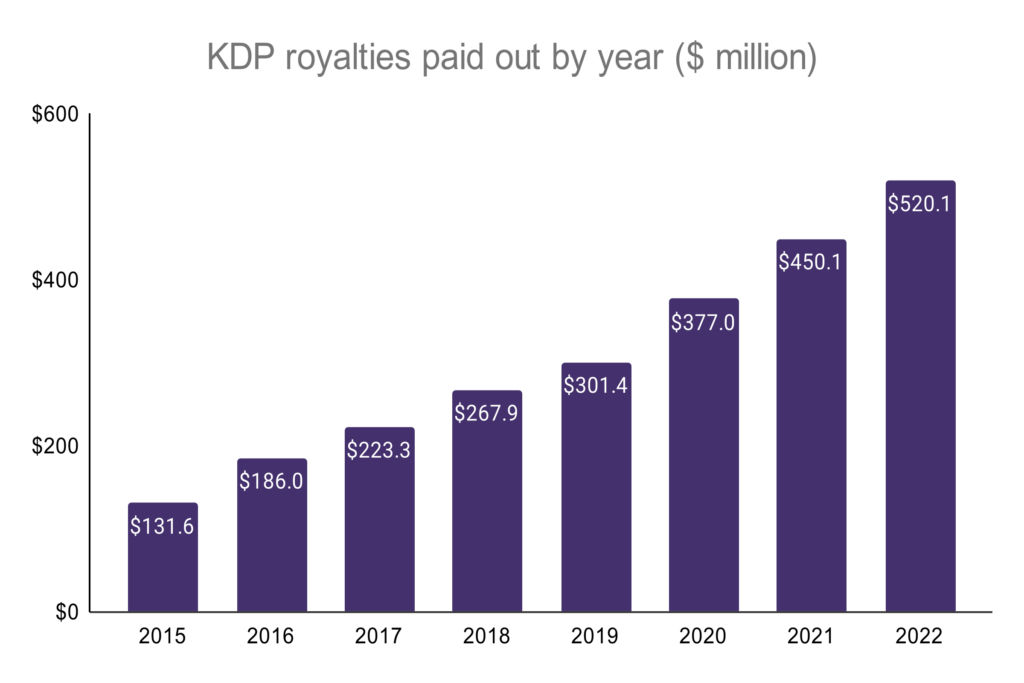 More about Amazon's royalties can be found on this page.
Is Amazon publishing exclusive?
Amazon allows authors to either publish exclusively with Amazon or wide to multiple platforms.
Is it free to publish on Amazon?
It is free to publish a book through Amazon's Kindle Direct Publishing platform.
However, printing costs are deducted from the royalties made on each sale.
How does Amazon publishing work?
Amazon publishing works by allowing authors to upload a PDF version of their book and fill-in information such as the book's details, its exclusivity, and format.
Once the listing is complete, the publication will be hosted within the selected Amazon platforms, ready for consumers to purchase.