Memoirs and biographies for young adults grew 26% in sales revenue over the last 5 years.
Unit sales for the category dropped by 17.9% in 2021 over 2020, even though the category had a strong first quarter of 2021 with a 38% increase over the Q1 of 2020.
This is faster growth than the adult non-fiction category, which grew 22.5%.
Memoirs and Biographies is the #1 best-selling hard copy book, non-fiction book category on Amazon

It comes in ahead of

Religion and Spirituality
Health, Fitness, and Dieting
Politics and Social Science

For e-books, memoirs and biographies come in second behind religion and spirituality.
Best-selling memoirs and autobiographies
Memoirs and autobiographies of famous and influential people are always in demand from readers, with some of the genre's titles even present on the list of best-selling audiobooks of all time.
Book
Author
Release date
Copies sold*
An Autobiography
Agatha Christie
2012
10M+
The Autobiography of Benjamin Franklin
Benjamin Franklin
1791
5M+
A Promised Land
Barack Obama
2020
5M+
Becoming
Michelle Obama
2018
4M+
Educated
Tara Westover
2018
2M+
Born a Crime
Stories from a South African Childhood
Trevor Noah
2016
2M+
Love, Lucy
Lucille Ball
1997
1M+
Personal Memoirs of Ulysses S. Grant
Ulysses S. Grant
2006
1M+
Into Thin Air:
A Personal Account of the Mount Everest Disaster
Jon Krakauer
1997
1M+
The Autobiography of Malcolm X
Malcolm X
1987
500K+
(*Other titles may be excluded due to sales reporting differences.)
Largest advances for memoirs or autobiographies
Barack and Michelle Obama for A Promised Land and becoming – $60million
My Life by Bill Clinton – $15 million
Hard Choices by Hilary Clinton – $14 million
Born to Run by Bruce Springsteen – $10 million
Crossing the Threshold of Hope by Pope John Paul II – $8.5 million
Life by Keith Richards – $7.3 million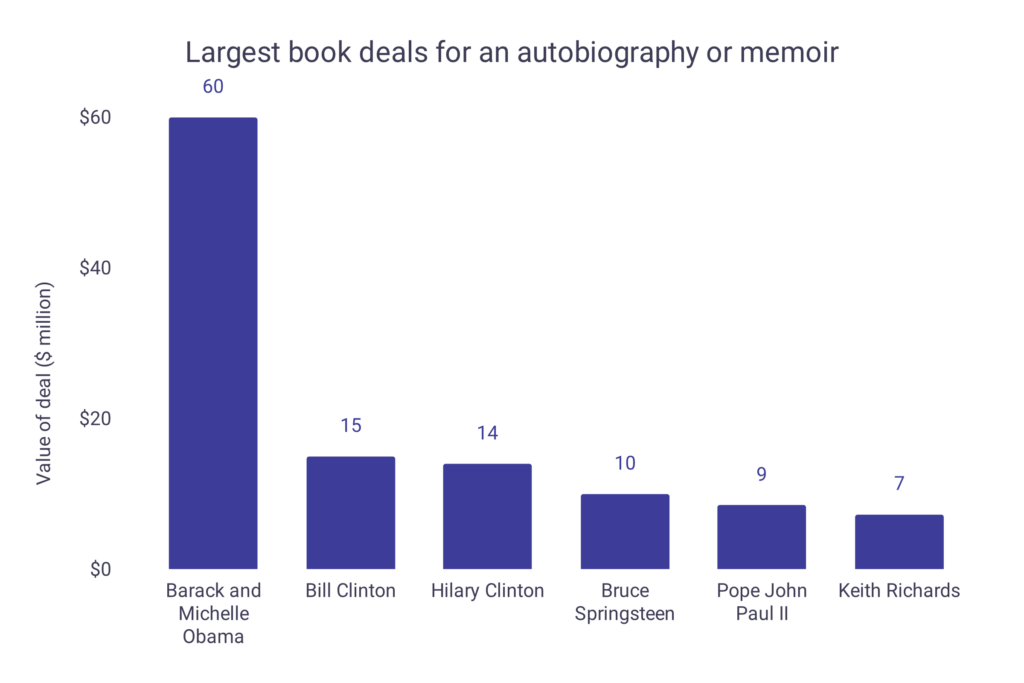 The largest advance ever for an autobiography is 4x that of the second largest.
Of the six largest advances: 3 were for politicians, 2 for rockstars, and one for the head of the Catholic church.
George W Bush received $7 million for his memoirs, suggesting that publishers have more faith in Democratic politicians to sell books than their Republican counterparts.
The average reader got through less than 13 pages of Hard Choices by Hilary Clinton.
Memoirs and autobiographies on the NYT bestsellers list
Over 3 million books are published each year, and less than 500 make the NYT BSL.
General fiction and biographies make the list more frequently than any other genre.
31% of Americans say biographies are their favorite book genre.
Almost 50% of non-fiction books on the NYT BSL are biographies or memoirs.
Of 2,025 non-fiction books to have reached the NYT BSL, almost 900 were biographies or memoirs.
History, general non-fiction, and reference books are 2nd, 3rd, and 4th, respectively.
24% of biographies and memoirs last just one week on the list.
Male authors dominate in all non-fiction categories, but the gender gap is smallest in memoirs and biographies.