Wordle has become a cultural phenomenon since its release, appealing to casual gamers and word enthusiasts alike through its simple 5-letter puzzles. In this article, we take a look at the history of Wordle, its popularity over time and how it grew into a global sensation.
Wordle was released in October 2021 by Welsh software engineer Josh Wardle.
By November 1 2021, within a month of being made public, the game had 90 players.
However, by January 2 2022 this had risen to 300,000 daily players.
Incredibly, the following week Wordle's number of weekend players exceeded 2 million.
Later that month, The New York Times Company announced that it had purchased Wordle for an undisclosed, low-seven figure fee.
The acquisition of Wordle was linked to bringing tens of millions of new players to The Times' puzzle section and/or app by the end of March 2022.
The player count for the game also peaked during this period.
During 2022, Wordle was the top Google search term for both global and American users.
Furthermore, top Google search trends showed that players were looking to find definitions of Wordle answers.
If you are a frequent Wordle player who is looking to get better at the game, why not try out our Wordle Solver? This useful tool will help you get through the trickiest levels, providing a list of suitable suggestions based on your known letters.
Wordle popularity over time
Wordle rapidly rose in popularity straight after its release and still manages to maintain a high level of popularity amongst different types of gamers from all age groups.
Initial Wordle popularity
When Wordle was released to Josh Wardle's website, Powerlanguage, in October 2021, the game had less than 5,000 web visits for the month.
By November 2021, Wordle's monthly visits had jumped to over 27,000.
The number of web visits increased over 20 times in December 2021 over the previous month, reaching almost 563,000.
Prior to the game's eventual sale to The New York Times, January 2022 saw Wordle web visits rise over 80 times from the previous month, up to over 45 million.
| | |
| --- | --- |
| Month | Web visits (millions) |
| October 2021 | 0.00 |
| November 2021 | 0.03 |
| December 2021 | 0.56 |
| January 2022 | 45.10 |
Overall Wordle trends
Wordle achieved its highest ever popularity during Q1 2022.
This coincides with the game being purchased by The New York Times Company.
Both average popularity and max. popularity (during quarter) have shown continual declines since this period.
As of 2023, average popularity is just under half of the popularity seen during Q1 2022
Max. popularity (during quarter) is at approximately a third of the popularity seen during Q1 2022.
| | | |
| --- | --- | --- |
| Quarter | Average popularity | Max. popularity (during quarter) |
| Q4 2021 | 1.00 | 1.00 |
| Q1 2022 | 68.85 | 100.00 |
| Q2 2022 | 65.62 | 86.00 |
| Q3 2022 | 41.31 | 48.00 |
| Q4 2022 | 34.38 | 37.00 |
| Q1 2023 | 32.85 | 34.00 |
| Q2 2023 | 32.31 | 34.00 |
| Q3 2023 | 30.92 | 33.00 |
(data less than 1.0 rounded to 1.0)
A graph is given below to show the popularity of Wordle over time: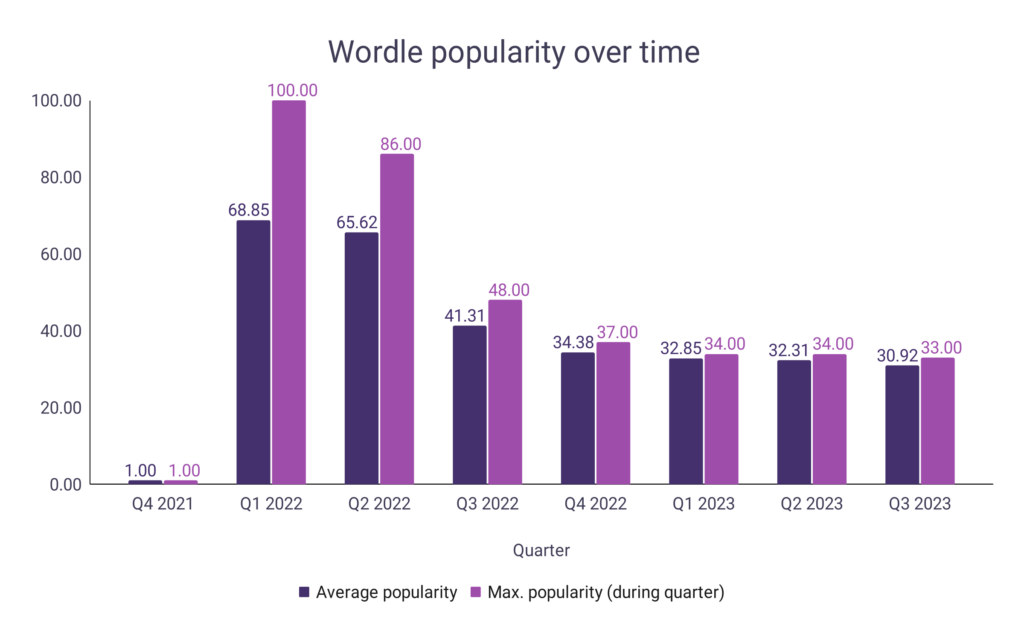 WordsRated has a list of 4-letter words for fans of word games with reduced letter squares. Users can even adjust the number of letters they wish to see in the results, based on a comprehensive word bank.
Share of US adults who play Wordle
In early 2022, Wordle managed to establish itself as a well-known and popular word game amongst players of different generations in the US, in a trend that still continues.
Data from January 2022 showed that 14% of all US adult respondents played Wordle.
26% of Millennial respondents reported playing Wordle.
18% of Generation Z respondents reported playing Wordle.
9% of Generation X respondents reported playing Wordle.
5% of Baby Boomer respondents reported playing Wordle.
| | |
| --- | --- |
| Generation | Percentage |
| Millennials | 26% |
| Generation Z | 18% |
| Generation X | 9% |
| Baby boomers | 5% |
A graph is given below to show the share of US adults who play Wordle by their generation: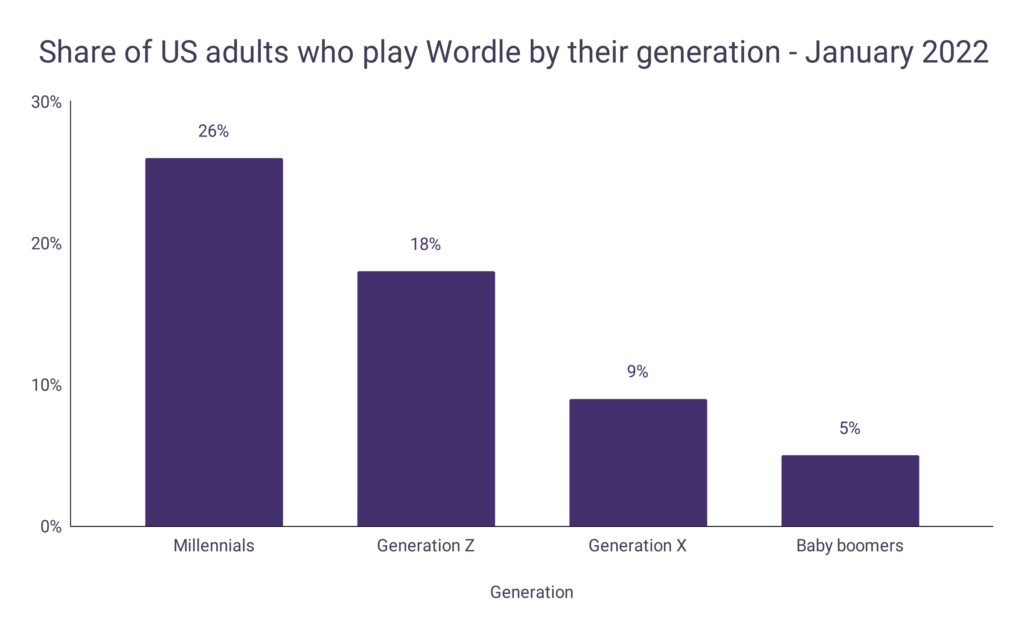 How Wordle was created
The story behind Wordle is an unlikely tale of digital innovation and creativity that only became a reality due to a change in its creators' lifestyle. Josh Wardle and his partner Palak Shah found time to develop an old unfinished version of the game, before finding enough success to sell it on.
The prototype to Wordle was originally created by software engineer Josh Wardle in 2013, with the name of the game being a play on his last name.
During Covid-19, he had been playing many word games alongside his partner Palak Shah.
This period of time encouraged him to create a new game that they could play together.
In January 2021, he returned to his previous prototype to continue its development.
As part of this process, Shah was tasked with the review of 12,000 five-letter words in the English language.
She then narrowed these down to 2,500 well-known words that would be appropriate for Wordle's daily puzzle.
For the first half of 2021, the couple played the game in secret, before introducing it to family members.
During October 2021, it was finally made widely-available through Wardle's own website, Powerlanguage.
It was available to play without advertisements and it was not created with the purpose of making money.
However, upon the game finding widespread popularity, it was sold to The New York Times Company.
Wardle has also mentioned that he never wanted Wordle to become a full time job for himself.
Wordle languages
Wordle is known to be playable across each continent in the following languages at a minimum through multiple versions of the hit game:
| | |
| --- | --- |
| # | Language* |
| 1 | Arabic |
| 2 | Armenian |
| 3 | Azerbaijani |
| 4 | Basque |
| 5 | Belarusian |
| 6 | Bengali |
| 7 | Bokmål |
| 8 | Breton |
| 9 | Bulgarian |
| 10 | Cantonese |
| 11 | Catalan |
| 12 | Central Kurdish |
| 13 | Chinese |
| 14 | Croatian |
| 15 | Cypriot |
| 16 | Czech |
| 17 | Danish |
| 18 | Dutch |
| 19 | English |
| 20 | Esperanto |
| 21 | Estonian |
| 22 | Faroese |
| 23 | Filipino |
| 24 | Finnish |
| 25 | French |
| 26 | Fur |
| 27 | Gaelic |
| 28 | Galician |
| 29 | German |
| 30 | Georgian |
| 31 | Gitxsan |
| 32 | Greek |
| 33 | Hawaiian |
| 34 | Hebrew |
| 35 | Hindi |
| 36 | Hungarian |
| 37 | Icelandic |
| 38 | Indonesian |
| 39 | Interlingua |
| 40 | Interlingue |
| 41 | Iñupiaq |
| 42 | Irish |
| 43 | Italian |
| 44 | Japanese |
| 45 | Kannada |
| 46 | Kashmiri |
| 47 | Kinyarwanda |
| 48 | Korean |
| 49 | Latgalian |
| 50 | Latin |
| 51 | Latvian |
| 52 | Lithuanian |
| 53 | Luxembourgish |
| 54 | Low German |
| 55 | Macedonian |
| 56 | Malaysian |
| 57 | Māori |
| 58 | Marathi |
| 59 | Mongolian |
| 60 | Nepali |
| 61 | Norwegian |
| 62 | Nynorsk |
| 63 | Occitan |
| 64 | Old Norse |
| 65 | Persian |
| 66 | Polish |
| 67 | Portuguese |
| 68 | Quenya |
| 69 | Romanian |
| 70 | Russian |
| 71 | Saanich |
| 72 | Scots (Shetland) |
| 73 | Serbian |
| 74 | Singlish |
| 75 | Slovak |
| 76 | Slovenian |
| 77 | Spanish |
| 78 | Swedish |
| 79 | Tamil |
| 80 | Turkmen |
| 81 | Turkish |
| 82 | Ukrainian |
| 83 | Urdu |
| 84 | Uzbek |
| 85 | Vietnamese |
| 86 | Welsh |
| 87 | Western Armenian |
| 88 | Western Frisian |
| 89 | Yiddish |
(*includes historical and regional dialects, indigenous languages and constructed languages)