Please note for the purposes of this comparison Washington DC may be referred to as a state despite being the capital city and a federal district rather than a state.
Federal student loan debt statistics in Washington DC
Washington DC has a total student loan debt of $6.5 billion
This makes Washington DC the state with the 41st largest student loan debt of any state in the country
16.60% of the population of DC have some kind of student loan debt – the highest proportion of residents with student loan debt of any state in the country
However, only 118,300 residents in the region have student loan debt making it the state with the 47th most residents with student loan debt in the country given the small size of the district compared to most states
53.10% of the borrowers are under the age of 35 – the 19th highest percentage of any state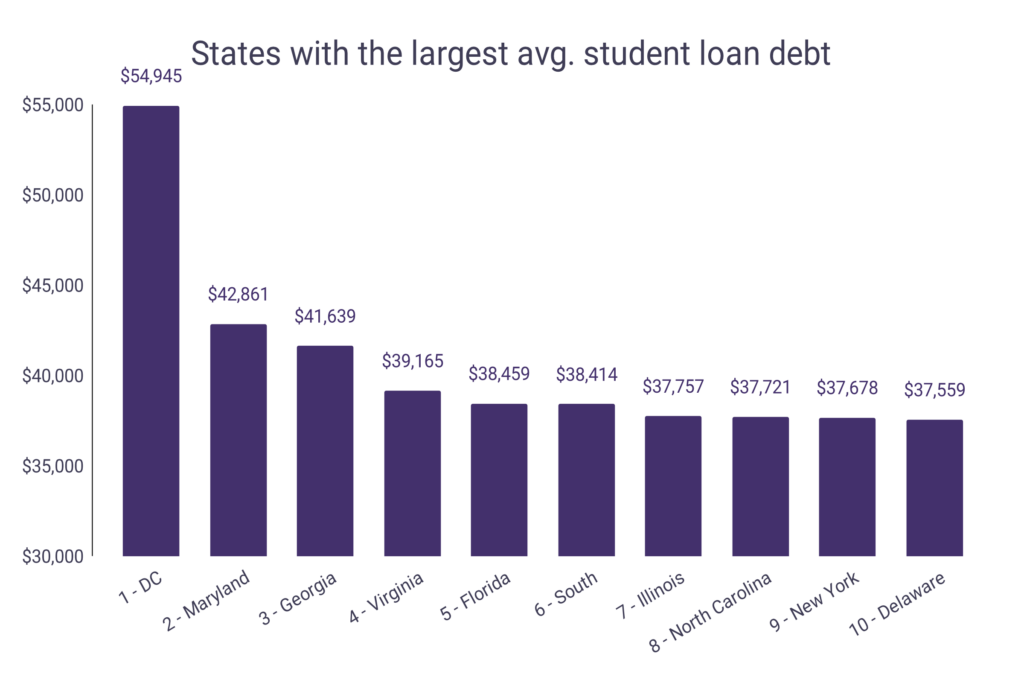 How much student loan debt does the average Washington DC resident have?
The average borrower in Washington DC has a larger student loan debt than in any other state in the country
The average student loan debt per borrower is $54,945
This is $17,158 above the national average of $37,787
North Dakota is the state with the smallest average student loan debt per borrower at $28,604 just over half the average debt of a borrower from Washington DC
Amongst other contributing factors, it is thought that the large number of advanced degrees such as doctorates, medical degrees and law degrees amongst governmental employees and the surrounding eco-system contributes to this high figure
Within this average, the amount owed by DC residents varies greatly:

12.20% of borrowers owe less than $5k – the smallest proportion of borrowers that owe this amount when compared to other states
19.60% of borrowers owe between $20k and $40k – the 5th smallest percentage owing this amount
5.70% of borrowers owe more than $200k – the largest percentage of borrowers of any state owing this amount
How much do Washington DC residents borrow each year?
41.5% of undergraduate students in Washington DC take out federal student loans each year
This is the 15th highest uptake rate of student loans out of the 50 states and Washington DC
At 2-year schools, 75.80% of students take student loans each year – this is the highest uptake rate in the country at 2-year schools
They are also awarded the largest amount of any state in the country
The average student at a two-year college is loaned $7,094 per year to cover tuition fees and living expenses
At 4-year colleges, this number falls drastically to 41.10% of students that chose to take student loans
This is 36th in the country
On average, these students are loaned $7,074 which is the 11th most in the country for students at 4-year colleges
State-level financial aid for students in Washington DC
Another reason why student loan debts may be so high is the lack of access to state-level student financial aid in Washington DC
Washington DC spends 0.06% of its Gross State Product on student financial aid – this is the lowest in the country by a distance
For context, only 7 other states spend below 0.3% of their GSP on student financial aid (New Hampshire, Arizona, Pennsylvania, Colorado, Vermont, Massachusetts, and Missouri)
Washington DC spends $32.4 million per year on student financial aid – the 36th largest budget in the country
This works out to $618 per undergraduate student
Of this amount, $832,000 is distributed through needs-based grants that do not need to be repaid
The remaining $31.568 million is distributed through other means – some of which may be due to be repaid by the students in the future