Have you become stuck on a particular level of 4 Pics 1 Word that you just cannot solve no matter how hard you try? Wordsrated's 4 Pics 1 Word Cheat is here to help you power through the trickiest of levels and continue advancing through the game.
Although some people may consider anagram solvers to be cheating, the tool can help you increase your overall vocabulary, allowing you to learn when you require help. Even though our tool helps you find words that match your criteria, you will still have to find the link word from the results, which encourages you to use your problem-solving skills.
With the 4 Pics 1 Word Cheat, you no longer have to spend countless hours deliberating over letters and images that lead you nowhere. Just enter the letters you are selecting your word from, use advanced search functions to provide better results and then search to discover a list of suggestions. Now you will be able to solve the trickiest of puzzles, rewarding you with in-game Intelligence Points that will increase your Puzzle IQ!
How to use 4 Pics 1 Word Cheat
Finding the solution to any 4 Pics 1 Word puzzle using our convenient tool is extremely simple. Using just a few simple steps, you will easily be able to locate a range of possible answers for any level in the well-loved game.
Step 1: Start by entering the letters of the puzzle into the main search box. If there are letters that you are sure will not be present in the solution, you can choose to exclude these.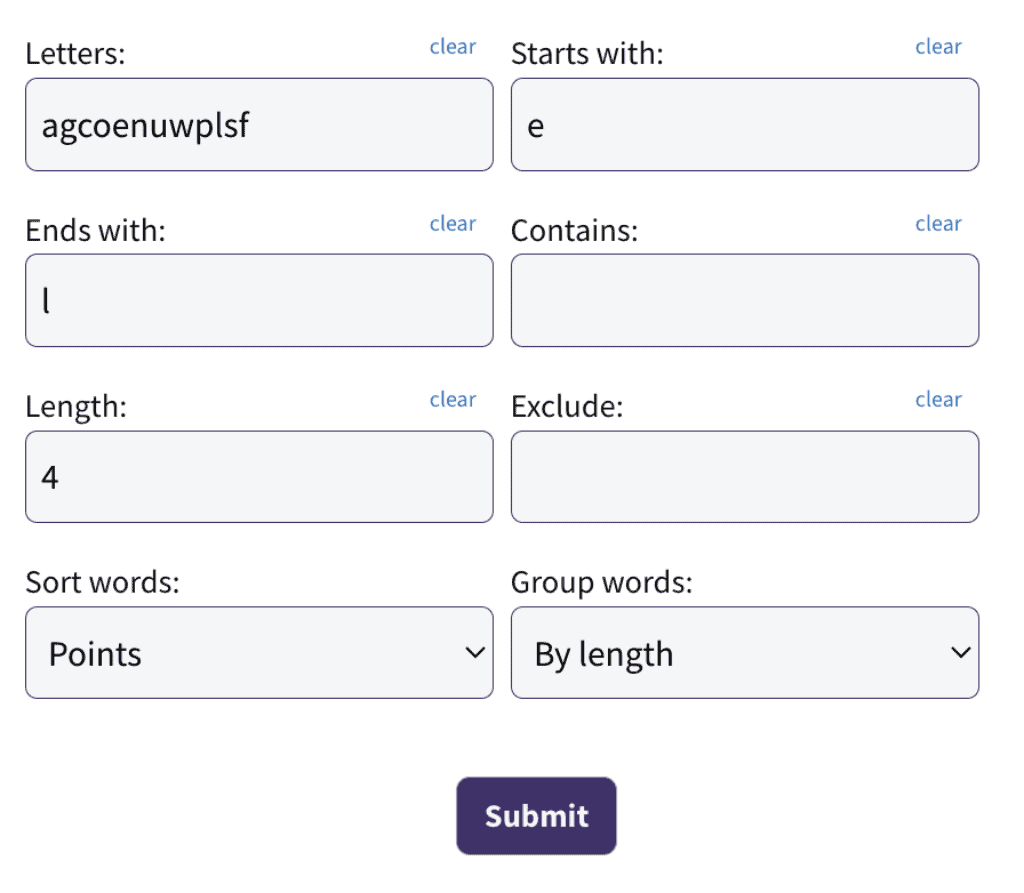 Step 2: After entering the letters, you may want to refine your search further to hone in on the word you are looking for and give yourself a greater chance of beating the level:
The "starts with" box will only display words that begin with the particular letter chosen.
The "contains" box will only display words that contain the particular letter chosen.
The "ends with" box will only display words that end with the particular letter chosen.
The "length" box will only display words that are made up of the number of letters selected.
In addition, users can elect to sort the results of the search alphabetically and reverse-alphabetically.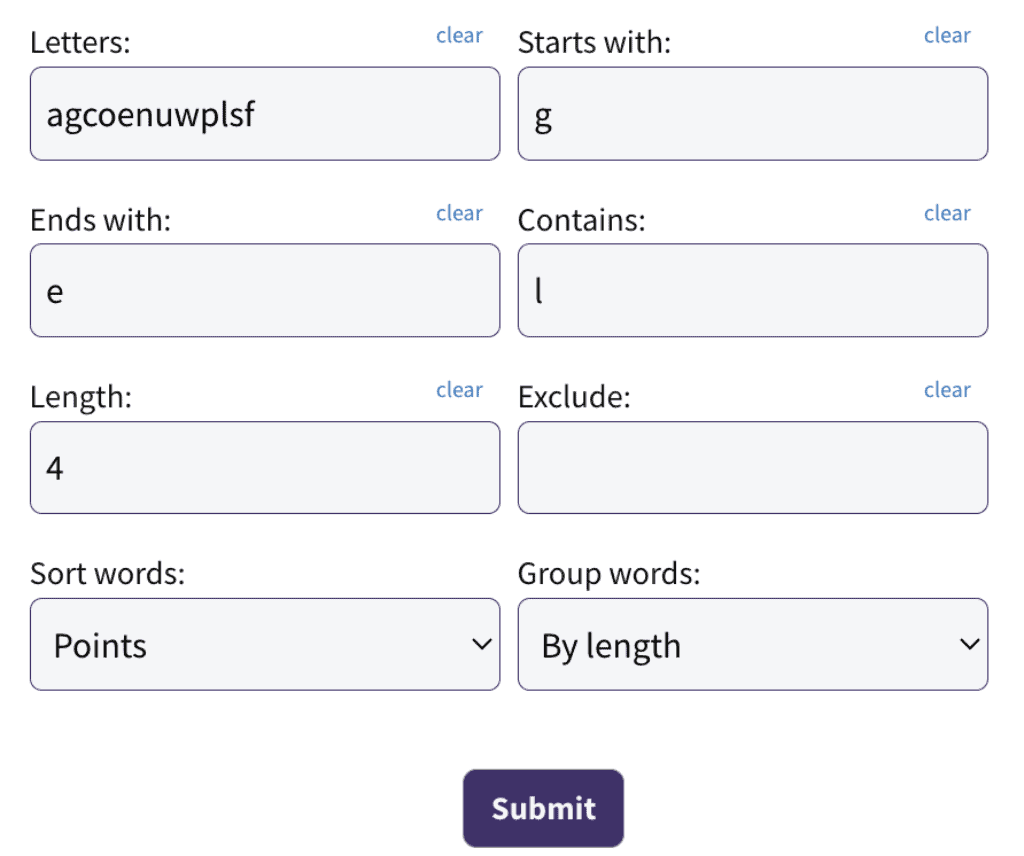 Step 3: Once the correct search parameters are input, click "submit" to allow the 4 Pics 1 Word Cheat to find your available solutions. You will then receive a list of possible anagrams that match the requirements of your search.

Step 4: From the results of your search, one word should now stand out to you as the correct answer that links together the four pictures in the game level. Although the 4 Pics 1 Word Cheat tool will provide you with a list of possible answers, it will still be down to the user to make the correct choice to input into the game itself. If the answer is correct, you can move on to the next level. However, if unsuccessful, users can revisit the list of solutions and try again with another word.
What is 4 Pics 1 Word?
Maintaining an incredible level of popularity since its release in 2013, 4 Pics 1 Word is considered a modern classic from the large selection of anagram solver games available on Android and iOS. The free and simple mobile game created by LOTUM has even managed to reach the #1 position in the US app store charts, alongside 50 other countries.
How to play 4 Pics 1 Word
Overall, 4 Pics 1 Word has a very simple objective. Each puzzle shown to the player presents four images. These images can depict anything from people and items to places. The unique element to the game is that all four images will share a common thread, represented by a single keyword. The task of the player is to find the appropriate word linking the four pictures together, one level at a time.
As an example, if the four images feature a bird, a plane, a wasp and an angel, the connecting word should be "wings". Below the images, the game offers the user a randomized assortment of letters including the letters needed to construct the word. By tapping on the letters, users can start to form a word that populates a series of blank squares. Tapping on a letter previously chosen will take it out of the solution and place it back in the letter bank. If the word submitted is incorrect, the player can continue trying again until they find the correct link word. Once achieved, the player will be allowed to move onto the next level.
To be successful at the game, the user needs to be able to use their vocabulary to identify a common thread linking the images. Due to this, gamers with larger vocabularies should fare better at the game. Overall, 4 Pics 1 Word provides a stimulating mental workout, requiring the player to think in a creative manner to uncover the hidden connection between images. What's more, it can be an enjoyable and addictive challenge that can keep gamers entertained for many hours. If users find certain levels too challenging, our useful tool can offer a helping hand, allowing continued progression.
How many people play 4 Pics 1 Word?
4 Pics 1 Word has over 400 million players across the world. In particular, the game has seen its popularity soar with players in the Caribbean, Asia and Oceania. Despite this, the game still maintains a good level of popularity in North America and Europe. For non-English speakers, the German version of the game is called 4 Bilder 1 Wort and the Spanish version is called 4 Fotos 1 Palabra.
Why is 4 Pics 1 Word so popular?
Since achieving huge initial success upon its launch, 4 Pics 1 Word has managed to maintain its status as one of the most popular modern anagram games. This could be partly due to its unique offering to mix anagrams with images, creating a new type of challenge for the player. However, there are a number of additional factors that have contributed to its popularity:
Free to play: Accessible to a large audience without requiring any form of payment, although in-app purchases are available to those who require extra in-game assistance.
Simple and addictive gameplay: Easy to pick up, play and enjoy, which keeps its players engaged and entertained.
No time limit: Players have time to solve puzzles without any added pressure, creating a more relaxed and immersive experience.
Large number of levels: Players are able to enjoy many hours of gameplay without running out of new challenges to solve.
Single player and multiplayer modes: Allows gamers to play based on their preferences, whether they prefer to challenge themselves alone or compete against friends.
Offline play: Enables gamers to play even without an internet connection, making it accessible in various situations where internet signal is not available.
Regular game updates: New content, challenges and features keep the game fresh and exciting to players over a long period of time and maintain popularity.
Social sharing: Gamers can make connections with friends and share their in-game achievements.
Clean user interface: A well-designed, user-friendly interface allows the gameplay and its menu navigation to be intuitive to users.
Educational value: Encourages cognitive and problem-solving skills through game level progression, which provides new opportunities for learning.
How many 4 Pics 1 Word puzzles are solved each day?
Due to the popularity of the game, a phenomenal amount of puzzles are solved every day. Overall, this amounts to:
Each second, upwards of 130 puzzles are solved on 4 Pics 1 Word.
Per minute, this amounts to around 7,800 puzzles solved.
Per hour, this amounts to around 468,000 puzzles solved.
Per day, this amounts to around 11,232,000 puzzles solved.
Per year, this amounts to around 4.10 billion puzzles solved.
In addition to these, consider that an even greater quantity could be solved just by using Wordsrated's 4 Pics 1 Word Cheat!
How many levels are there in 4 Pics 1 Word?
In 4 Pics 1 Word, users can encounter upwards of 4,000 levels, each of which features four images that players must link to a corresponding word. Although the initial levels are intended to be simpler, successive game levels increase in difficulty accordingly. However there is no need to worry, by using Wordsrated's 4 Pics 1 Word Cheat, you will be able to find the right solution every time!
Are there any other 4 Pics 1 Word cheats?
The game also provides four other methods of help to its players. Some of these cheats come at a price to the player and will use up the coins previously generated from solving levels. These cheats include:
Revealing one letter of the solution (can be used multiple times).
Removing a group of unnecessary letters from the letter bank.
Jumbling the letters in the letter bank to allow the user to view the letters with a different perspective (can be used multiple times).
Functionality to ask a friend for help (for those that enjoy playing the game with multiplayer capabilities)