Technology shapes the modern world and contributes to the development of all industries. Within publishing, the development of electronic book formats and the rise of social media have changed the focus of the industry as a whole.
The global ebook market is estimated to be valued at $32.19 billion by 2032.
As of 2023 ebooks represent 56% of all e-publishing income.
Audiobook downloads have grown in popularity by 2.7% since 2020 (US consumer trade book sales).
Globally, audiobooks are the fastest-growing book publishing format.
Sales of books in physical stores represent less than 20% of sales.
Despite advances in technology, 9 out of 10 young people still prefer to read physical books compared to digital versions.
Almost 10% of reading around the world is performed on digital devices, a number that is constantly growing.
Due to technology developments, 70% of Australian authors across all genres have changed the way their work is published.
New technologies such as social media platforms impact the way that 2/3 of Australian authors interact with their readers.
More than 50% of Australian authors believe that modern technologies provide new possibilities to publish original paid work.
Growth of US digital book formats (consumer trade sales)
Although ebook sales were very stable during the years affected by the pandemic, audiobook sales have continued to increase. Both of these digital formats are predicted to increase in growth as more consumers become accustomed to new technologies.
Ebooks grew from 9.3% in 2020 to 9.6% in 2022.
Although ebooks were mostly stable over the period, the format is anticipated to grow.
Audiobook downloads grew from 5.9% in 2020 to 8.6% in 2022.
In total, audiobooks increased by 2.7% over the period.
When combined, ebook and audiobook downloads increased by 3% over the period.
| | | |
| --- | --- | --- |
| Year | Ebook | Audiobook download |
| 2022 | 9.6% | 8.6% |
| 2021 | 9.2% | 6.9% |
| 2020 | 9.3% | 5.9% |
(November figures only)
A graph is given below to show the growth of US digital book formats: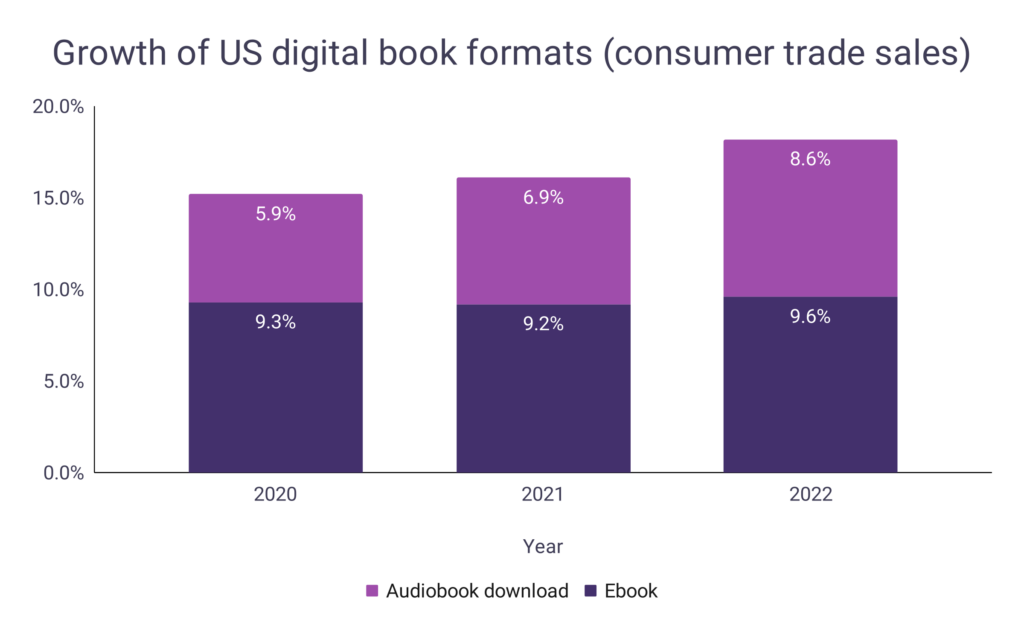 Impact of technology on different publishing formats
Publishing companies must now focus on producing, marketing and selling both digital versions of their titles alongside physical versions. Consumers have rapidly adopted new technologies such as smartphones, e-readers and tablets which together have led to new demands for the industry.
Physical books
Sales of books in physical stores represent less than 20% of sales overall.
For the US, Amazon's print book market share exceeds 40%.
In total, Amazon sells over 300 million print books annually in the country.
9 out of 10 young people prefer to read physical books compared to digital versions.
Alongside their simplicity, physical books offer young people the opportunity to reduce their overall screen time.
Ebooks
Globally, the ebook market is anticipated to be worth $32.19 billion by 2032, at an annual growth rate of 4.9% (compound).
75% of all ebook sales in the US are purchased through Amazon.
2012 was the first year that Amazon began selling more ebooks than physical books.
From 2010 to 2020, the number of ebooks sold per year almost tripled, from 69 million to 191 million.
Many classic books have been converted into ebooks, which makes them more appealing to young readers in particular.
Typically, ebooks also cost less to produce than physical books, which is better for publishing companies.
Audiobooks
By 2030, revenue from audiobooks is expected to reach $35.05 billion.
This represents a growth of 26.4% each year from 2022 to 2030.
Audiobooks are the fastest-growing book format globally.
This applies in terms of revenue, sales growth and production volume.
In general, an audiobook can cost more to produce than physical books but their reproduction comes without costs.
Impact of technology in educational publishing
The digital education publishing global market is expected to grow annually by 17% until 2027.
This is a rise from $15.74 billion in 2023 to $29.5 billion in 2027.
74% of teachers agree that educational technology (including e-publications) motivates students.
Furthermore, it has been found that e-learning is more effective than traditional classroom learning by 11%.
However by removing price as a factor, 75% of students still prefer physical textbooks over digital textbooks.
Impact of social media technologies on publishing
Social media has had a significant impact on many industries and publishing is no exception. Technology platforms such as Goodreads, Instagram, TikTok, Twitter and YouTube have completely changed the way the publishing industry communicates and sells to its audience.
More than 120 million members use the Goodreads platform globally.
On TikTok, videos that used the #BookTok hashtag had received 42 billion views as of 2022.
Book-related Instagram content rose by 31% during Covid, as its influencers encouraged audiences to read.
For YouTube, its most popular book vloggers have thousands of followers and often work alongside publishers to create publicity through reviews and recommendations.
If a book is mentioned by a publisher's Twitter account, it will receive higher engagement than books mentioned by non-publishers.
Impact of technology in publishing on the environment
The manner in which books are manufactured, published, distributed, sold and read can have profound impacts on the environment. The increased importance of digital technologies such as print-on-demand, e-readers, ebooks and audiobooks have become key environmental drivers of change for the publishing industry.
Almost 10% of global reading is done on digital devices, a number that is constantly growing.
By adding together the emissions generated by electronic devices needed to browse the web, digital publishing is greatly more impactful than other industries.
A Kindle device produces around 168 kg of CO2 during its entire lifecycle.
By comparison, purchasing three physical books a month for over the course of four years produces around 1,074 kg of CO2.
Modern print-on-demand services allow publishers and authors to print when copies have been ordered instead of in advance, which saves on cost and prevents waste.
Impact of technology on publishing FAQ
How does technology impact authors?
Authors now have more options available to them when looking to publish their books.
Self-publishing is more straightforward and can give them more control over the success of their work, without dependence on publishing companies.
For the marketing of their publications, they are able to use social media to find audiences that match their genre and start to build a following.
By building up a following and a personal brand, larger publishers may look to sign them later down the line.
How does technology impact publishing companies?
Publishing companies now need to focus on publishing across both physical and digital formats.
Physical formats have been affected by a push for the industry to be more sustainable and as such, better manufacturing developments are now utilized.
Social media has allowed publishers to communicate directly or indirectly with other people and companies within the industry in order to build connections.
By using data gathered from social media, publishers can also anticipate industry trends and produce titles that more closely align with the needs of consumers.
How does technology impact book consumers?
Book consumers now feel they can make their voices heard through the use of social media, especially for book reviews using the Goodreads platform.
In addition, many consumers enjoy following experts within the industry through different platforms.
Consumers may even contribute by adding book-related content and creating a following themselves.
Insights from consumers will even be taken into consideration within the film industry when deciding which books to adapt into movies.
New developments in technology have led to the increase in digital formats such as ebooks and audiobooks, which have proved to be popular with consumers.