For the US alone, the publishing industry uses around 32 million trees in order to produce books each year.
Globally, the production process itself emits more than 40 million metric tons of CO2.
When it comes to pulp and paper, book publishing is the third-largest industrial greenhouse gas emitter.
If the publishing industry committed to using around 30% of waste that could be repurposed and sold to consumers, 4.9 million trees could be saved.
46% of a book's environmental impact is caused by a reduction in biomass and wood harvest.
Each year consumers waste more than 16,000 truckloads of books which have not been read once.
Around 10 million trees are killed for the production of books that eventually end up getting destroyed rather than read.
The lifecycle of a Kindle device produces around 168 kg of CO2.
Purchasing three paper books a month for four years produces around 1,074 kg of CO2 in comparison.
A consumer could purchase around 22.5 paper books before it would be more environmentally friendly to use a Kindle.
In 2003, J. K. Rowling reduced the environmental impact of her printed books by demanding copies made were sustainable or made from recycled materials.
Reducing the impact of book publishing on the environment
Publishers have come under increasing pressure to become environmentally friendly in recent years. The industry's noted impact on the environment has forced publishers of all sizes to become more sustainable, although much room for improvement remains.
John Wiley & Sons
As of 2022, John Wiley & Sons is carbon neutral certified across its global operations.
The company's locations make use of 100% renewable energy, utilizing green tariffs and energy attribute certificates.
In order to use fewer trees, many of the publisher's programs use lightweight papers.
Hachette
As of 2020, all of the paper used by Hachette came from Forest Stewardship Certified and Sustainable Forestry Initiative fibers.
9.2% of these were recycled wood fibers. The company's recycled tonnage also increased by 6%.
Despite this focus, the paper used in their books still accounted for 95% of the group's overall carbon footprint.
HarperCollins
As of 2017, HarperCollins reached its long-term goal to ensure that 95% of its globally used paper tons were chain of custody certified.
The company's 2021 reports showed that 97% of company waste was recycled.
In addition, the publisher aims to source 100% of its purchased publication paper globally from certified or recycled material by 2025.
Macmillan
For the publisher Macmillan, global operations have been carbon neutral since 2017.
Specifically for the US, the company has been carbon neutral for more than ten years.
From 2010 to 2021, their global emissions decreased by 60%, whilst US emissions dropped by 50%.
McGraw Hill
McGraw Hill has reduced its carbon footprint since 2013 by decreasing nearly 2.5 million units of square footage.
The company uses energy-saving technology and also tries to avoid using landfill sites by engaging in recycling programs.
Additionally, several of the company's offices are Leadership in Energy and Environmental Design (LEED) certified or leased within buildings with the certification.
Pearson Education
In 2021, paper and book printing made up 10.7% of Pearson's CO2e emissions, a drop of 10.3% since 2018.
The company aims to have 100% of its paper products Forest Stewardship Council certified by 2025.
Pearson is also undergoing a digital transformation which has already made a contribution to lowering emissions, a trend that the company expects to continue.
Penguin Random House
As of 2021, over 96% of Penguin Random House paper sourced was anticipated to come from certified mills.
For the company worldwide, over 80% of its infrastructure was sourced by green electricity.
From 2018-2019, the company saved 14,200 tons of CO2e, dropping worldwide emissions by 49%.
Scholastic
As a children's book publisher, Scholastic faces larger difficulties in sustainability as larger quantities of ink are needed to produce bright and illustrated books.
The company targets a minimum use of 60% Forest Stewardship Certified paper.
Within the company's warehouses, all cartons are reused and/or recycled. During 2021 the company recycled 1,328 tons of corrugate.
Simon & Schuster
As of 2022, all paper purchases by Simon & Schuster are either Forest Stewardship Certified or Sustainable Forestry Initiative Certified.
As of 2020, FSC paper purchases were at 33% and SFI Certified were at 67% for the publisher.
Shipping cartons used by the publisher are manufactured with a high percentage of recycled material, whilst dunnage is 100% recycled.
Limits to making books from 100% recyclable materials
The costs of the publishing industry switching to more eco-friendly practices is currently too high for publishers to consider switching to 100% recyclable materials. A greater effort and investment in the research, development and regulation of sustainable manufacturing technologies will be required in order to reduce these costs.
A 2022 survey of US publishing respondents showed that high prices and the lack of availability of materials were the most common limits to making books from 100% recyclable materials.
Convenience was cited from 4% of respondents as a reason for not switching.
Each of these limiting factors can be potentially remedied by a driven, collaborative industry focus on manufacturing R&D.
Other limiting factors were given by 16% of respondents.
| | |
| --- | --- |
| Limiting factor | Percentage of respondents |
| Price | 40% |
| Lack of availability of materials | 40% |
| Convenience | 4% |
| Other | 16% |
A graph is given below to show the biggest limiting factors to making 100% recyclable books: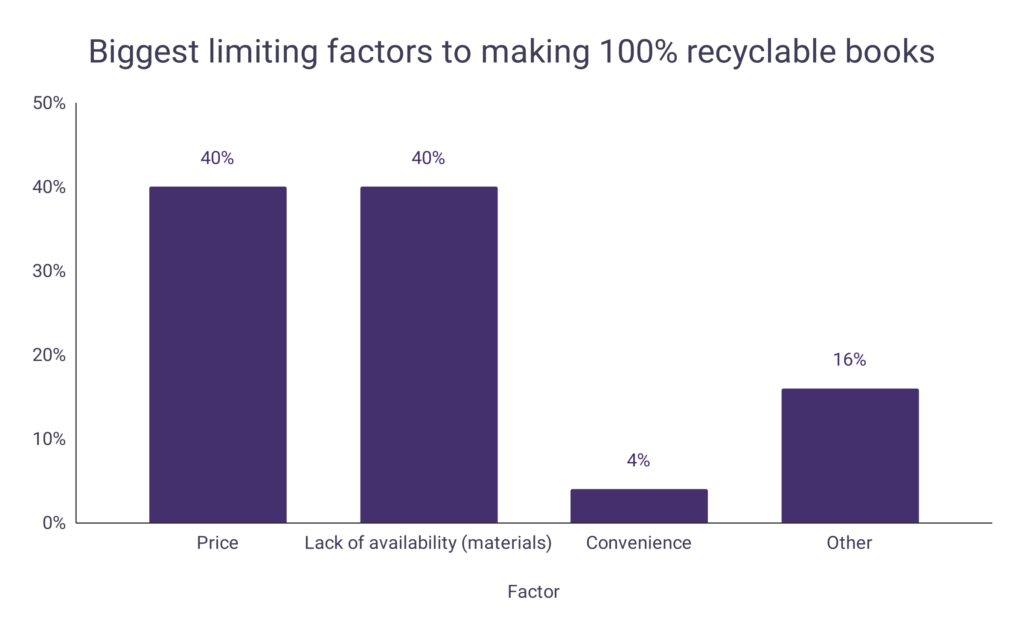 Stages of book production and distribution
A reduction of biomass and wood harvest contributes to the majority (46%) of greenhouse gas emissions caused by the book production process.
The production of paper is the second-biggest contributor to greenhouse gas emissions, at 21%.
Distribution/retailing of books is the third-biggest, contributing to 14% of greenhouse gas emissions.
| | |
| --- | --- |
| Book production stage | Percentage of greenhouse gas emissions |
| Loss of biomass and wood harvest | 46% |
| Paper production | 21% |
| Printing | 4% |
| Publishing | 7% |
| Distribution/retail | 14% |
| Landfill | 8% |
A graph is given below to show the stages of the book production process by greenhouse gas emissions produced: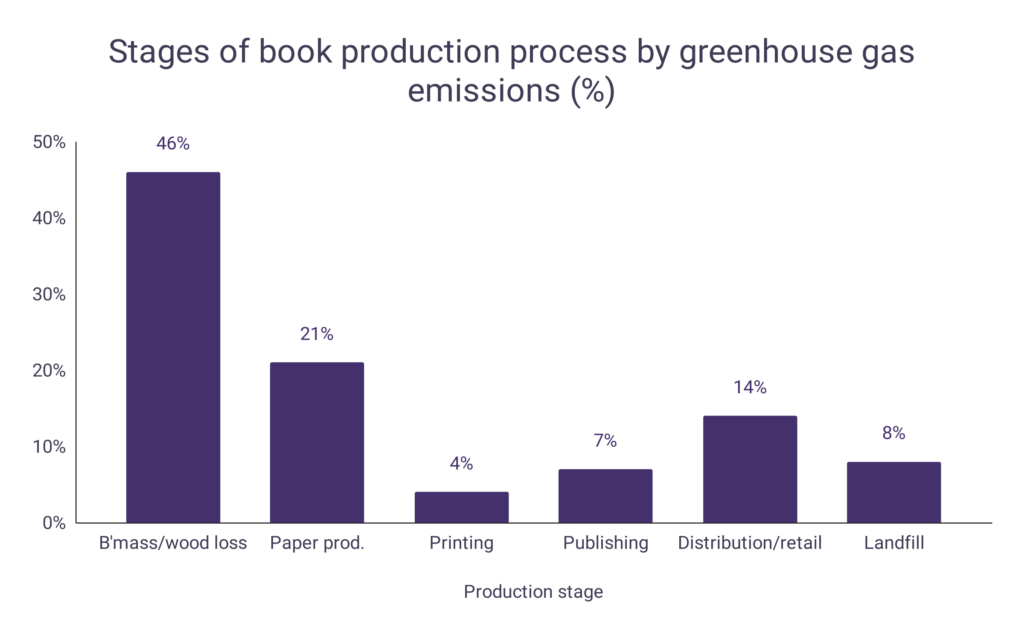 Book publishing on environment FAQ
What is the environmental impact of book printing?
When it comes to book printing, the natural resources consumed throughout the production process have a negative impact on the planet.
The overall production process requires a vast range of materials that when combined, generate a significant carbon footprint.
In addition to the physical process of book printing, publishing companies also need to run and maintain offices, warehouses and other buildings which require energy and create waste.
Once books are no longer in use, they will either remain in storage, become recycled or at worst, disposed of.
The transportation of products and materials are also factored into the environmental impact of book publishing.
What is an alternative to printed books?
Ebooks and audiobooks provide alternatives for consumers. Both are growing in popularity and are increasingly more accessible.
However, readers/listeners of these formats still need to consume energy when using electronic devices.
Furthermore, the devices needed to use these formats also require manufacturing and produce a carbon footprint.
Although there are many upsides to using these formats, they do not offer a perfect solution for the environment.
Readers that are looking to reduce their carbon footprint can also consider the use of local libraries to maximise the usage of printed copies and reduce waste.
What can book publishers do to become more environmentally friendly?
Book publishing companies can utilize different methods in order to become more environmentally friendly:

Commit to using responsibly sourced paper.
Source responsible companies for the production of book cover materials and endpapers.
Use eco-friendly inks that can lower toxic emissions, such as inks that are vegetable-based.
Deploy carbon offsetting strategies to make up for emissions that occur elsewhere. For example, planting trees for each quantity of books sold.
Encourage digital publications over physical copies.